Lunch Box Pepper Hummus with Crispy Za'atar Pitta
Bring a ready made lunch box with fresh homemade roasted pepper hummus to your next picnic, it's perfect for scooping up with crispy pitta bread. 
Substitute:
No peppers? Use aubergine instead. 
No carrots? Try with cucumber instead. 
No eggs? Use the protein of your choice instead. 
No zaatar? Use a mixture of sesame seeds and dried oregano instead. 
Prep time: 10 minutes
Cook time: 20 minutes
Total time: 30 minutes
Servings: 2
Ingredients:
3 Peppers
150 g Chickpeas (from a can)
2 tbsp Lemon juice
2 Pitta bread
Olive oil
1 tbsp Zaatar
Salt & pepper
For serving:
2 Carrot (cut into small batons )
2 Hard boiled eggs
Recipe:
For the pepper hummus; heat the oven to 200C/180 c fan/6 gas mark. Deseed and cut the peppers into chunks. Place in a large baking tray, drizzle with 2 tbsp olive and season with a generous pinch of both salt and pepper. Roast for 20-25 minutes, until tender and lightly charred. 
For the pitta chips; slice the pittas into triangular shards and place in a large baking tray. Drizzle with the olive oil and season with zaatar, salt and pepper. Toss well to coat and bake for 10-15 minutes until crisp. Set aside to cool. 
Add the roasted peppers, chickpeas and lemon juice to a food processor. Blend until smooth. Season to taste with salt and pepper. 
Divide the pepper hummus into lunch boxes, then add the pitta chips, crudites and hard boiled eggs.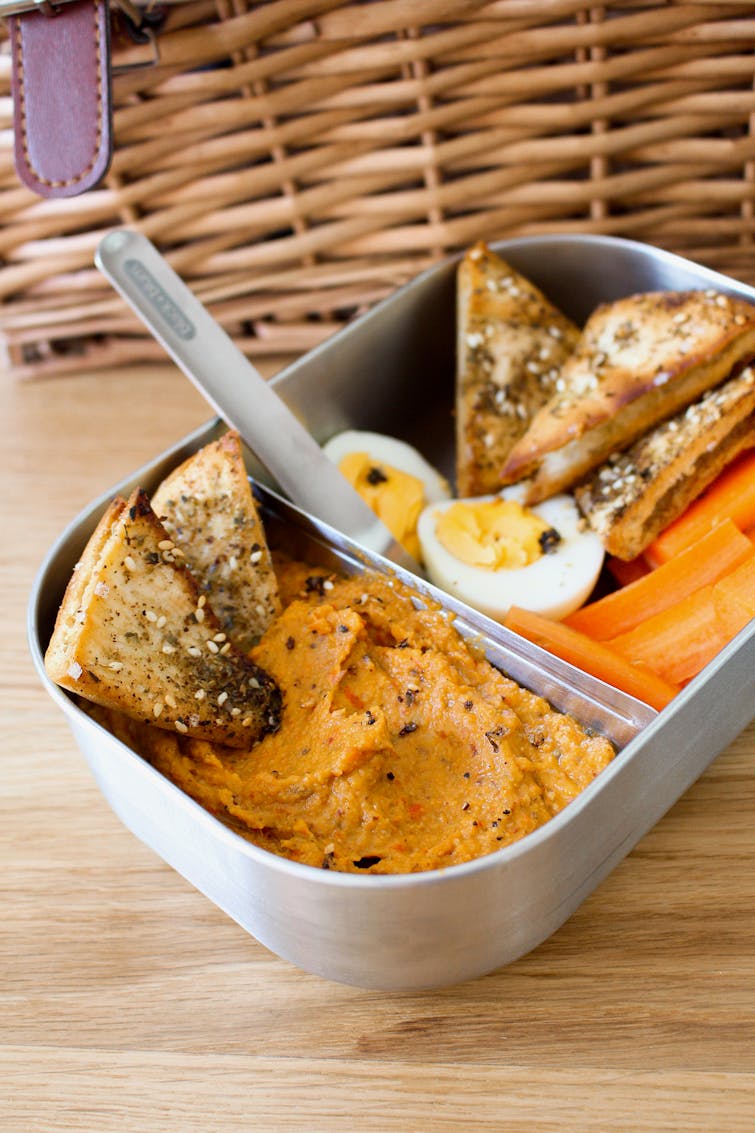 ---
How to store
Store in the fridge for up to 3 days. The pepper hummus can be stored in the freezer for up to 1 month.