Mac and Cheese Stuffed Peppers
A great way to use the whole peppers without chopping it. All you have to do is cut off the pepper hats, stuff the peppers with an easy mac and cheese recipe, place the "hats" back in the baking dish and bake until golden. 
Substitute:
No macaroni pasta? Use any short pasta of your choice.
No garlic? Use 1 tsp garlic powder instead. 
No cheddar? Use parmesan, gruyere, fontina or any vegan alternatives.
Prep time: 10 minutes
Cook time: 40 minutes
Total time: 50 minutes
Servings: 2
Ingredients:
6 Bell peppers
200 g Macaroni
2 Garlic cloves (grated )
6 tbsp Panko breadcrumbs
3 tbsp Olive oil
2 tbsp Butter / Vegan butter
1 tbsp Plain flour
200 ml Milk of choice
1 tbsp Dijon mustard
a pinch of Ground nutmeg 
80 g Cheddar / Vegan cheese
Salt & pepper
Recipe:
Preheat the oven to 200 C/180 fan/6 gas mark. Cook the pasta in boiling salted water until just al dente. Drain and set aside. In the meantime, cut off the pepper tops and compost the seeds.
In a small pan, melt the butter/vegan butter over medium heat. Whisk in the flour. Reduce the heat to medium-low and cook for 1 minute, stirring once or twice to avoid burning. Gradually whisk in the milk, then bring the mixture to a boil, whisking frequently until the sauce has thickened, about 2-3 minutes.
Remove from the heat and stir in the cheddar, garlic, mustard, nutmeg, salt and pepper. Stir until the cheese is fully melted. Remove from the heat and stir in pasta.
Stuff each pepper with mac and cheese, and place them in a baking dish.
In a bowl combine the panko breadcrumbs and olive oil. Sprinkle the mixture over the peppers.
Place the pepper tops in the baking dish too. Drizzle the peppers with a little olive oil.
Bake for 25-30 minutes, or until the peppers are soft and the tops of the mac and cheese are golden.
Serve warm!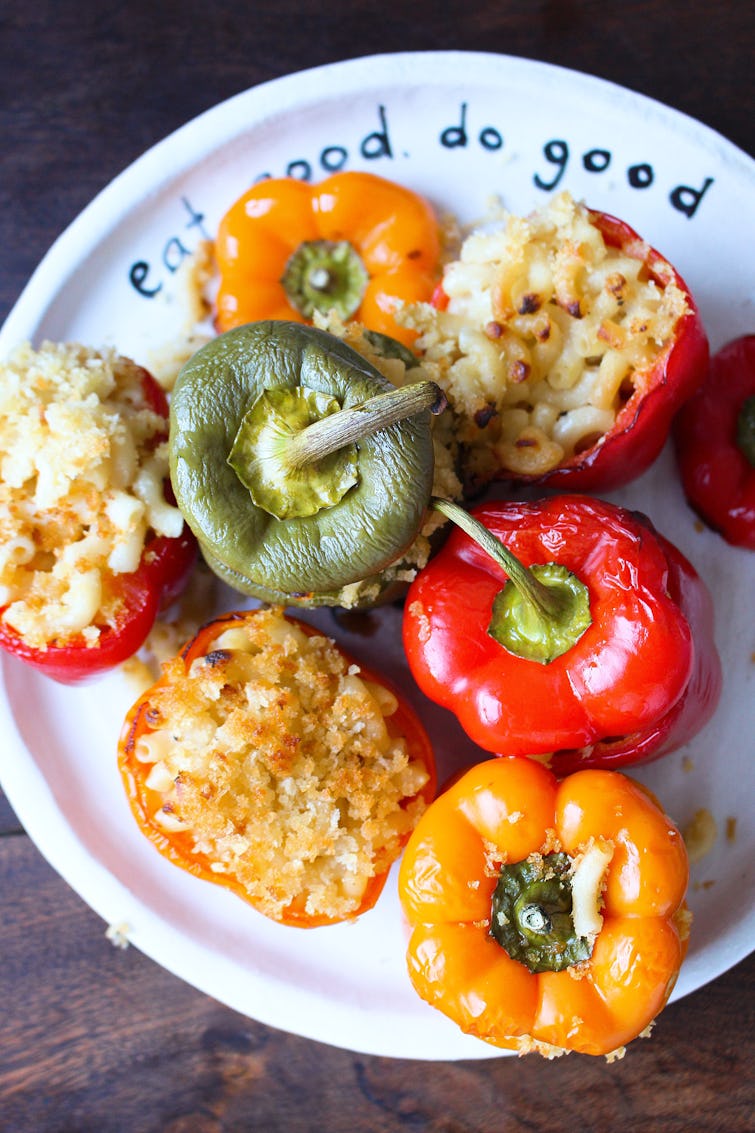 ---
How to store
Store in an airtight container, in the fridge, for up to 3 days. Reheat in a hot oven for 10 minutes. 
Leftovers
Serve alongside a simple lettuce salad with vinaigrette.