Vegan Roasted Bell Pepper Pasta
Make the most of your bell peppers with this roasted bell pepper pasta recipe. The whole bell peppers are roasted and turned into a creamy savoury-sweet sauce. The al dente pasta is tossed into the sauce and served with fresh parsley.
Prep time: 20 minutes
Cook time: 30 minutes
Total time: 50 minutes
Servings: 2
Ingredients:
2 Bell peppers
2 Garlic cloves
tsp chilli flakes (1/2)
1 tbsp Plant based milk
Parsley (1/3 bunch )
200 g Pasta (of your choice)
Lemon juice (1/2 a lemon juice)
Salt (for cooking pasta and to taste)
Black pepper (to taste)
Olive oil (as needed)
Recipe:
Cook the bell peppers: Preheat the oven to 200C/180 fan/6 gas mark. Place the bell peppers on a baking tray, drizzle with olive oil and roast for 25-30 minutes, or until tender and lightly charred. Remove from the oven and set aside to cool.
Cook the pasta: Cook the pasta in boiling salted water until al dente. Add the whole garlic cloves to the pan along with the pasta, to cook until tender. Reserve some of the cooking water, drain and drizzle with olive oil to prevent the pasta from sticking. 
Make the sauce: Once the peppers are cool enough to handle, remove and compost the stalk and seeds. Keep the skin, it will add nice charred flavour to the sauce. Place the bell peppers in a food processor along with the blanched garlic cloves, the plant based milk and the chilli flakes. Blend until creamy and smooth, then add the lemon juice, and season to taste with salt and pepper. 
Serve: Toss the al dente cooked pasta into the bell pepper sauce and serve hot with chopped parsley.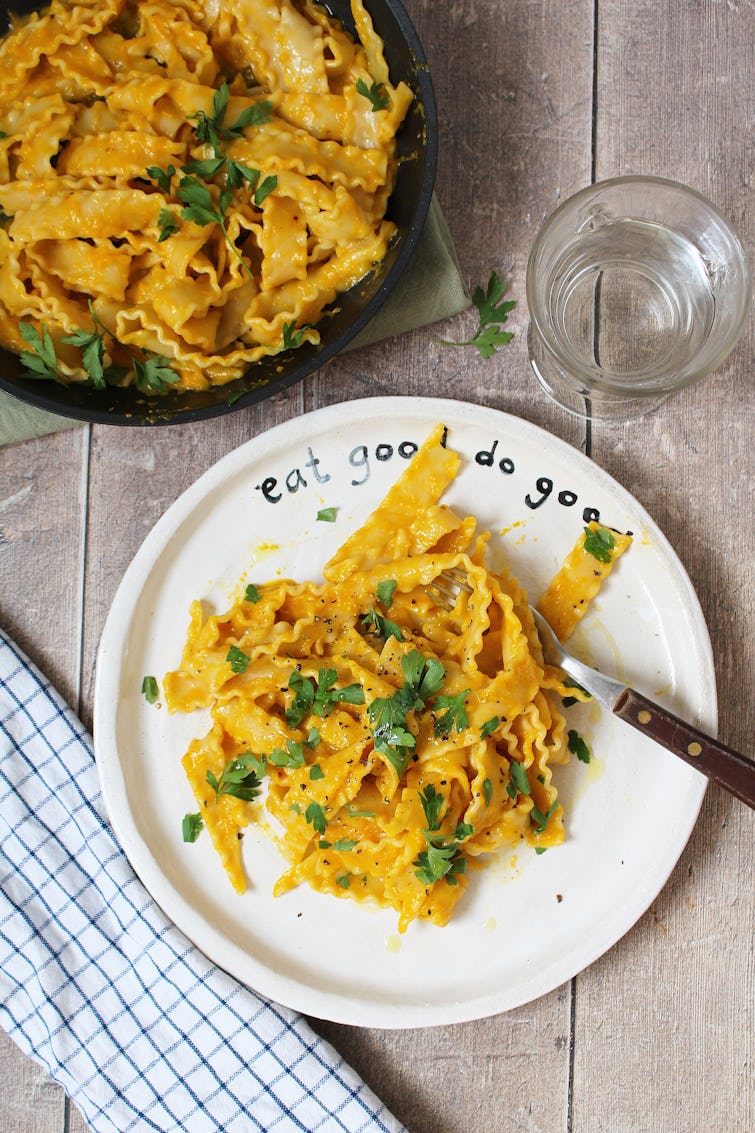 ---
How to store
Store the pasta in the fridge for up to 3 days. The sauce can be made in advance and kept in the freezer for up to 3 months. 
Leftovers
Use your leftovers to make pasta bake, or frittata. For the bake, add your bell pepper pasta to a greased baking dish and cover with a white sauce. Bake until golden. For the frittata, chop up the bell pepper pasta and mix with eggs and fresh herbs. Pour into a baking dish and roast until cooked through.