Aubergine Nut Roast with Onion Gravy
This delicious vegan nut roast recipe is packed with aubergine, nuts and herbs. It makes a showstopper main serve with a simple onion gravy.
Substitute:
No aubergine? Try with mushrooms instead. 
No panko breadcrumbs? You can blitz any type of bread in a food processor. Use gluten free bread if preferred. 
No pistachios? Use any other nut mix. 
Prep time: 20 minutes
Cook time: 40 minutes
Total time: 60 minutes
Servings: 6
Ingredients:
For the nut roast:
350 g Aubergine
3 Shallots (or onions)
3 Garlic cloves
10 Sage leaves
2 sprig Rosemary
1 can lentils (drained )
150 g Chestnuts (cooked )
100 g Panko breadcrumbs
100 g Pistachios
100 g Dried cranberries
2 tbsp Flax seed
2 tsp Dijon mustard
3 tbsp Olive oil
Salt & pepper
For the onion gravy:
1 tbsp Olive oil
1 Onion (chopped)
1 Garlic clove (chopped )
1 tsp Plain flour
50 ml Red wine (or alcohol free wine)
250 ml Vegetable stock
1 tbsp Cranberry sauce
Recipe:
Preheat the oven to 200 C/180 fan/6 gas mark. Process the aubergine, shallots, garlic cloves, sage and rosemary in a food processor until finely minced. If you don't have a food processor, you can do this with a knife. 
Heat 3 tbsp of olive oil in a large frying pan and cook the aubergine minced mixture for 5-6 minutes, until softened. Season with a generous pinch of both salt and pepper. 
Roughly chop the chestnuts. Turn off the heat and add the lentils, chestnuts, panko breadcrumbs, pistachios and cranberries to the frying pan. Stir to combine.
In a small bowl, combine the flaxseed with 2.5 tbsp of hot water. Add the dijon mustard and flaxseed mixture to the aubergine mixture. Mix together really well. The mixture should hold together if pinched.
Pack the nut roast mix into a greased cake tin or loaf tin, pressing down with the back of a spoon. Bake for 40-45 minutes until firm and golden brown. 
In the meantime make the gravy. Add 1 tablespoon of olive oil into a small saucepan, and sweat the onion and garlic for 4-5 minutes, until lightly golden. Add the flour, and cook for a minute, stirring often. Add the red wine (or alcohol free wine) and the stock. Cook the gravy for 10 minutes, over low heat, or until the sauce has reduced and thickened. 
Carefully turn out of the tin onto a plate and brush the nut roast with a little warm cranberry sauce and/or gravy.
Cut your nut roast into slices and serve with the gravy.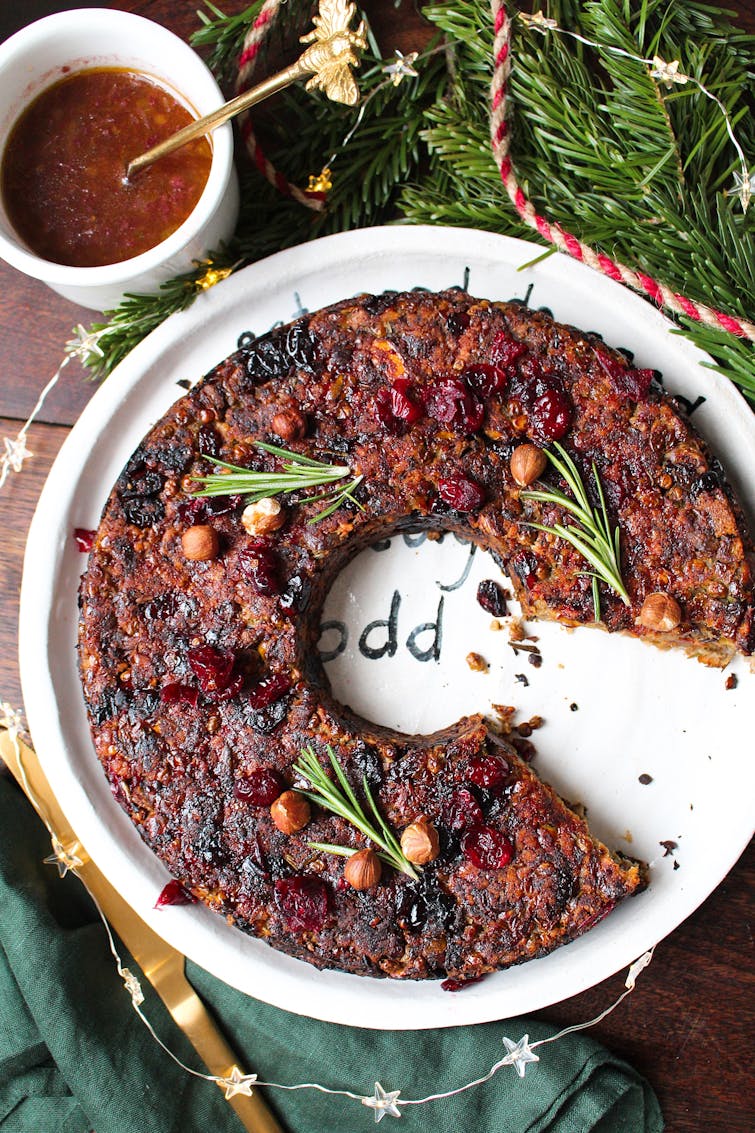 ---
How to store
The aubergine nut roast tastes better freshly cooked. You can make this ahead of time and cook it on the day. Simply prepare the aubergine nut roast and pack into the tin up to a day ahead. Keep covered, in the fridge, until ready to cook.  When cooked, keep in the fridge in an airtight container for up to 3 days. Reheat before serving. 
Leftovers
Serve any leftovers with one of our delicious salads. Try our maple roasted carrots salad or our harissa roasted squash salad.