BBQ Squash & Black Bean Burgers
These burgers are family-friendly, vegan and packed with flavour. This is a great burger recipe for summer gatherings and BBQ's. For quick burgers on the day; simply pre cook the squash and keep in the fridge for up to 3 days.
Substitute:
No butternut squash? Use sweet potato instead. 
No oats? Use quinoa instead. 
No BBQ sauce? Use tomato sauce instead. 
No garlic salt? Use onion powder instead.
Prep time: 40 minutes
Cook time: 10 minutes
Total time: 50 minutes
Servings: 2
Ingredients:
160 g Butternut squash (cut into chunks)
1 Red onion
2 tbsp Apple cider vinegar
2 Burger buns
100 g Black beans (from a can)
1 tsp Smoked paprika
1 tsp Garlic salt
1 tsp Oregano
30 g Rolled oats
1 Tomato (sliced )
2 Lettuce leaves
2 tsp Dill (roughly chopped )
1 tbsp Olive oil
2 tbsp bbq sauce (optional)
Salt & pepper
Recipe:
To cook the squash. Bring a saucepan filled with water to the boil. Add the squash and cook until tender, for about 20-30 minutes. Drain and set aside to cool.
To make the onion pickle. Thinly slice the red onion. Place in a bowl with the apple cider vinegar. Mix and set aside to pickle. 
Add the squash to a food processor and blend until smooth.
Add the black beans, oats, smoked paprika, garlic salt and oregano. Blend until smooth and season to taste with salt and pepper. 
Form the mixture into two patties, ready to fry or grill.
Heat the oil in a frying pan (or heat the grill) and cook the patties for 3-5 minutes on each side, until golden. 
Pile the burger buns with the BBQ sauce, pickled onion, lettuce, dill and tomato or any other burger fillings you like.
Enjoy.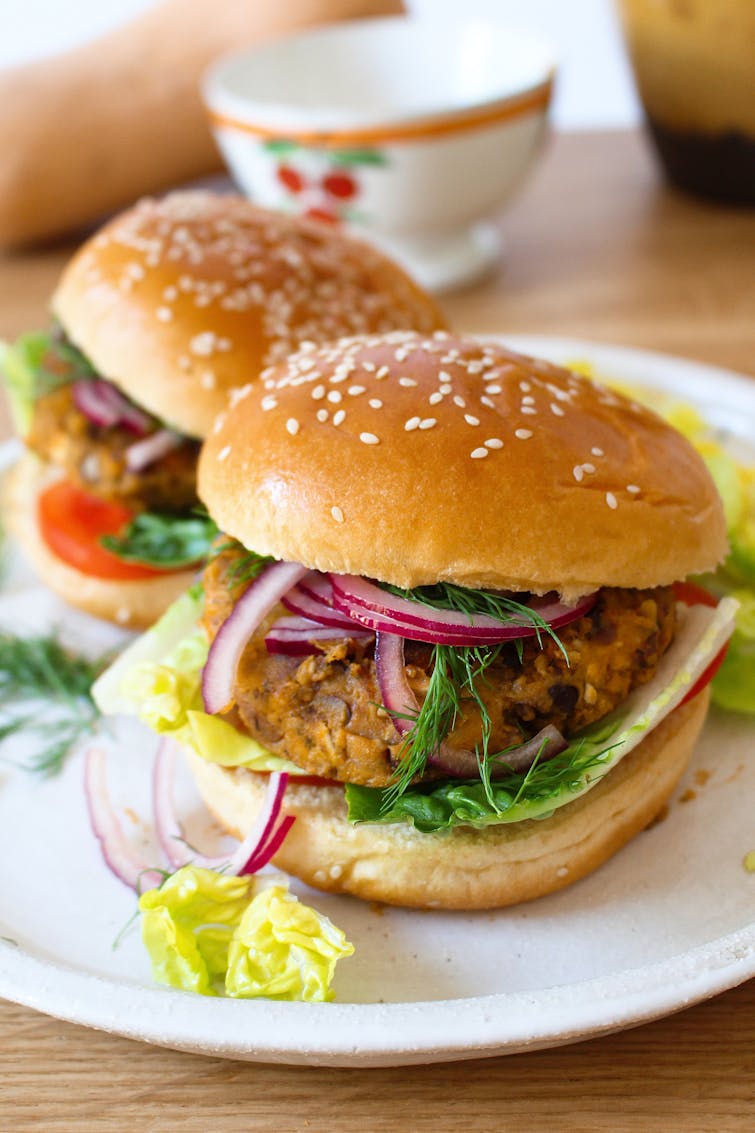 ---
How to store
Store the squash patties in the fridge for up to 3 days or in the freezer for up to 1 month.