How to store, prep and cook Aubergines 5 ways
Aubergines are delicious simply grilled, but with endless possibilities to prep and cook these purple nightshades, why not try your hand at one of the many exciting methods listed below? Our fantastic guest chef & ODDBOX blogger Camille (@callherchef) is here to guide you through all of them, as well as provide you with a quick & colourful recipe to make them the star of the show here.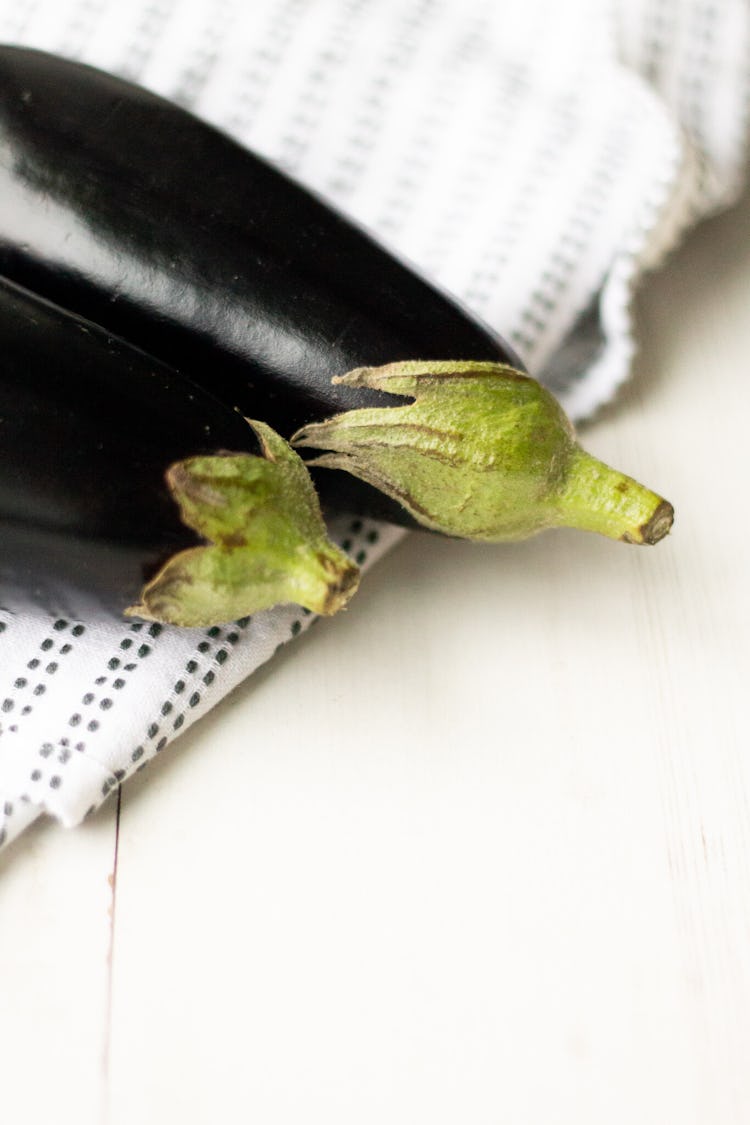 DID YOU KNOW?
Aubergines are technically a berry and therefore classed as fruit. However like tomatoes, despite this classification, the firm and meaty flesh of the aubergine is amazing in both savoury and sweet recipes, and make a good substitute for meat in all sorts of dishes. Aubergine is eaten all over the world and there are numerous varieties in different colours and sizes.
Low in fat and calories but high in fibre, the aubergine is the perfect ingredient for a healthy diet: not only it will fill you up, but it will feed your skin and body with a rich load of minerals, vitamins and other nutrients. Aubergine contains flavonoids whose antioxidant properties help counteract the sign of ageing as well as promoting heart health. When possible it is recommended to eat the skin of the aubergines because that is where the nutrients that help to improve blood circulation are stored.
CAN YOU EAT AUBERGINES RAW?
Uncooked aubergine is tough, bitter and contains chemicals that, when eaten raw, can . upset your digestive system. Therefore, raw aubergine is unadvised.
Store them by…
Aubergines store well in the fridge or a cool cupboard for about four to six days. They are best used soon after rescued in your OddBox as the skin will start to wrinkle as they age.
Prepare them by…
1. MARINATE
Acting like a sponge aubergine is a great ingredient to marinate. Cut your aubergine in slices and marinate in the sauce of your choice before cooking. Soy, tamari, oil, garlic, spices...you have a lot of options!
2. SALT AUBERGINE
Most recipes recommend salt aubergine before cooking as it draws out the bitter flavours of the fruit. It is not always necessary as modern varieties of aubergine are a lot less bitter than they used to be. Salting does however draw out moisture from the aubergine which makes it firmer and means it will absorb less fat when cooking, which is useful when frying.
3. CUT AUBERGINE
Cut off the green stalk with a knife and discard. Then cut the aubergine into rounds of even thickness, lengthways or finely with a mandoline. There is no wrong choice here, it all depends on the recipe and cooking technique (see below).
Cook them by…
Aubergine can be cooked in a number of ways and have a deliciously creamy, almost fudgy texture on the inside when done properly. The skin doesn't break down in the same way but it does become very tender.
1. BAKE
Cut the aubergine in half lengthways, score the flesh with a knife, add a drizzle of olive oil, then bake skin side down in a hot oven. With this cooking technique you can make recipes such as puree, dips and stuffed aubergines.
2. PAN-FRY
Keep the skin, dice and fry your aubergine in a little olive before adding it to a dish. This is a great technique for pasta tomato sauce, vegetable stew and curry recipes. When using this cooking technique, the aubergine will act like a sponge and will soak up all the oil before eventually releasing it, so the trick here is to keep stirring to prevent from burning, but no need to add more oil. You can also add a little salt, which will help release the water from the aubergine quicker.
3. DEEP FRY
For a crispy aubergine try deep-frying. Cut your aubergine in slices, coat in a beignet batter or marinate and deep fry in hot vegetable oil. This is delicious served as finger food or with a salad.
4. GRILL
Due to its natural smokiness and meaty texture, aubergine is particularly well suited to grilling. Finely slice the aubergine lengthways before coating with a little olive oil and spices, then cook a few minutes on the grill. This technique is great for aubergine rolls, lasagna style dishes or to add into a cold salad. You can also char-grille on the barbecue and then add to a simple marinade to serve as an antipasti.
5. BARBECUE
Just like a potato, poke a few times the skin with a knife to prevent it from exploding, cover with foil and barbecue the whole aubergine directly on the hot charcoal. Or simply on the grill over an open flame until the skin burns and becomes black. You can then scoop out the charred flavoured flesh and use in puree, dip and salsa.