How To Store & Cook Sweet Potatoes
Wondering how to store and cook sweet potatoes? Read our full guide, we've even included some of our favourite sweet potato recipes!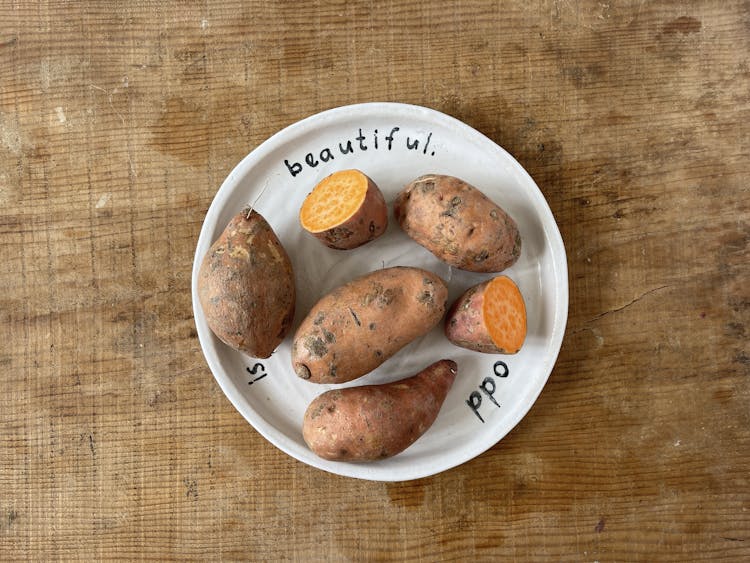 Benefits Of Sweet Potatoes
Sweet potatoes are nutrient-dense root vegetables available in various colours, such as yellow, reddish-purple and even deep purple. They boast a high fibre content and are rich in antioxidants, which can promote digestive and cognitive health, as well as your immune system. Sweet potatoes are also a significant source of beta carotene, which is converted into vitamin A, supporting vision and immune function. Their versatility extends to both sweet and savoury dishes, making them a practical carbohydrate choice for a wide range of dietary preferences.
How To Store Sweet Potatoes
Storing sweet potatoes is pretty simple. Keep them in a cool, dark place, like a pantry or a cupboard. And don't put them in the refrigerator as the cold can make their flavour and texture change. Instead, store them in a paper bag or a breathable container to maintain airflow. Also try to avoid any dampness, as it can cause them to rot quickly. If you follow these easy steps, your sweet potatoes should stay fresh for several weeks.
Can You Freeze Sweet Potatoes?
The simple answer is yes! Sweet potatoes can be frozen raw, baked, boiled, or even mashed. However, keep in mind that raw frozen sweet potatoes are likely to get freezer burn, so try to cook them in some way first. 
How To Cook Sweet Potatoes
There are so many delicious ways to prepare sweet potatoes. Roasting sweet potatoes is a fantastic choice; tossing them with some olive oil and your favourite seasonings creates a flavorful side dish. You can roast sweet potatoes in the oven, or an air-fryer, for a crispy, caramelised skin and a tender interior. Alternatively, you can bake sweet potatoes, which brings out their natural sweetness and makes them super soft with a creamy texture. If you prefer a quicker option, you can boil sweet potatoes until they're tender and then mash them.
Sweet Potato Recipes
Sweet Potato Soup
Start by heating some oil in a large pot and adding in 3 diced carrots and 1 diced onion. Stir frequently for 6-8 minutes, or until the carrot is softened. Now add in 2 crushed garlic cloves, 1 tbsp of finely chopped ginger, 1/4 tsp of red pepper flakes and 1/4 tsp of paprika. Stir for 2-3 minutes, or until the spices have become fragrant. Next, add roughly 680g of peeled and chopped sweet potato and 4 cups of vegetable stock. Reduce the heat to low, cover with a lid and allow to simmer for 15-20 minutes, or until the sweet potato can be easily pierced with a fork. You can now either transfer the soup to a high powered blender, or use a stick blender to puree the soup until smooth. We recommend serving with a garnish of coconut cream and some black cracked pepper. 
(Recipe via Downshiftology)
Sweet Potato Fries
Preheat your oven to 230C and line a baking tray with a reusable silicone liner. You can either peel your sweet potatoes and toss the peelings into your compost bin, or leave the skins on for extra crispiness! Aim to cut each piece into 1/2 inch thick wedges. Put your sweet potatoes into a large bowl and toss with olive oil, salt and whichever spices you like.
Our favourites are:
- Smoked paprika
- Chinese five-spice
- Cajun seasoning
- Garam masala 
Carefully spread the sweet potato wedges out in a single layer and bake for 10 minutes. After 10 minutes, use a pair of tongs to flip each wedge to allow the other side to crisp too. Bake for a further 5-15 minutes, or until each wedge is nicely browned. Serve alongside your favourite dipping sauce.
(Recipe via Simply Recipes)
Sweet Potato Curry
Add 1 tbsp of the oil of your choice to a saucepan over a medium heat. Add in 1 chopped onion and allow to soften for 5 minutes. Next, add 2 minced garlic cloves and a grated thumb-size piece of ginger. Cook for 1 minute or until fragrant. Stir in 3 tbsp of Thai red curry paste, 1 tbsp of peanut butter and 500g of peeled and chopped sweet potato (don't forget to put your peelings into your compost bin!). Now pour in 400ml of coconut milk and 200ml of water. Bring the mixture up to a boil, then turn down to a simmer and allow to cook for 25-30 minutes, or until the sweet potato is soft. Once cooked, stir in 200g of spinach and the juice of 1 lime. Season with salt and pepper and serve over fluffy rice, with a sprinkle of chopped peanuts. 
Looking for the perfect Thai curry paste? We've got our own! Click here to find out all about it.
(Recipe via BBC Good Food)
Sweet Potato Gnocchi
Preheat your oven to 200C and use a fork to poke holes into the skin of 2 medium sweet potatoes. Bake the sweet potatoes for 40-50 minutes, or until a fork can easily be pressed into the middle of the potatoes. Now set them aside to cool until they can be handled. Combine 2 tsp of salt and 2 cups of all purpose flour. Once the potatoes are cool enough to handle, remove the skin and use a potato ricer, or a fork, to mash them until smooth. Add your mashed sweet potato into the bowl with your flour and begin the knead together. You don't want the dough to be sticky, so be sure to add more flour if need be. Once combined, roll the dough into a ball and cut into eight even pieces. Roll each piece into a log that's roughly 1/2 an inch thick. You can now cut the log into smaller 1 inch pieces, to form your gnocchi. To cook the gnocchi, heat a pot of salted water and add in the gnocchi pieces. You'll know they're ready once they've been floating at the top of the pot for roughly 30 seconds. Serve with your favourite pasta sauce and enjoy!
Top tip: You can use the leftover sweet potato peel to make a crispy topping for your gnocchi! Simply coat in oil and a pinch of salt and allow to bake until crispy. 
(Recipe via Food With Feeling)
Craving More Sweet Potato Recipes?
These recipes are very a-peeling!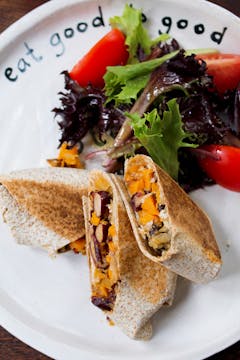 Sweet Potato Burritos
So easy to make and freezer friendly these veggie packed burritos are perfect on the go and will come very handy during a busy week.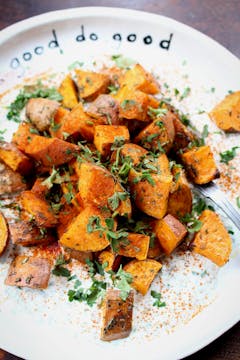 Rosemary Sweet Potato Roasties
This 30 minute recipe is a delicious alternative to the classic roasted potatoes. Tossed in rosemary, garlic and sea salt then baked to perfection, these sweet potatoes are packed with mediterranean flavours. Served on a lemony and herby greek yoghurt and topped with a dusting of paprika, these are a crowd pleaser.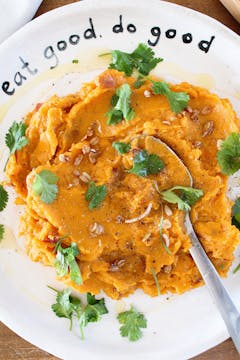 Sweet Potato Miso Mash
This delicious mash recipe is made with just a handful of ingredients and ready in under 30 minutes. It's an easy, vegetarian and (most importantly) delicious side, topped with fresh herbs and pumpkin seeds or nuts for extra flavour.