One paste. Three courses. A deliciously odd night in.
Tried our new Thai Red Curry paste yet? You're in for a treat – and not just one treat, but a three-course banquet.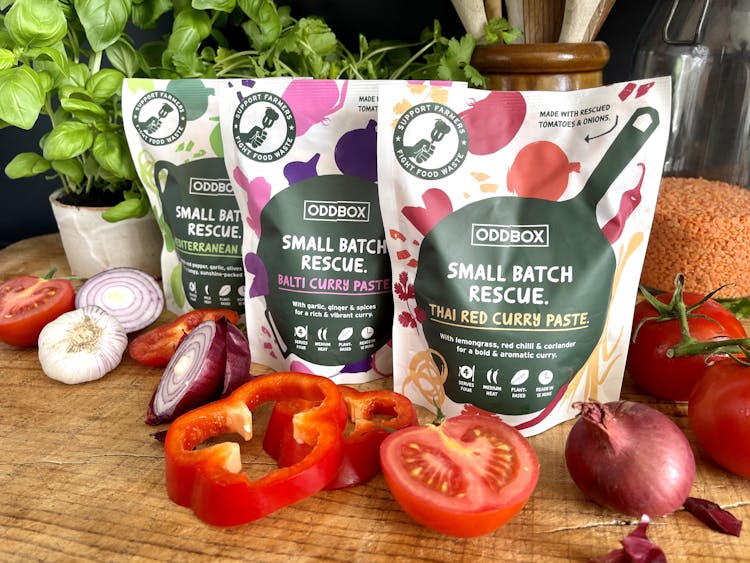 To show you just how versatile our cooking pastes are, we've whipped up a range of dishes for each part of your meal. So grab a pouch or two, invite your friends over and let your creative juices flow.
Something to start
Kicking off your meal with spring rolls, prawn crackers or other dippy bits? Instead of sweet chilli sauce, mix 1 tablespoon of your Thai paste with 3 tablespoons of either yoghurt or mayo.
Then simply heat up your spring rolls until crispy, pop your crackers in a bowl and get dipping.
The main event
If you love Pad Thai, have a go at this deliciously creamy version. Chop up all your veg and stir fry while making your sauce. All you'll need is: 3 tbsp peanut butter, 1 tbsp Thai Curry Paste, the juice of half a lime, 3 tbsp soy sauce, 1 tbsp maple syrup, 1 tsp sriracha sauce and 1/4 tsp rice wine vinegar.
Mix it all together and cook some noodles on the side. Then, once your vegetables are just right and your noodles are strained, combine everything together in one pan. Garnish with crushed peanuts, chilli flakes, fresh coriander and sliced spring onions.
On the side
Bring everything together with some scrummy side dishes. We love this Thai salad dressing, which goes great with crunchy leaves. Or, if you've got lots of veg in the fridge, have a go at these leftover vegetable fritters– you could even pair them with any extra dip from your starter.
With a steaming bowl of coconut rice and some charred roti breads, your banquet is ready.
Like the sound of this spread? Yet to try our Oddbox pastes? Head to your account to add a couple to your box. And let us know how your dinner went by sharing your dishes with us on Instagram. We can't wait to see.