How To Prep, Store And Cook Samphire
If you want to learn all about how to prep, store and cook samphire then keep reading!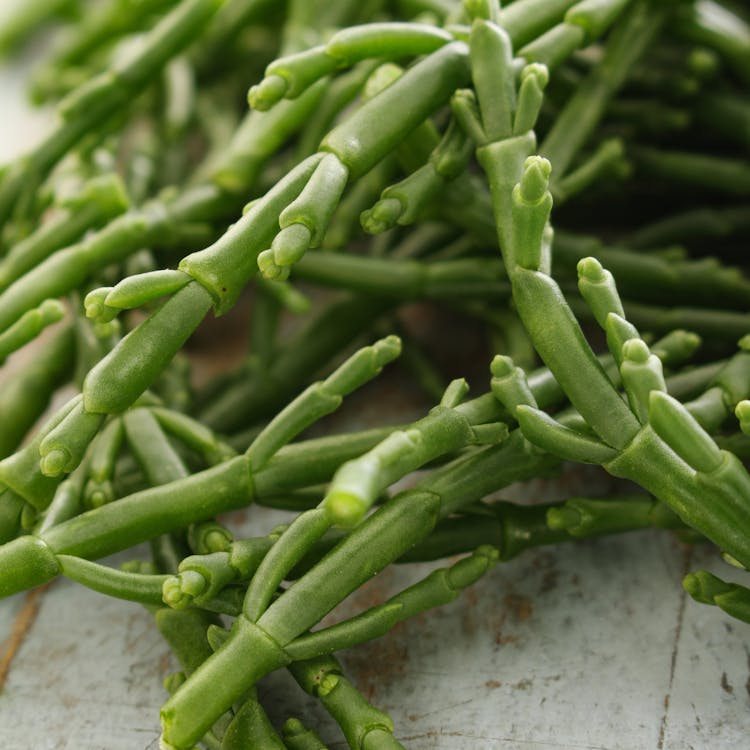 Samphire is a sea vegetable with vibrant green, fleshy stalks and finger-like leaves. It's a succulent halophyte, meaning it grows in saltwater or salty soil. You can find it along British coastlines, on beaches and in marshes. 
There are two types of samphire – marsh and rock. Rock samphire often has a strong, unpleasant smell and flavour. We'll only be talking about the more commonly eaten marsh samphire here. 
Marsh samphire has a delicately crisp and salty yet fresh flavour, like asparagus crossed with seaweed. It tastes best in July and August.
HOW TO STORE SAMPHIRE
Samphire loses its freshness and flavour fast after picking, so it doesn't keep for long. Wrap samphire tightly in a damp cloth and pop it in the fridge. Use it up within three days.
HOW TO PREP SAMPHIRE
Wash samphire thoroughly under cold running water to remove any sand or dirt that has attached itself. Trim off tough ends and roots, as these aren't good to eat, and compost them (we have an in-depth guide to compositing here). If you're cooking samphire, break up larger pieces so it heats evenly.
HOW TO COOK SAMPHIRE
Cooking samphire is simple and, most often, it's boiled quickly to disperse some of its saltiness. This sea vegetable provides a distinctive flavourto dishes. It works best with creamy and citrus foods, or any meal that could do with an extra touch of salty goodness.
BOILED
Bring a pan of water to the boil. Never add salt to the water – samphire is already salty enough. Tip in the samphire, then turn the heat down and simmer for 2-3 mins, until tender. Drain well and, while the samphire's still hot, toss in black pepper and butter, vegan spread or olive oil.
STEAMED
Half-fill the bottom of a pot with water and bring it to the boil. Place the samphire in the steamer basket. Steam samphire for 5-10 mins, until tender. Remove from the heat and serve tossed with olive oil, lemon juice and garlic.
SAUTEED
To make sauteed samphire, melt a little olive oil or vegan spread in a pan on medium heat. Add shallots and garlic and gently soften for 5-6 mins. Add samphire and cook for another 4-6 mins. Toss with fresh parsley to serve. 
(Recipe via BBC Good Food)
FRIED
Samphire makes an excellent filling for battered tempura. Prepare the tempura batter by adding 85g plain flour, ½ tsp salt and ½ tsp sugar to a bowl. Gradually whisk in 200ml of chilled sparkling water, being careful not to whisk more than necessary. Dip the samphire in the mixture, letting any excess drip off. Quickly deep fry in olive oil until golden brown and crispy. Drain on kitchen roll and serve. 
(Recipe via Great British Chefs)
PICKLED
Wash 100g samphire and pat it dry on a clean tea towel. Pack it into a 500ml sterilised jar, adding 1 bay leaf and 1 finely sliced clove of garlic. In a small pan, gently heat 350ml apple cider vinegar or white wine vinegar. Add 1 tsp sugar and a few spices – use whichever flavours you like. Black peppercorns, coriander seeds, horseradish, allspice berries and star anise all work well. 
Wait until the sugar has dissolved, then raise the heat and boil the liquid for 5 mins. Remove from the heat and pour the hot liquid over the samphire. Put the lid on the jar and leave your pickled samphire in a cool, dark place for 1 month before eating. 
(Recipe via Larder Love)
We even have a full guide on how to pickle anything right here!
LEAVING SAMPHIRE RAW
Eating raw samphire isn't for everyone and usually, only early-season shoots of samphire are spared from cooking. If you're a fan of salty foods, however, it's worth a try. Add the samphire as a salad green to a citrusy salad, along with flavours like orange juice, ginger, mint and spring onion. 
Alternatively, you can use samphire to garnish a seaside gin and tonic.