How To Cook Cabbage 5 Different Ways
Are you on the hunt for some delicious white cabbage recipes? Why not take a peek at these five unique ways to cook cabbage.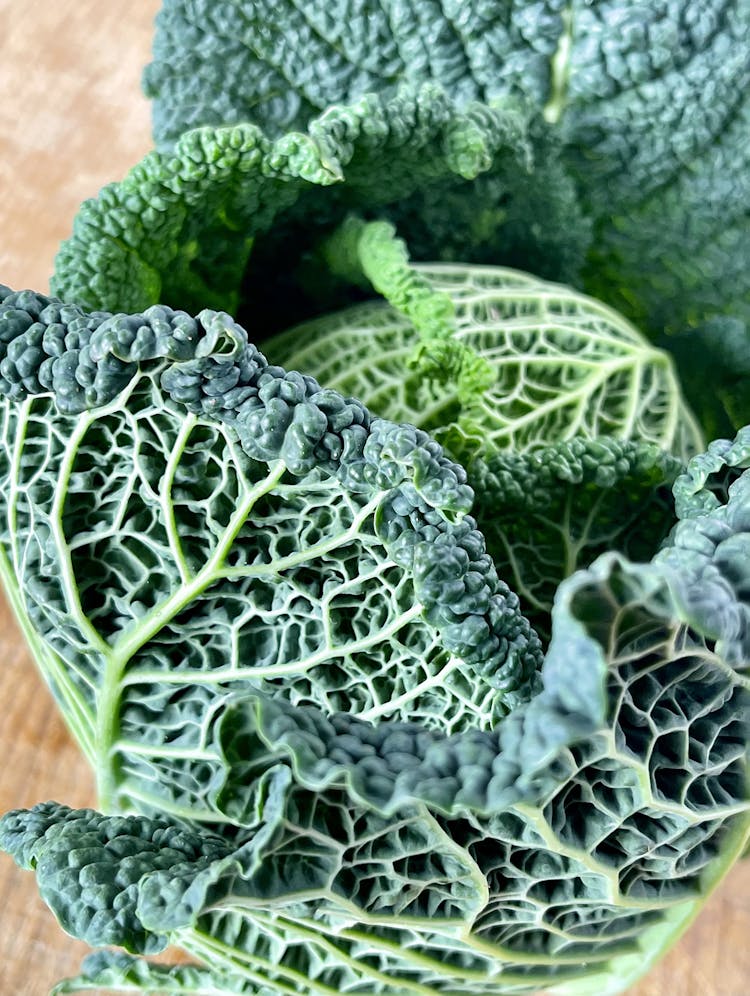 Cooking cabbage is so easy, but it can often be an overlooked ingredient. You might see cabbages popping up more often in your Oddbox as we head into the winter. December is the best time of year for white cabbages in the UK, but they are usually available from September onward - so now is the perfect time to start practising some brand new cabbage recipes.
Charred Cabbage
This charred cabbage side dish is perfect to pair with your favourite roast dinner. Start by gathering the following ingredients:
1 cabbage 
1 can chickpeas 
1 tsp curry powder
1/2 tsp smoked paprika
1 tsp ground cumin
1 lemon
Olive oil
Salt & pepper to taste
Preheat your oven to 210C/190c fan/7 gas mark, drain the chickpeas and place them on a large baking tray. Now drizzle the chickpeas with olive oil and top with all of the spices and a pinch of salt and pepper. Roast for 20 minutes, or until golden and crispy. While the chickpeas are roasting, finely shred the cabbage and heat a frying pan over medium heat. Add roughly 3 tbsp of olive oil and then the cabbage in an even layer. Leave for 1-2 minutes until the cabbage is slightly charred, then stir and leave for 1-2 minutes again. Repeat until the cabbage is tender and lightly charred all over. Remove from the heat and squeeze over the juice of 1 lemon. Season to taste with salt and pepper and stir to combine. Finally, top with the crispy chickpeas and serve alongside your hearty dinner.
(Recipe via Oddbox)
Curried Cabbage
These curried cabbage and onion burgers are a really inventive way to use up that half a cabbage that you've got left in the fridge. 
1/2 cabbage
1 onion 
150 g chickpea flour (or plain flour)
1 tsp curry powder 
1 tsp ground turmeric 
1 tsp paprika 
4 tbsp mango chutney 
4 burger rolls 
4 tbsp vegetable oil (for cooking)
A bunch of fresh coriander
Sea salt
Finely slice the onion and cabbage and set aside. In a mixing bowl, stir together the chickpea flour, curry powder, ground turmeric, paprika and a pinch of salt. Next add 150ml cold water and whisk until combined. Toss the cabbage and onion in the mixture until well coated. Add the vegetable oil to a pan over medium heat and add in your patties (one patty will require roughly 4-5 tbsp of the mixture). Fry for 3-4 minutes, turning them every so often to ensure an even colour. Once they are golden and crisp, place them on some kitchen roll to remove any excess oil. Cut your burger rolls in half and spread each side with some mango chutney. Now add in your patties and top with fresh coriander.
(Recipe via Oddbox)
Roasted Cabbage
1 cabbage 
2 tbsp olive oil 
1 tbsp mustard 
1 tbsp maple syrup 
1 tbsp soy sauce 
3 sprigs thyme (chopped)
150 ml vegetable stock
Preheat your oven to 200C/180 fan/6 gas mark. In a bowl, whisk together the olive oil, mustard, maple syrup, soy sauce, thyme, and salt and pepper. Place your whole cabbage into a baking dish and pour over the marinade, ensuring that it covers the entire cabbage. Now pour 150ml of vegetable stock into the bottom of the baking dish. Cover with foil. Roast the cabbage for 45 minutes, then remove the foil and place it back in to roast for a further 30 minutes, basting the cabbage with the juice at the bottom of the dish half way through cooking. You'll know your cabbage is ready when it is lightly charred and tender. When it has finished cooking, slice the cabbage into wedges and serve with gravy and some of the marinade juice from the baking dish.
(Recipe via Oddbox)
Braised Cabbage
This classic vegetable side dish pairs wonderfully with roast dinners, it has a lovely sweetness and a real flavour kick. 
1 head white cabbage (cut into thick slices)
1 onion (cut into thin strips)
2 cloves garlic (diced)
2 tbsp butter
175 ml vegetable stock
2 pinches salt & black pepper
Melt the butter in a pan and add in the onions to sauté for about 5 minutes. Stir in the garlic and cook until fragrant. Add the cabbage and continue to sauté for 8 minutes. Next, season with salt and pepper and add in the vegetable stock. Bring to the boil, then reduce the heat down to a low simmer. Now cover the pan with a lid and cook for 30-40 minutes. Stir occasionally whilst the cabbage is braising, ensuring to put the lid back on after each stir. Once the cabbage is soft, season to taste with more salt and pepper, if needed. Serve alongside your best roast dinner.
(Recipe via Flawless Food)
Cabbage Soup
2 tbsp olive oil
1 onion (diced)
1 large carrot (diced)
2 celery stalks (diced)
2 garlic cloves (minced)
1/2 tsp dried oregano
1/2 tsp dried basil
1/2 tsp salt
1/2 cabbage (chopped)
1 can chopped tomatoes
4-6 cups vegetable stock (depending how thick you'd like it)
1-2 tbsp lemon juice
Handful of chopped fresh parsley 
Cracked black pepper, to taste
Heat the oil in a large pot over medium-high heat, then add in the onions, carrot, and celery. Cook for 4-5 minutes. Next add the garlic, herbs and spices, leaving to cook for a minute or so. Now put the cabbage into the pot and allow it to sweat for 5 minutes. Pour over the vegetable stock and chopped tomatoes and leave to simmer for 10 minutes. Remove the soup from the heat and add the lemon juice, parsley and cracked black pepper. Give it a stir and serve with some crusty bread.
(Recipe via Downshiftology)
Fancy Some More Cabbage Recipes?
We've got a whole patch of them!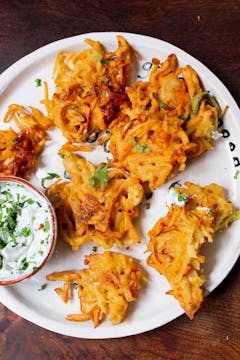 Leftover Vegetable Bhajis with Yoghurt Balti Curry Dip
Use any leftover vegetables for this recipe, such as carrots, onion, cabbage, potato, spring onions, broccoli, cauliflower and even cauliflower leaves.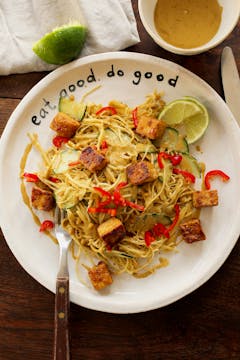 Crispy Tofu, Satay Cabbage & Cucumber Salad
This crispy tofu, satay cabbage and cucumber salad is perfect for when you fancy something healthy, but don't want another boring salad.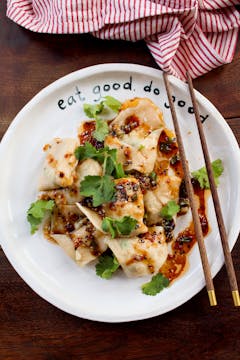 Quick Cabbage & Kale Wontons in Chilli Oil
These are for nights when you're craving spicy and warming wontons, but don't feel like ordering out. Easy homemade vegan cabbage, kale and tofu stuffed wontons tossed in a flavourful sweet and spicy chilli oil. Served with fresh coriander or any greens of your choice. A fun, delicious and healthy dinner to make any night of the week.