7 vegetable alternatives to your favourite carbs
Whether you're trying to reduce gluten in your diet or seeking creative ways to use up your veg box, these veg-loving recipe ideas are here to inspire you.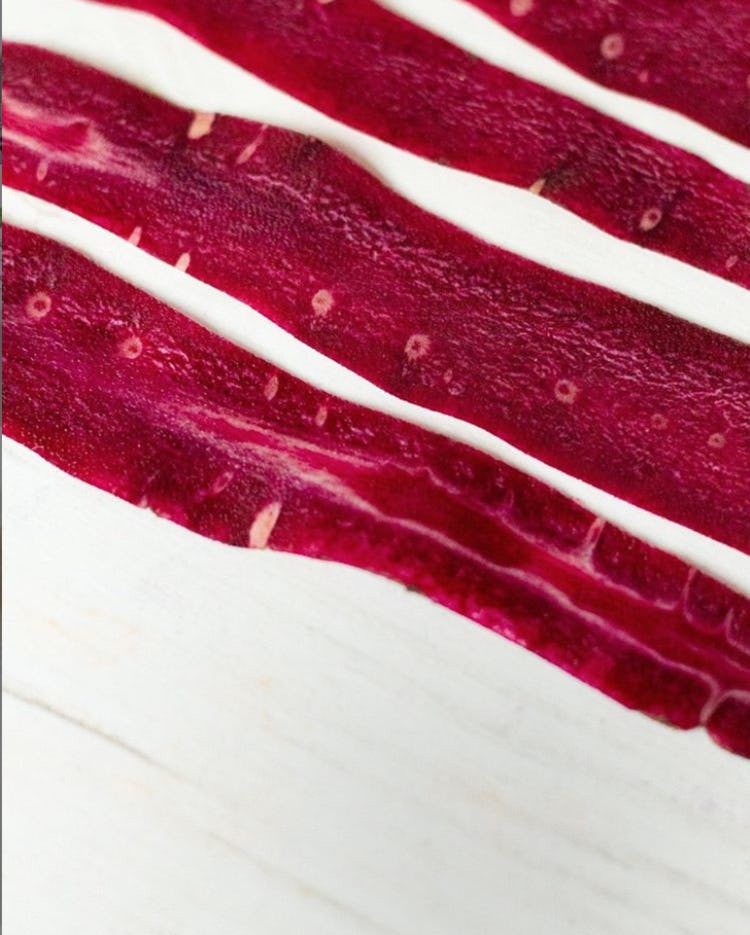 1. VEGETABLE 'SPAGHETTI'
Celeriac carbonara, carrot noodle stir-fry, courgetti pesto… spiralizing your vegetables into spaghetti-like lengths is a delicious way to get creative with extra veg. Think outside the box with your noodles – try squash and beetroot, parsnip and sweet potato. If you don't have a spiralizer, you can use a vegetable peeler to make long strips of veg. It will change the look but it'll taste just the same.  
2. CHICKPEA FLATBREADS
Chickpea flour is much more widely available these days. This gluten-free flour is also sold as 'gram' flour and can be used as a sub for wheat flour in all sorts of dishes, including veggie fritters, muffins and flatbreads too. 
To make flatbreads, mix equal parts chickpea flour with water, add a pinch of salt and fry in a pan as you would a thin crepe. Eat for a weekend brunch, topped with scrambled eggs, fried mushrooms, sliced avocado or tomatoes and a crumbling of feta or a little grated cheese. Delicious.
3. CAULI RICE
Blitz up cauliflower to resemble rice. Blend cauliflower florets in a food processor until pulverised into little rice-like grains (be careful not to overblend it). Steam or microwave until cooked through. 
At this point, you could toss through with spices and nuts to make it a bit more interesting or eat just as it is alongside your favourite curry. Alternatively, turn it into egg fried 'rice' – the perfect excuse to rid your fridge of any vegetable odds and ends and those leftover cauliflower leaves too. Use our Egg-fried rice recipe as inspiration. 
4. CAULIFLOWER PIZZA
For a gluten-free alt-pizza, the cauliflower pizza is the trend du jour and for good reason. It's simple to make and you can attain a similar crisp crust as the base to your favourite toppings. 
To make your pizza base, follow the same process you would to make cauli rice. Once cooked, bunch it up into a clean tea towel and squeeze out the excess moisture – you need to do this to make sure your base is nice and crisp and holds together. Combine with an egg, herbs like oregano or rosemary, salt and pepper, and a handful of grated cheese (if you want to avoid dairy, swap in ground almonds). Tip the mixture onto a lined baking tray and spread it out into a pizza round. Bake in the oven at 200ºC for about 15 minutes, until golden. Remove, then top with your favourite toppings and finish off in the oven. Margherita anyone? 
5. AUBERGINE LASAGNE 
Swap lasagne sheets for layers of thinly sliced aubergine. Aubergines tend to release a lot of moisture as they cook so it's a good idea to cook them separately first. Before you begin, brush the aubergine slices with oil and roast until softened and golden, then layer them into your lasagne. Less carbs and more wonderful veg.
6. PARSNIP FRIES
We may be used to making sweet potato fries (especially with a good hit of paprika – delicious) but what about lovely, sweet parsnip fries. Slice them lengthways into thin wedges, toss with olive oil, salt and pepper and bake in a hot oven for about 20 minutes, until golden.  
7. CABBAGE BURRITOS
Scrap the tortilla for a carbless take on your favourite street food. Make your burrito filling – whether spiced beef and rice or a veggie bean version – while you blanch large green cabbage leaves in boiling water for a minute or so. Top each leaf with filling, grate over cheese and wrap them up into neat parcels. Bake in the oven for about 10 minutes until your cheese is melted and bubbling. Delicious!