What to do with cauliflower leaves
Have you been throwing your cauliflower leaves out? You're not alone. Often, we're not sure if they're okay to eat or we just don't know what to do with them.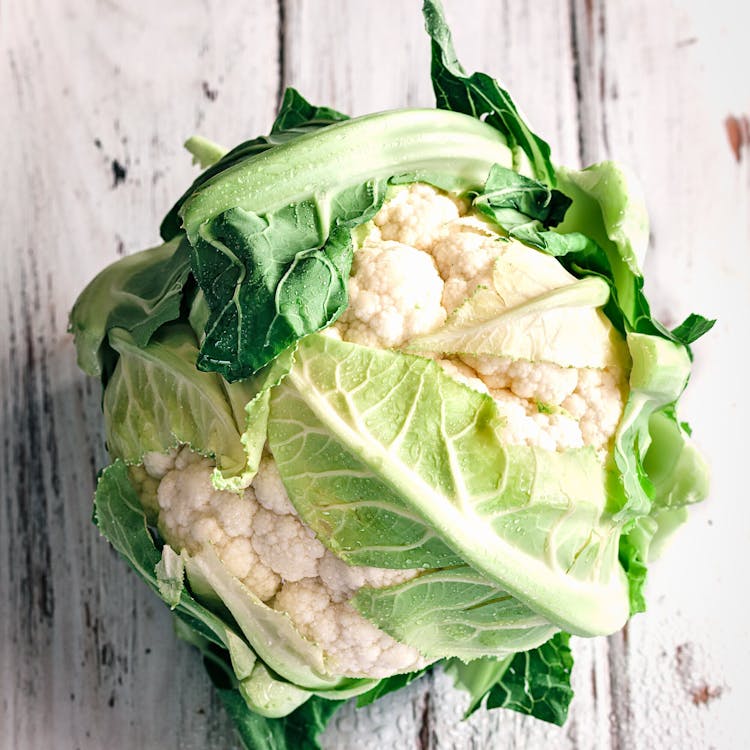 Cooking cauliflower leaves is one of the small but important habits you can adopt to cut down on food waste in the home. 
Are cauliflower leaves edible?
You can eat cauliflower leaves. They're just as edible as the cauliflower stems or florets (the immature flowers of the plant) we usually cook up. 
They're also a versatile ingredient which adds tasty flavour to many dishes. Opt for a cauliflower leaves recipe or swap them out from bok choi, spinach, lettuce and other leaves you might buy. You can even eat raw cauliflower leaves, tossed into a salad. 
Here are our favourite cauliflower leaf recipes to try. 
Roasted cauliflower leaves
Select the leaves with the largest, thickest cauliflower stalks and leave the rest intact. Cut them into 3cm-long strips. Preheat the oven to 200 degrees C. Toss in olive oil and a little sea salt, then roast for 20-30 mins. The leaves should be crisp and slightly charred, perfect for snacking or serving alongside the cauliflower head. 
(via The Guardian)
Cauliflower leaf soup
Preheat a fan oven to 200 degrees C. Toss the leaves of one cauliflower in olive oil and sea salt and roast for 12-15 mins. Gently heat vegetable stock on the stove. Remove the leaves from the oven. Put the leaves and stem from the cauliflower, 1 clove of crushed garlic and herbs of your choice into a food processor. Add the stock and blend. If the soup has cooled, gently warm it until hot again. Add vegan spread and vegan parmesan to melt, season to taste and serve. 
(via Spoon Envy)
Cauliflower leaves stir fry
Heat 2 tbsp vegan spread over medium-high heat in a frying pan. Once melted, add thinly-sliced leaves from one cauliflower and cook for 2 mins. Mix in 3 cloves of minced garlic and cook for 30 secs. Add 1 tbsp soy sauce, ½ tsp salt and ¼ tsp black pepper. Wait for the sauce to evaporate onto the leaves, then remove from the heat and serve immediately. 
(via V for Veggy)
Cauliflower leaves pesto
Mince 3 cloves of garlic in a food processor. Add 35g pine nuts, ¼ tsp salt and ¼ black pepper until coarsely ground. Add 1 tsp grated lemon zest, 1 tbsp fresh lemon juice, 25g grated vegan cheese, 10g cauliflower greens, 60g fresh basil and 3 tbsp fresh parsley. With the food processor still running, drizzle 90-120ml of olive oil through the hole in the top. Store in the fridge in a sealed container for 1 week, or in the freezer for 3 months. 
(via Romper)
Japanese simmered cauliflower leaves with potatoes
Combine 700ml vegetarian dashi sauce, 60ml soy sauce, 60ml mirin and 1 tbsp rice vinegar. Chop the leaves from one cauliflower into 2.5 cm pieces. Set both aside. Wash or peel 1 large potato and cut into 1 cm cubes. Heat 1 tbsp vegetable oil on high in a large skillet for 1 min, then add the potatoes, spreading them out thinly. Turn occasionally and cook for 5-6 mins. Add the broth and cauliflower greens to the potatoes and bring to a gentle boil. Reduce to a simmer and cook for 15-20 mins, until the potatoes are tender. Serve with rice or as a side to a Japanese main. 
(via Diversivore)