7 delicious ways to eat gooseberries
DID YOU KNOW?
Gooseberries vary in colour and can be green, yellow-white, pink, red, or dark purple. They are packed with nutrients and vitamins and their flavour ranges from tart to sweet. Gooseberries make a delicious addition to both sweet and savoury dishes when cooked and sweetened a little.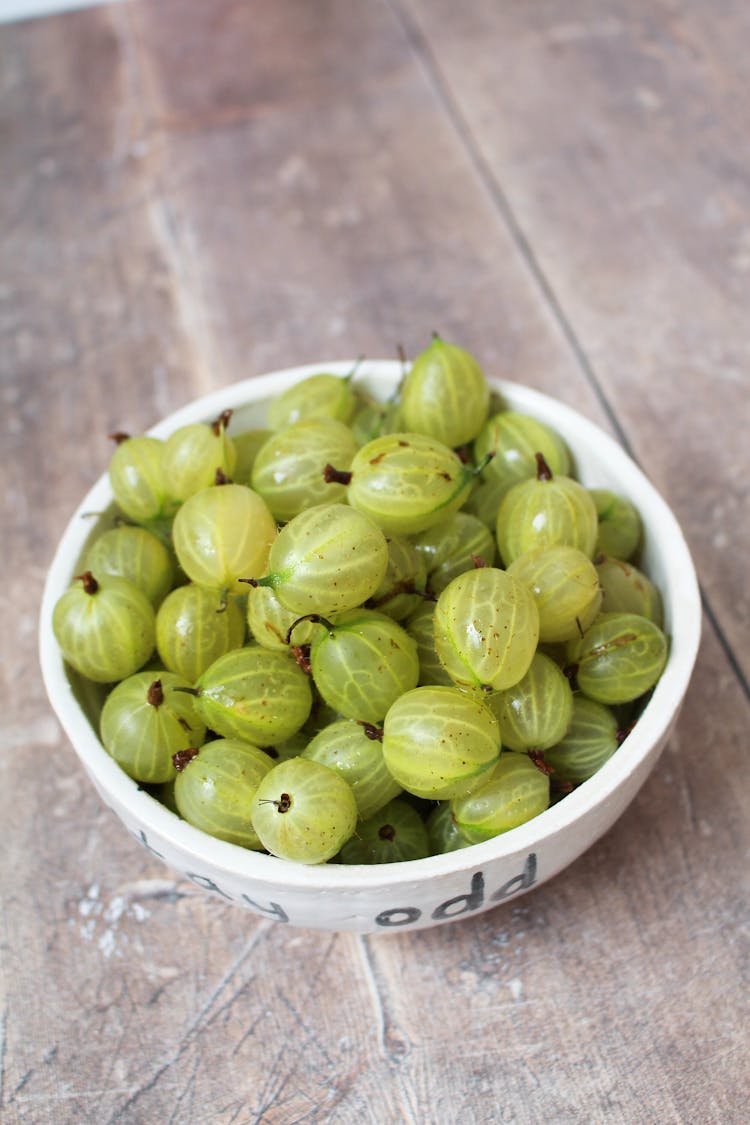 STORE THEM BY: 
Store unwashed gooseberries in the fridge for up to 5-7 days. 
PREPARE THEM BY: 
Rinse the gooseberries in cold water, then top and tail the ends with scissors or a small knife. To freeze, wash, pat dry and place the gooseberries on a tray and spread out so they don't bunch together. Put in the freezer for 2 hours, or until frozen. When frozen separate and portion into reusable freezer bags. They will keep for a couple of months in the freezer.
7 DELICIOUS RECIPE IDEAS: 
GALETTE: Roll out a puff pastry/vegan puff pastry and add ground almonds then the whole gooseberries on top. Fold the pastry borders over the fruits, egg wash (or use plant based milk), sprinkle with light brown sugar and bake at 180C/160 fan/4 gas mark, for 30-35 minutes, until puffed and golden. 
JAM: Put 300 g gooseberries in a saucepan along with 70 g sugar and ½ tsp vanilla paste. Cook down for 15-20 minutes until jam consistency, then stir in the juice of ½ lemon. Serve on toast, yoghurt or use in cake recipes.
POACHED: Put 250 g gooseberries in a saucepan with 2 tbsp sugar and 100 ml liquid (water, elderflower or cordial are good options). Place over a low heat until the sugar has dissolved. Then cook over medium heat for about 4 minutes until the gooseberries are tender but still hold their shape. Remove from the heat and allow to cool completely. Serve with yoghurt. 
PANCAKES: Cut a few gooseberries in half. Make the pancake batter from 150 g self raising flour, 1 tsp chia seeds, 1 tsp baking powder, 190 ml plant based milk, 20 g porridge oats, 15 ml olive oil and 1 tbsp honey/maple syrup. Heat up 1 tsp of coconut oil in a frying pan. Spoon over the pancake batter, add a few gooseberry pieces and cook for 3 minutes on each side. Repeat until all your pancakes are cooked. 
COMPOTE: Put 300 g gooseberries in a shallow baking dish, then sprinkle over 70 g sugar and bake at 180C/160 fan/4 gas mark for 15-20 minutes until the berries are just tender but still hold their shape. Put half in a food processor and blend until smooth. Taste and add a little more sugar if needed. 
CRUMBLE: Toss the gooseberries with sugar and place them in a crumble dish. Cover with a crumble topping made from 100 g plain flour, 110 g butter, 60 g coconut sugar (or any sugar), 40 g ground almonds and a pinch of salt. Bake at 180C/160 fan/4 gas mark for 40 minutes, until golden and bubbling. 
HONEY ROASTED GOOSEBERRIES: Toss whole gooseberries in honey/maple syrup and thyme mixture. Then roast until sweet, warm and juicy. Serve with a light whipped ricotta and toasted bread.