Jammy Gooseberry Galette
Make the most of your gooseberries with this rustic galette. The gooseberries are prepared two ways; half are turned into a jam and the other half are baked whole. This recipe is easier than pie, but just as delicious for an uncomplicated dessert.
Prep time: 20 minutes
Cook time: 35 minutes
Total time: 55 minutes
Servings: 6
Ingredients:
700 g Gooseberries 
1 ready rolled puff pastry (or vegan puff pastry)
1 Vanilla pod
70 g Sugar ( plus extra for sprinkling)
Lemon juice (¼ lemon)
20 g Flaked almonds
1 tbsp Light brown sugar
1 Eggs (or 2 tbsp plant based milk)
4 tbsp Creme fraiche (or vegan oat fraiche)
Recipe:
Make the gooseberry jam: Cut the vanilla pod in half lengthwise and scrape the seeds out. Do not discard the pods, keep them for custard or cream recipes. In a small saucepan, add 300 g of gooseberries and 70 g sugar. Cook for 7-8 minutes, then add the lemon juice. You can use a fork to break the gooseberries. Cook for another 4-5 minutes, until jam consistency. Set aside.
Build the galette: Preheat the oven to 180C/160 fan/4 gas mark. Roll out the puff pastry/vegan puff pastry on a baking tray large enough to hold it. Spread the gooseberry jam at the bottom, then arrange the fresh gooseberries on top, still leaving a 5 cm border around the edges. Fold the edges of the pastry up over the gooseberry to create a border.
Egg wash the pastry: Whisk the egg in a small bowl and brush the egg wash onto the folded border. If vegan, use plant based milk instead of the egg. Sprinkle the borders with the light brown sugar and flaked almonds. 
Bake the galette: Bake the galette in the preheated oven for 35-45 minutes, until the edges look puffed and golden. Let the galette cool for 30 minutes before transferring onto a cooling rack. Enjoy warm or chilled with a dollop of creme fraiche/vegan oat fraiche.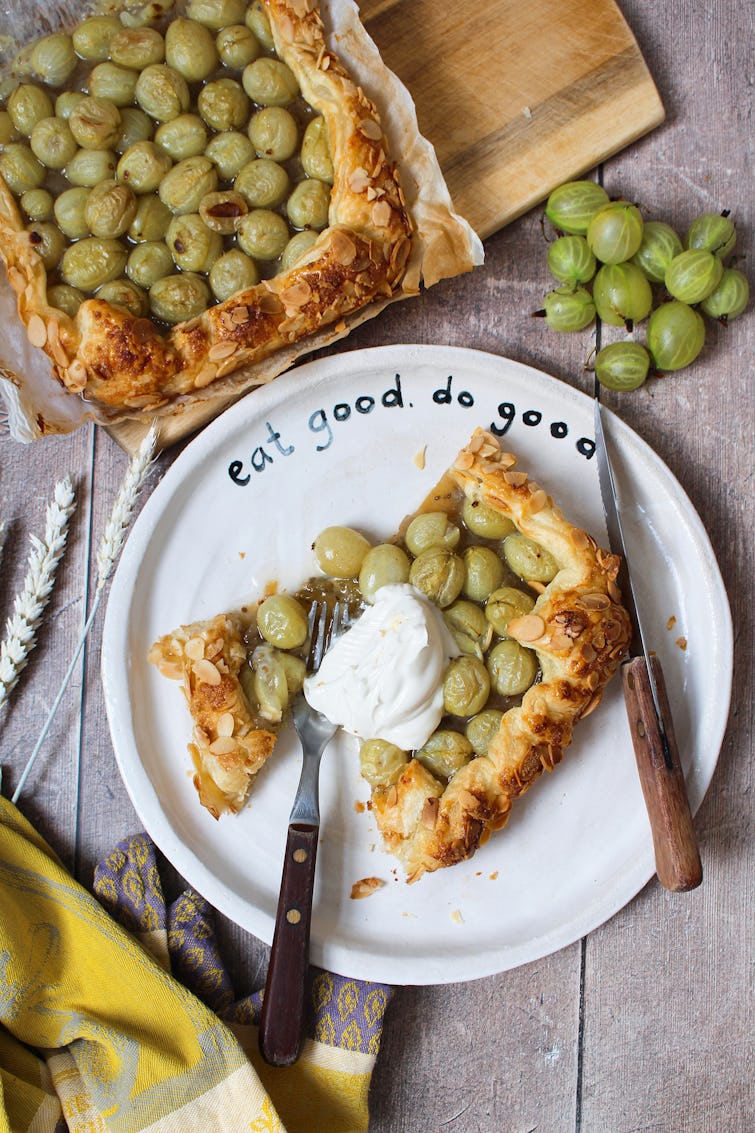 ---
How to store
Store the galette at room temperature for up to 3 days. If it is too hot, store it in the fridge.
Leftovers
Enjoy the galette from breakfast with yoghurt or as dessert with ice cream.