6 delicious ways to cook Jerusalem Artichokes
Not sure what to do with your leftover Jerusalem Artichokes? Not to worry - here's Camille @callherchef with 6 delicious Jerusalem artichoke recipes for you to try!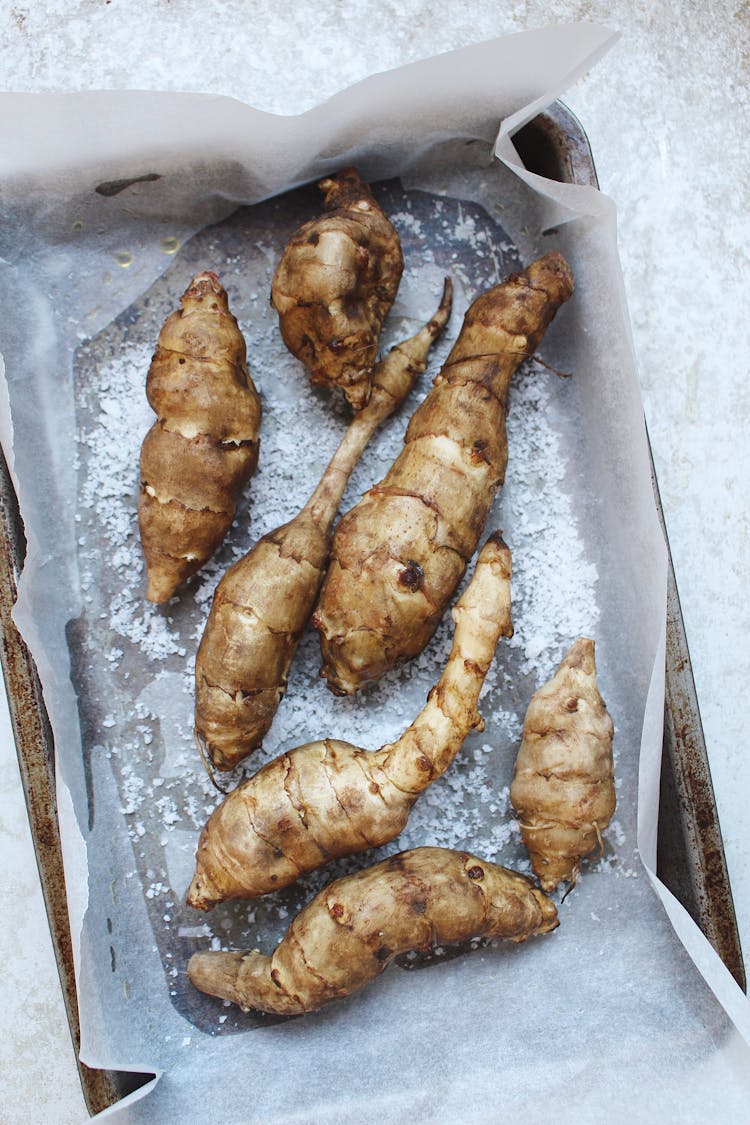 WHAT ARE JERUSALEM ARTICHOKES?
Jerusalem artichokes are starchy tubers like potatoes and turnips, that taste slightly nutty and sweet. Jerusalem artichokes are also known as sunchokes.
HOW TO STORE…
Store them in the fridge. They will keep well for up to 8-10 days.
HOW TO PREP…
Rinse and scrub them clean under cold water. If you do peel them, drop them into acidulated water (cold water with a squeeze of lemon juice or a dash of white wine vinegar) until you are ready to use them because the flesh discolours quickly if exposed to air. Because of their shape, it's easier to peel artichokes when cooked.
6 RECIPE IDEAS FOR JERUSALEM ARTICHOKES
"Jerusalem artichokes can be cooked in much as you would potatoes or parsnips, and are excellent roasted, sautéed, fried, or puréed into a delicious soup!" - Camille
SOUP
To make Jerusalem artichoke soup, spread the Jerusalem artichokes on an oven tray and drizzle with olive oil. Season with salt and pepper, and roast at 180C for 30 minutes, or until they are golden brown and tender. In the meantime, pan fry chopped onion, garlic and thyme (or any herb of your choice such as rosemary and sage). Cook for 10 minutes, until soft. Cut the Jerusalem artichoke in half, lengthwise and spoon out the flesh. Tip the cooked artichokes into the pan with the onions. Give everything a good stir, add stock and simmer for 10 minutes. Add a little cream or milk and bring to the boil. Blend until smooth and serve with toasted hazelnuts and a drizzle of truffle oil.
GRATIN
Peel the Jerusalem artichokes and cut into thin slices - use a mandoline or a sharp knife. Do the same with potatoes and pan fry chopped onion and garlic in olive oil until tender. Using half, place alternate rows of sliced artichoke and potatoes into a baking dish. Season and spoon over half of the onion mixture. Now repeat to form another layer, ending with onion. Add enough stock to come halfway up the dish and sprinkle grated cheese all over the top. Cover with foil and roast at 180C, for 1 hour. Remove the foil and roast for 20 minutes, or until golden brown and tender. This Jerusalem artichoke gratin make the perfect winter meal.
SAUTEED
Peel and cut the Jerusalem artichokes into chunks. Place them in an oiled frying pan and fry on a medium heat until golden on both sides, then add a few bay leaves, cloves of garlic, a splash of white wine vinegar, salt and pepper, and place a lid on top. Cook for 20 minutes, until softened. Remove the lid and the bay leaves and continue cooking for a couple of minutes to crisp the artichoke slices up one last time.
RISOTTO
To cook this Jerusalem artichoke risotto, scrub the artichokes (no need to peel), grate half and slice the other half. Roast the Jerusalem artichoke slices until crispy and tender. Heat a little olive oil in a saucepan and add chopped onion. Cook gently until tender. Add the risotto rice, and stir it around until it is completely coated. Add white wine and simmer until the wine is absorbed, then add stock in ladlefuls letting each one be absorbed before the next one is added. Keep adding stock until the rice is cooked half way through, then add the grated Jerusalem artichoke. Cook until both artichoke and rice are tender. Season well and stir in the roasted Jerusalem artichoke slices, lemon zest and parmesan.
ROASTED
Roasted Jerusalem artichokes make the perfect starter for any meal! Scrub clean the Jerusalem artichokes under cold water. Roast them whole like mini jacket potatoes at 180C, for 30 minutes, or until tender. Split them open, and drizzled with chilli oil or your favourite yoghurt and lemon dip.
For a full recipe, give this roasted Jerusalem artichoke with miso butter a go!
PUREE
Place the Jerusalem artichokes in a pan and add enough water to cover. Place over a medium heat and bring to a simmer. Add a pinch of salt and leave to cook slowly for about 1 hour, or until the artichokes are tender. Drain well, and then place back in the pan with double cream. Bring to the boil and reduce slightly. Season to taste and blend until smooth. You can now serve your Jerusalem artichoke puree as a dip or even as an accompaniment to a dish like this.
Even more Jerusalem artichoke recipes!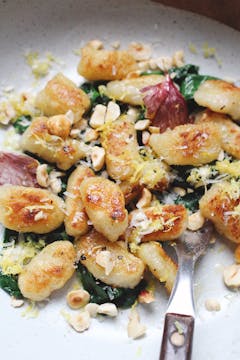 Jerusalem Artichoke Gnocchi
The nutty flavour from the Jerusalem artichoke works wonderfully with rosemary, garlic, lemon and hazelnuts. Paired with a classic beurre noisette, wilted spinach, toasted hazelnuts and lemony parmesan, this vegetarian dish is the perfect winter recipe - guest ODDBOX chef Camille @callherchef.