10 of the best low-waste salad recipes
It can be difficult finding the inspiration to cook fresh meals twice a day. Salads are a simple and convenient way to use up vegetables, fruits, store cupboard staples and even old recipe leftovers. Don't write off eating a salad just because the weather is brisk - they can make hearty and filling meals too. Here's our guide to some of the best low-waste salad recipes.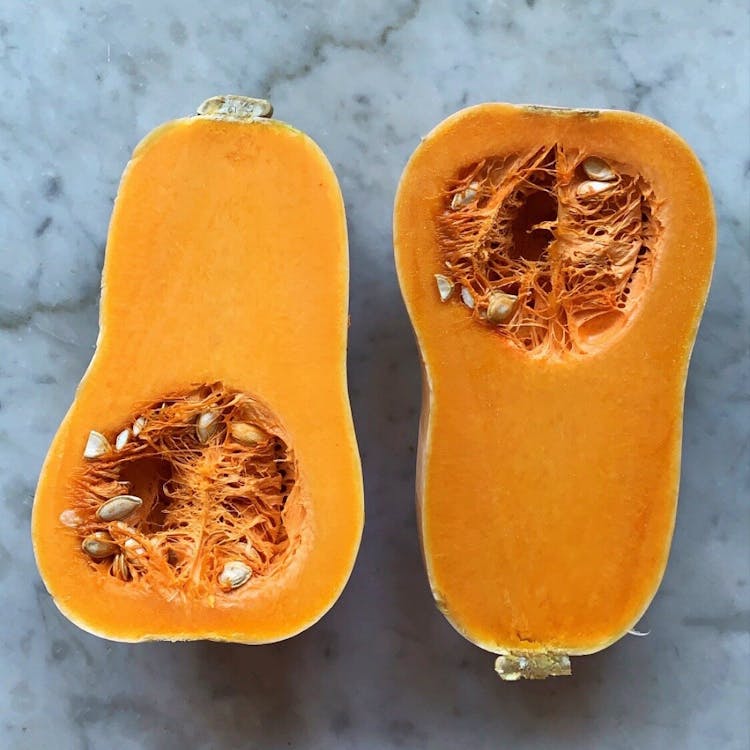 BUTTERNUT SQUASH, APPLE & BARLEY SALAD
There are so many opportunities to use the whole of a vegetable in a meal when we might otherwise throw parts out. This mega-salad from Chef's Pencil uses all of the butternut squash. The pulp is cut into cubes, the skins are made into crisps and the seeds become seed powder. 
The recipe also helps finish up any older apples, garlic cloves and pearl barley (or similar grains). And it's a great chance to try out making a seed powder if it's your first time. 
LEFTOVER SPAGHETTI SALAD
Making a salad with leftover pasta might not have crossed your mind, but it's a filling option for winter evenings. This recipe from Contentedness Cooking uses cooked spaghetti, but you can easily substitute out for any kind of pasta you have leftover. 
This vegan salad is also a great chance to use up onions, tomatoes, cucumber and olives. And if you make the vinaigrette to dress with, you'll use both the juice and zest of any lemons you have. 
QUINOA SALAD
Packed full of protein, this simple, vegan quinoa salad recipe from Cookie and Kate helps get through chickpeas in the cupboard. It's also useful for leftover quinoa or any substituted similar grain such as buckwheat or couscous. 
Make this warming salad to use up supplies of bell peppers, red onions, fresh parsley and cucumber (there's no need to seed it as it says in the recipe). The dressing asks for garlic cloves and the juice from two or three lemons, too. 
FAST & EASY LEFTOVER VEGGIE SALAD
Make use of an abundance of root vegetables by mixing your leftovers into a leafy salad with an uncomplicated dressing. Joe Cross' leftover salad recipe is an effortless way to finish up lettuce leaves before they wilt. 
You'll also combine roasted butternut squash, brussels sprouts, avocado and any other vegetables or fruits you have that need using up. As the flavours of the vinaigrette dressing are quite neutral, you'll have free reign to experiment with different veggies. The more vegetables you tip into this salad, the bulkier it should become - turning a light summer salad into a nourishing winter warmer. 

Did you know? As vinegar preserves food, apple cider vinegar can be added to any leafy salad mix to slow down the wilting of leaves. 
PEARL BARLEY AND CARROT SALAD
This superb and easy recipe from Kitchen Stories combines only five main ingredients. The result is a fruity and filling salad with a mustard kick and creamy finish. 
The salad skilfully uses all of the parts of two oranges and six carrots. Puréed carrot greens in the dressing lend a slightly bitter flavour. This is offset by the sweetness of oranges, which also make a welcome change from lemon flavours in your salads. The pearl barley can be switched out for another grain if that needs to be used up instead. 
ASIAN RICE SALAD
Make use of leftover cooked rice by mixing it in with interesting flavours from peanut oil and colourful vegetables. This tasty salad recipe from The Spruce Eats is fully vegan and can be served hot or cold. 
Use it to help you use up carrot, fresh peas, celery, bell peppers, sweetcorn, spring onions and fresh herbs. Or, substitute the vegetables in the recipe with whatever currently lies at the bottom of your fridge. 
MIDDLE EASTERN ROAST CARROT SALAD
This aromatic, spicy salad from Olive Magazine uses up carrots by roasting them and mixing them with garlic, ginger and olive oil. The recipe makes use of the whole of the carrot root, as the tops are blended into a dill and lemon yoghurt to drizzle. 
And if you need to get serious about depleting the various spices in your cupboard, this could be a good opportunity as the recipe calls for seven different dried flavourings. Simply substitute for similar spices if you don't have everything on the list. 
WARM VEGGIE QUINOA SALAD
Although it might seem an unusual ingredient for a salad, you can use up any mushrooms you have in this straightforward and comforting recipe from Veggie Chick. But that isn't all - use up broccoli florets and the juice of old lemons too. 
The recipe has a base of quinoa boiled in olive oil, so grab some grains from the back of your cupboard. If you don't have any pine nuts, use pumpkin seeds or sunflower seeds instead. And if the lemons you have are unwaxed, grate their rinds onto your finished salad for extra zest. 
VEGAN HIGH-PROTEIN SALAD WITH TEMPEH & BEANS
Make this salad from Almost Zero Waste if you'd like a salad with effortless protein, combined with the beautiful flavours of peanut butter and soy sauce. You can use virtually any cans of beans from your cupboard in the recipe. Plus, it's a great way to use up any leftover vegetables you have, including mushrooms, bell peppers and broccoli from your Oddbox. 
If you don't have tempeh in your fridge, substitute it with another umami protein source like tofu. If you'd prefer to go without, the remaining ingredients will hold up just fine on their own. 
MARINATED VEGETARIAN PASTA SALAD
Another pasta salad for our line-up, this inventive recipe from Recipe Tin Eats encourages using up leftover vegetables by roasting and marinating them. It makes good use of any smaller amounts of pasta you have left in a packet too. 
Almost any vegetables will work in this meal, so get creative with your flavours. The salad's dressing uses up lemons and fresh parsley, and it'll last in the fridge for up to five days. 

If you have berries or other fruits to use up, Jackie Newgent has an unmissable fruit vinaigrette recipe that purées fruit with fresh basil and mint. And if you're looking for more zero waste dressings, check out Mama Eats Plant's favourite recipes.