Roasted Broccoli and Courgette salad with Tomato Dressing
A vibrant comforting salad for the colder days showcasing lemon garlic roasted broccoli and courgette, topped with a tomato dressing, feta and toasted almonds. It's got texture, colour and lots of flavours. It can be made in advance, and makes a healthy take away lunch.
Substitute:
No broccoli? Try with cauliflower or pak choi instead.
Prep time: 20 minutes
Cook time: 40 minutes
Total time: 60 minutes
Servings: 2
Ingredients:
1 Broccoli (chopped)
1 Courgette (sliced)
4 Garlic cloves (grated )
2 tbsp Flaked almonds
200 g Vine tomatoes (diced)
a pinch of chilli flakes
1 tbsp Lemon juice
1 tbsp Balsamic vinegar
100 g Feta (crumbled) / Vegan feta
Olive oil
Salt & pepper
Recipe:
Preheat the oven to 190 C/170 fan/5 gas mark and prepare the ingredients.
On a large baking tray, toss together the broccoli, courgette, almonds, garlic, 2 tbsp olive oil, salt and pepper. 
Transfer to the oven and roast for 20-25 minutes, until lightly charred. 
In a small bowl, whisk together 2 tbsp olive oil, lemon juice, balsamic, and chilli flakes. Add the tomatoes and season to taste.
Pour the tomato dressing over the roasted broccoli. Gently toss to combine. Transfer the salad to a plate and top with feta. 
Enjoy!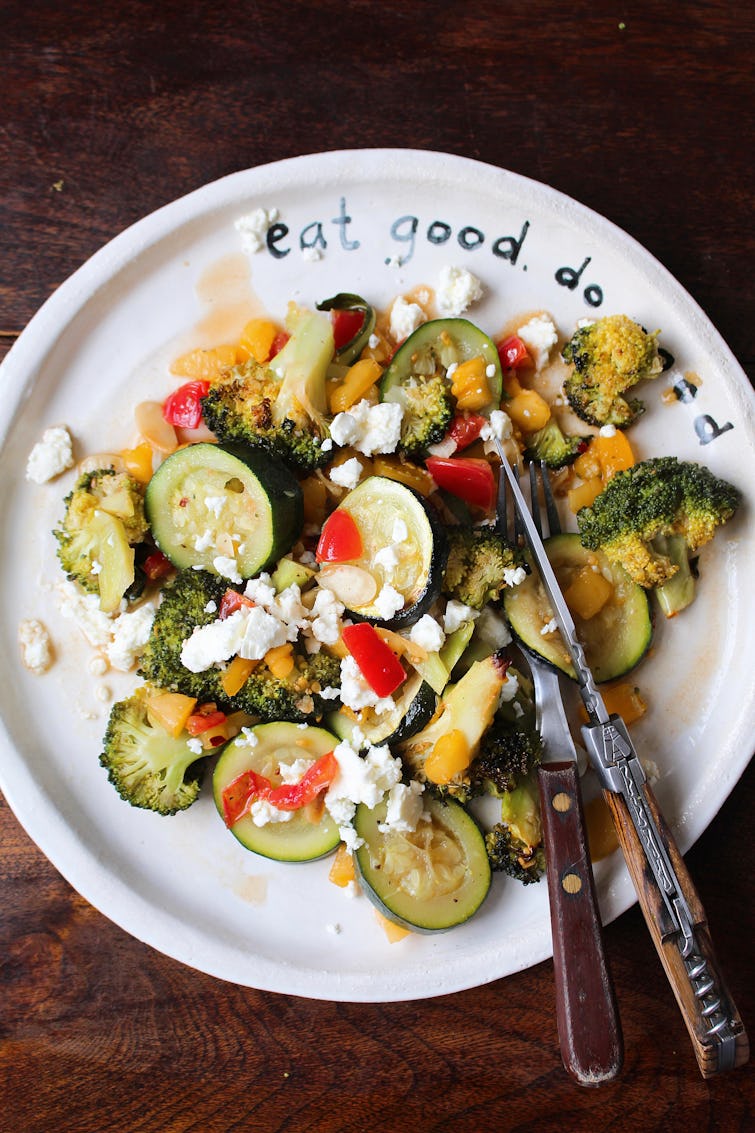 ---
How to store
Store in the fridge in an airtight container for up to 3 days.
Leftovers
Serve any leftovers with rosemary croutons!