6 delicious ways to cook with courgettes
Have some curvy courgettes to use up? These bright green vegetables are the close cousin of both cucumbers and squashes, yet they have their own unique and earthy taste which makes them a brilliant addition to all kinds of dishes.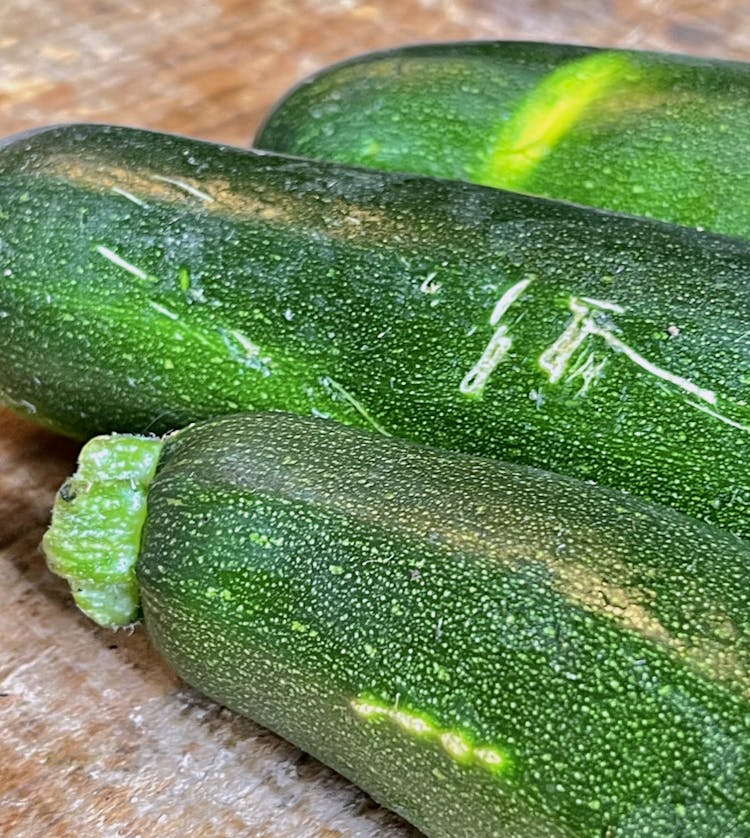 Courgettes couldn't be easier to prep and you can eat the entire veg - peel and all. All you'll need to do is decide whether you want to slice, dice or grate them. Before you whip up any tasty courgettes dishes, store them in the fridge for up to a week to keep them fresh.
As well as using them to add more veg to certain dishes, why not expand your repertoire of courgettes recipes with some brand new ideas?
How to cook courgettes
Courgette soup
You can turn pretty much any veg into soup - and courgettes are no exception. Our Sweetcorn and Courgettes Chowder is a wholesome option for chillier days.
To make it, cut the kernels off two large sweetcorns and slice up one medium courgette. Roughly chop one medium potato, one onion and two garlic cloves. 
Add the sweetcorn cobs, onion peels and garlic peels to a saucepan. Cover with one litre of water and drop in one stock cube. Bring it to a boil, then simmer for 10 minutes.
Put some butter/vegan butter in a large saucepan. Cook the kernels, courgette, potato, onion and garlic for 10 minutes. Add one tsp thyme and season with salt and pepper. Pour over the warm stock (without the peels) and simmer for 30 minutes or until the potatoes are tender.
Use a hand mixer to blend the soup until it's smooth, then add some shredded gouda and half a tsp of harissa paste. Blend for one more minute and serve.
Courgette fritters
For a quick courgette recipe you can make in under 30 minutes, consider crispy courgette fritters.
Combine one egg/flaxseed egg with the three grated courgettes, the zest of one lemon, 25g grated parmesan/vegan parmesan, 25g flour, one finely chopped red chilli, one bunch of chopped fresh mint and a pinch of dried oregano. Season to taste with salt and pepper. 
Scrunch up the mix with your hands and crumble in 100g feta/vegan feta. Mix again. In a large frying pan, heat some olive oil. Add a tablespoon of the mix to the pan and cook for a couple of minutes on each side until golden. Repeat until all the mix is used up and then serve your fritters with sweet chilli sauce and lime wedges.
(via Jamie Oliver)
Courgette cake
It's not just savoury dishes that courgettes are good for. Why not dive into the world of veg baking with a tasty courgette cake?
Begin by preheating your oven to 180°C/160°C fan/gas mark 4 and lining a loaf tin with greaseproof paper. Next, grate one small courgette into a sieve and squeeze out any excess moisture. 
In a large bowl, beat together 75g each of butter/vegan butter, runny honey/maple syrup and caster sugar with two eggs/flaxseed eggs and one tsp vanilla extract. Stir in the juice of half a lemon. In another bowl, combine the courgette with 190g self-raising flour and 40g toasted almonds. 
Fold in the butter mix and two tbsp low-fat yoghurt/vegan yoghurt into the courgettes. Mix well and pour into the prepared loaf tin. Bake for 50 minutes. Cool in the tin and top with cream cheese frosting.
(via Delicious Magazine)
Courgetti
For a carb-free alternative to pasta or noodles, you can't go wrong with a courgetti recipe. 
Try making your own using a spiralizer. Rather not buy yet another kitchen appliance? No problem! You can also grate your courgettes by hand into long, spaghetti-like strands using a julienne peeler.
Toss your courgetti into pasta and stir-fries. Alternatively, courgetti can be used to bulk out soups and stews.
Stuffed courgettes
Stumped on what to do with courgette flowers? These fragrant seasonal beauties are brilliant stuffed with cheese (try ricotta, feta or a vegan alternative) or grilled in herbs and spices.
Why not fry your courgette flowers in a crispy batter? To make this mouth-watering treat, start by creating a smooth batter using 75g plain flour, 250ml sparkling water and some salt and pepper. 
Heat up a generous amount of veg oil in a deep frying pan (make sure it's no more than a third full). Dunk six courgette flowers in the batter, shake off any excess and place them carefully in the hot oil. Fry for two minutes until crispy, drain on kitchen paper and season. Serve with your favourite dipping sauce or make a dressing using 50ml white wine vinegar and 50ml honey.
(via Olive Magazine)
Pickled courgettes
Fermented vegetables are not only great for your gut, but a fantastic way of using up any veg that's on the verge of going bad. Got some courgettes lingering in your fridge? Try making a crunchy courgettes pickle to flavour sandwiches or to spoon on homemade burgers. 
Finely slice 250g courgettes and combine them in a bowl with three finely chopped shallots (or one small onion) and two tbsp salt. Cover with ice-cold water and set aside for one hour before draining the liquid and patting the courgettes dry.
Add 250ml cider vinegar, 70g golden caster sugar, half a tsp mustard powder, half a tsp mustard seeds, half a tsp celery seeds, half a tsp of ground turmeric and a pinch of dried chilli flakes to a large pan. Simmer and leave to bubble for three minutes. Make sure the sugar has dissolved and then leave to cool. 
Add the courgettes to the pickling liquid and then pour the mix into a sterilised jar. Seal and leave in the fridge for three days. Your pickled courgettes will last for up to two months chilled.
(via BBC Good Food)
After even more inspiring courgette meals to make this week? Head over to our recipes page for tantalising options like Smoky Courgettes Tacos.