Courgette and Broccoli Parcels with Roasted Tomatoes
A delicious one tray colourful recipe showcasing warm and juicy tomatoes with courgette and broccoli parcels. It's comforting, healthy and quick!
Substitute:
No tomatoes? Use cherry tomatoes cut in half instead. 
No oregano? Try with rosemary or thyme. 
Prep time: 10 minutes
Cook time: 20 minutes
Total time: 30 minutes
Servings: 2
Ingredients:
4 Tomatoes
1 Courgette
¼ Broccoli
1 Garlic clove
1 tbsp Oregano
150 g Goats cheese (fresh) / Vegan cheese
Olive oil
Salt & pepper
Recipe:
Cut the tomatoes: Preheat the oven to 200 C/180 fan/ 6 gas mark. Cut the tomatoes in wedges and place them in a baking dish.
Add the oregano, 2 tbsp olive oil, salt and pepper. Toss to coat and set aside.
Make the parcels: Use a vegetable peeler to cut the courgette into long wide strips. Thinly chop the broccoli and combine with the goat cheese/vegan cheese, and a pinch each of salt and pepper.
Grab 4 courgette ribbons and layer them flat on your board, to make a star. Start with 1 ribbon, then add another to make a X. Now make another X with the remaining 2 ribbons that will overlap with the first X. Spoon about 1 tablespoon of broccoli filling onto the center of the courgette
Bring the ends of the courgette together, laying them over the cheese. Repeat with remaining courgette and broccoli filling - you should be able to make 5 or 6 parcels. 
Cook and serve: Place the courgette and broccoli parcels over the tomatoes.
Drizzle with olive oil, season with salt and pepper, and roast for 20-30 minutes, until the tomatoes are juicy and the parcels hot.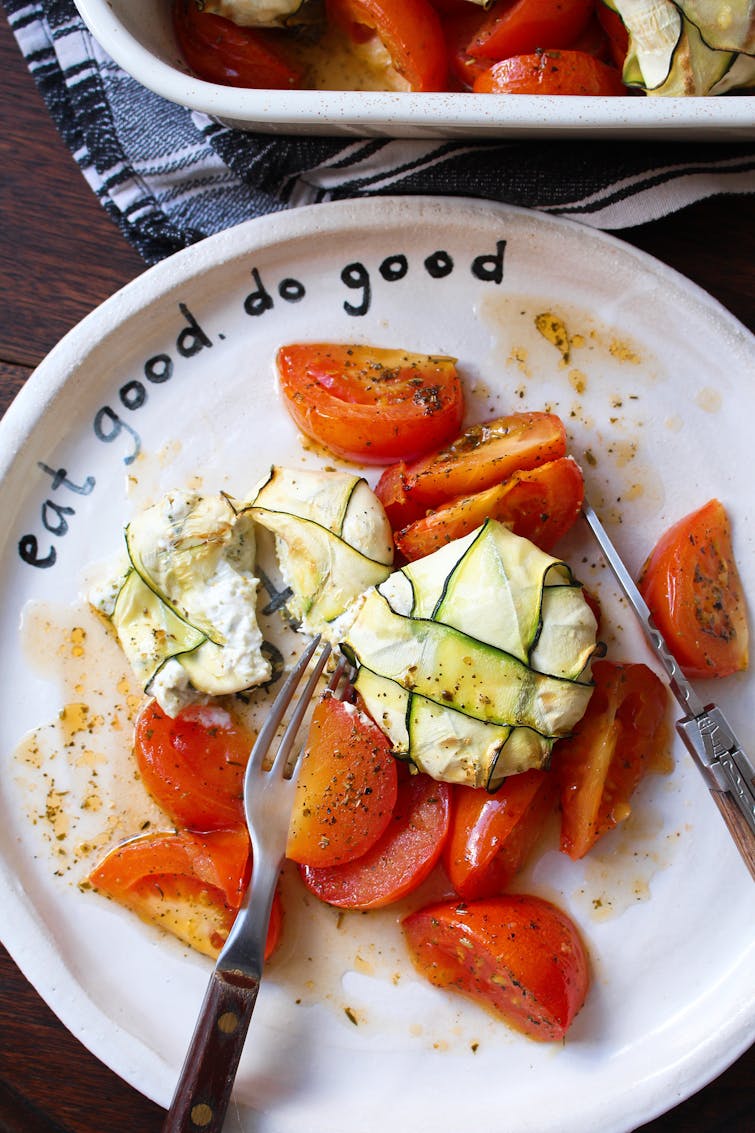 ---
How to store
Store in the fridge in an airtight container, for up to 4 days. Reheat in the oven for 10-15 minutes.
Leftovers
Add your favourite cooked al dente pasta into these juicy tomatoes! You can also blend the roasted tomatoes to make more of a sauce for your pasta.