Courgette and Goat Cheese Quiche
A classic savoury custard-filled tart made with a flaky crust, a silky filling of eggs and cream, along with beautiful courgette, fresh herbs and goat cheese slices. An easy recipe perfect for brunch, lunch or dinner and it's also perfect to make ahead. 
Substitute:
No courgette? Use mushrooms, sweet potatoes (roast them first), kale, or any other vegetables you have on hand. 
No parsley? Try with chives or any fresh herbs you have on hand. 
Vegan? Use vegan puff pastry and make the filling in a food processor from 400 g tofu, 1 tbsp cornflour, 1 tsp turmeric, ½ tsp garlic powder, ½ tsp onion powder, 2 tbsp plant based milk, salt and pepper. 
Prep time: 15 minutes
Cook time: 25 minutes
Total time: 40 minutes
Servings: 5
Ingredients:
1 Courgette (approx 450g)
1 Puff pastry (approx 500g)
3 Eggs
250 ml Single cream
1 Goat cheese buche (approx 150g)
1 tbsp Dijon mustard
a bunch of Parsley leaves (1/3)
Olive oil
Salt & pepper
Recipe:
Prepare the ingredients: Preheat the oven to 180C/160 fan/4 gas mark. Wash and slice the courgette. Pan fry over medium heat in a little olive oil, for 5 minutes. Season with salt and pepper. Cut the goat cheese buche in 10-12 slices. 
Prepare the base: Roll the puff pastry and line a 18 cm round tin with the puff pastry. With a fork to create small holes at the bottom of the quiche. With a spoon, spread the dijon mustard evenly. Keep in the fridge until needed.
Make the egg mixture: In a bowl, crack the eggs, with the single cream, salt, pepper, parsley and use a whisk to mix well.
Finish the quiche: Pour the egg mixture in the pastry. Place the courgette slices and goat cheese slices all over. Bake for 40 minutes in the preheated oven. Serve hot or cold.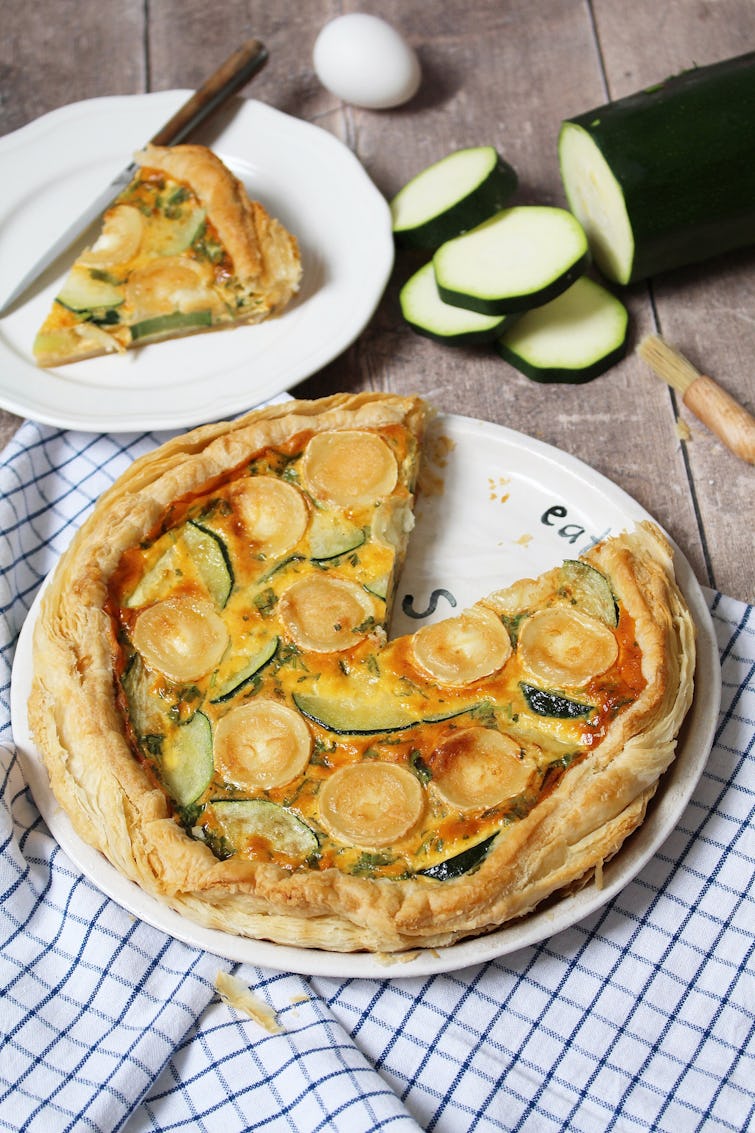 ---
How to store
Store in the fridge for up to 3 days. If you need space, portion the quiche and place in an airtight container, then store in the fridge. 
Leftovers
The quiche is lovely served with a simple green salad with mustard and garlic dressing (1 tsp dijon mustard, 1 garlic clove, 3 tbsp extra virgin olive oil).  Cut in smaller pieces the quiche makes a great addition to any sharing board.