It's autumn, Oddbox style.
Out with the strawberries. In with the squashes. Well… sort of.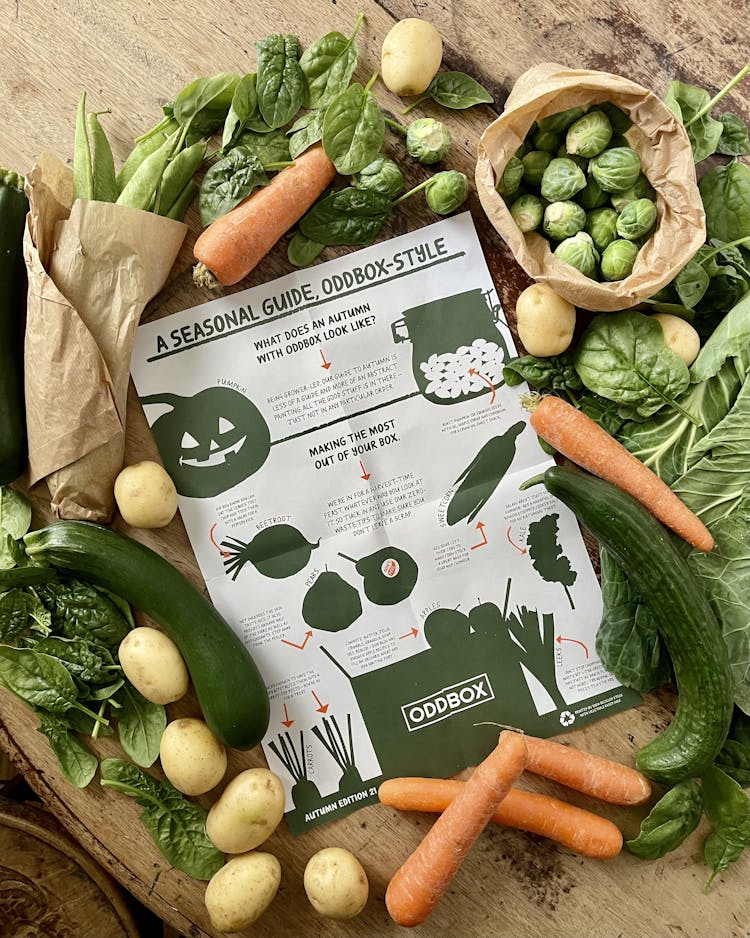 You see, while we've been primed to associate autumn with new school shoes, cosy nights and the promise of pumpkins, the crops in UK fields don't always get the memo.
In fact, after a wishy-washy, warm-and-rainy, stop-start summer, they're more confused than ever. Some 2021 crops are ready 'early', like cauliflowers. Others, like plums, took much longer than usual to ripen up. (More on that below.)
Being grower-led, we rescue fruit and veg whenever it's ready. Leeks in May, aubergines in January, asparagus in the summer – we've seen it all. At this time of year, it means embracing the in-between and enjoying a little bit of everything before chilly weather changes things (again).
It's why the seasonal guide in your boxes this week (or find it here) is less of a guide and more of an abstract painting. All the good stuff is in there – just perhaps not in the order you might expect. 
Is it still eating seasonally if the seasons are mixed up?
Back in our blog post from July, we explained that eating seasonally isn't quite as simple as supermarket magazines might have us believe. 
There's no magic switch that changes the crops in our fields from one season to the next, which means farmers get left with tonnes of fruit and veg that there's little demand for. "Too early", "too late", "too many". And that's before you even get into cosmetic specifications. 
We think the story around 'eating seasonally' needs to change.
Less ticking off fruit and veg on a shopping list; more responding to what growers have harvested. That way, we can all reap the benefits of eating what's just been picked – tip-top quality produce and supporting UK farmers – without even thinking about whether it's right or wrong.
What about produce from abroad?
If you've ever been lucky enough to find a pineapple in your Oddbox, you'll know we don't only rescue UK seasonal produce. 
We're not the only country with dodgy weather (although it might feel like that sometimes) and farmers further afield face the same issues with the seasons and cosmetic specs as we do. 
In reality, it would also be pretty challenging to eat 100% seasonally in the UK. Winter crops leave little variety and the hungry gap every spring creates its own challenges. 
The Oddbox approach puts food waste first – because even if produce has come from far away, it's better to ship it to the UK than let it go to waste completely. 
Autumn 2021: what to expect
Most lists of UK autumn produce will be along these lines: apples, blackberries, pears, plums, damsons, mushrooms, marrows, lettuce, pumpkins, potatoes, squash, rocket, sweetcorn, beetroot, Brussels sprouts, cauliflower, spinach, carrots, fennel, leeks.
And while all this good stuff is likely to land in your boxes at some point over the coming months (hooray!), our grower-led approach means we can't promise exactly when.
You might have already unpacked a cauliflower – the brief spell of warm weather in July caused them to grow faster than usual and ahead of supermarkets' schedules. There typically isn't much demand for this kind of veg in summer, which is why our growers were especially glad to see them go to good homes. (We've loved seeing your summer cauliflower recipes, too!)
On the flip side, the frost we had in May – remember that? – meant we didn't see any UK plums in our boxes until September. Growers have only had half their usual yield this year, which has forced supermarkets to loosen their cosmetic specifications to fill the shelves. 
Autumn with Oddbox
We're here to rescue whatever wonderful produce is going spare, whenever the season. So we've designed your autumn guide to be something you come back to, rather than something you tick off and throw away.
Our sourcing team is busy gathering up the very best of what's been grown. We're expecting to see apples and pears 'on schedule' around now, but we know you'll make good use of all fruit and veg whenever it arrives. Chop it, mash it, roast it, carve it – after all, a pumpkin in November is just as spooky. (If not more so.)