Tom Hunt: Chest-NUT-Roast
"My favourite Christmas lunches are the ones with tonnes of family. When we have a big family gathering we have a potluck tradition, each bringing a dish. I love to contribute a plant-based centerpiece to boost the planet-friendly vegetarian options, available on the table. And to surprise people with how delicious vegan alternatives can be. 
This recipe is all about the chestnuts which ODDBOX rescued from Portugal. It's wrapped in red cabbage and stuffed with a delicious combination of shallots and rainbow carrots, barley and lentils.
I often find nut roast a little dry and unsatisfying so I've made this one a little different. Chestnuts provide the perfect texture and taste meaty and satisfying paired with the sage, nutmeg and Marmite. Whilst the barley and lentils keep this roast moist."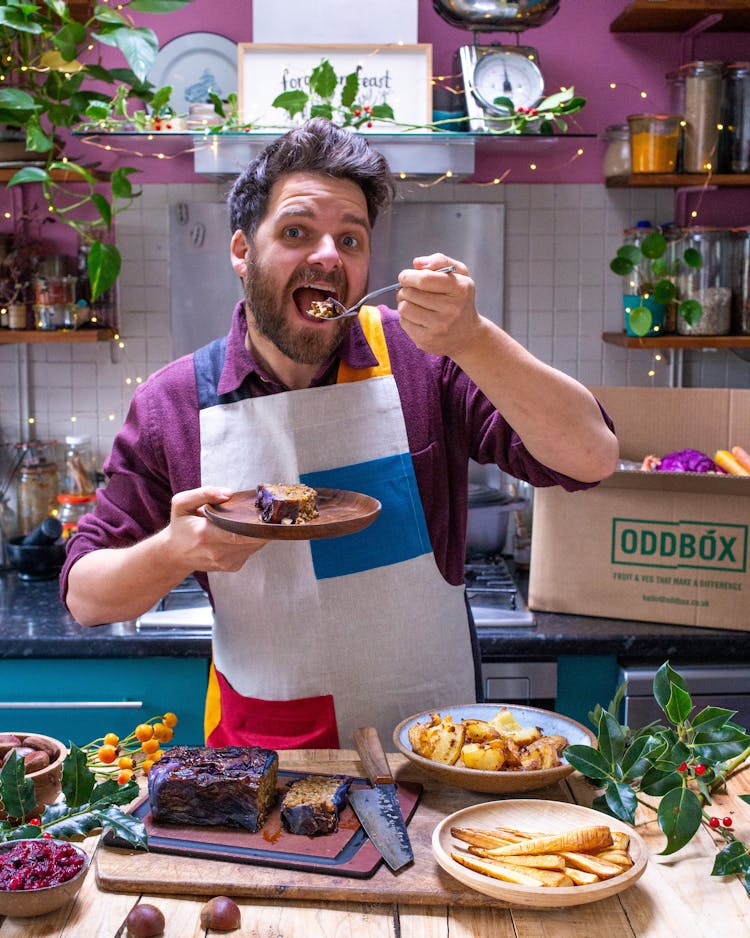 Want to make it ahead of time?
"Although delicious fresh, I recommend getting ahead and making this dish a couple of days in advance so it will set firmly and taste even better as the flavours mingle. Keep in the fridge for up to five days or freeze indefinitely. Defrost in the fridge overnight. Reheat at 170C Fan for 30 minutes or until piping hot right through."
Tom Hunt - Award-winning chef, climate change campaigner and author
click Here for the recipe
TOM'S ZERO-WASTE TIPS
Any leftovers are brilliant in a nut roast sandwich with some mayonnaise, cranberry sauce, crispy fried shallots, greens or lettuce and your leftover nut roast crisped up in a pan.
Give your zested and squeezed lemon halves a final lease of life but putting them into your dishwasher for a fresh lemon smell and for sparkling glasses.                               
If you have any trimmings from your veg or any herb stalks wash them and put them into a container in the freezer and keep topping it up until its full then cover with cold water and bring up to the boil and simmer for 30 minutes then strain, store your veg stock in the fridge for up to 5 days and the freezer for up to 3 months.