Chest-NUT-Roast
Prep time: 60 minutes
Cook time: 95 minutes
Total time: 155 minutes
Servings: 6
Ingredients:
250 g Chestnuts (180 g cooked and peeled)
5 Outer red cabbage leaves
2 tbsp Olive oil (plus extra for greasing)
2 Shallots (finely diced, about 140g)
1 Rainbow carrot (grated with skin on, about 140g)
2 Garlic cloves (roughly chopped)
40 g Sunflower Seeds
1 tsp Thyme
½ tbsp Sage leaves (chopped)
1 tsp Ground coriander
¼ tsp Ground nutmeg 
50 g Pearl barley (or rice)
2 tsp Marmite
40 g Rolled oats (or pinhead oats)
Ground almonds
Sea salt 
Recipe:
Carefully score the chestnuts around the middle. Soak in a large pan of cold water for at least two hours, then bring to the boil, reduce to a simmer and cook for 15 minutes or until soft and cooked through. Drain and return to the warm pan. Peel whilst warm, whilst the skins are loose. Don't worry about removing all of the inner skin if they are difficult to peel, once cooked in the roast they won't be noticeable. Then roughly chop.
Meanwhile heat the olive oil in a large heavy based pan, add the shallots and sauté for five minutes, then add the carrots and saute for 10 more minutes. Stir in the chopped chestnuts, garlic, sunflower seeds, thyme, sage, ground coriander, nutmeg, lentils and pearl barley or rice. 
Add the Marmite and 350ml of water, put a lid on top, bring to the boil, reduce to a simmer and cook for 35 minutes or until the barley and lentils are very tender and the texture is like a dry risotto. Stir in the oats and almonds and season well with black pepper and sea salt. 
Whilst the chestnut mixture is boiling blanch the cabbage leaves for five minutes in a large pan of boiling water, drain and put to one side. Grease a 1kg bread tin or enamel dish with olive oil and line with the cabbage leaves, making sure they overlap.
Preheat the oven to 180C (fan). Pack the mixture tightly into the cabbage lined vessel and fold the cabbage leaves over the top, sealing the mixture inside. Bake in the preheated oven for 45 minutes. Allow to rest for five minutes then carefully turn onto a serving board. Slice at the table and serve with all the trimmings!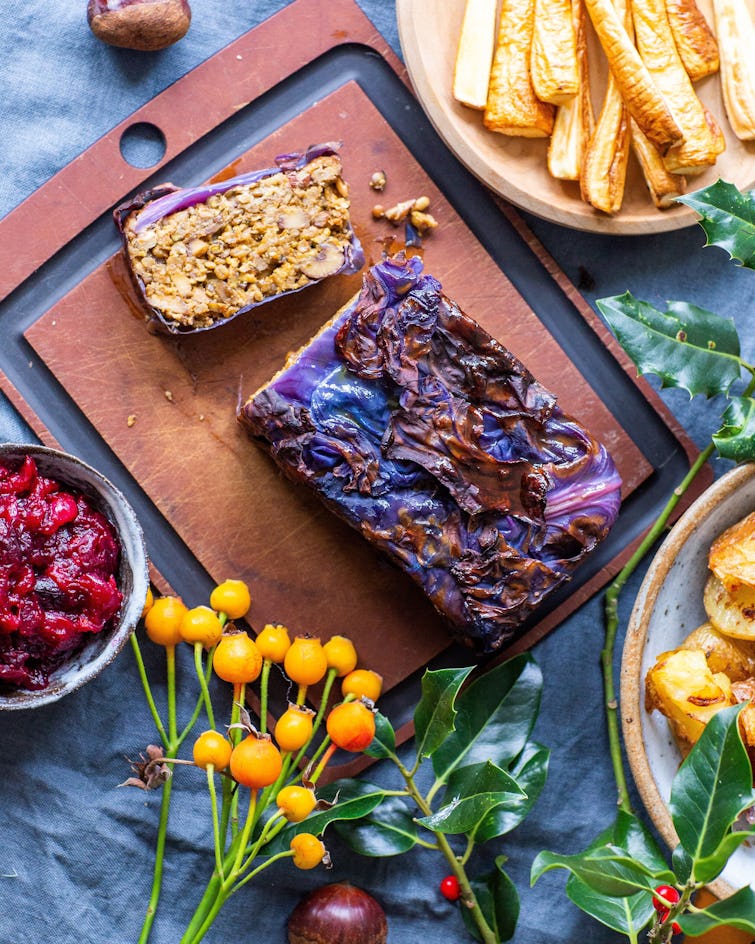 ---