Ruby Bhogal: Clementine, Lemon & Cranberry Meringue Wreath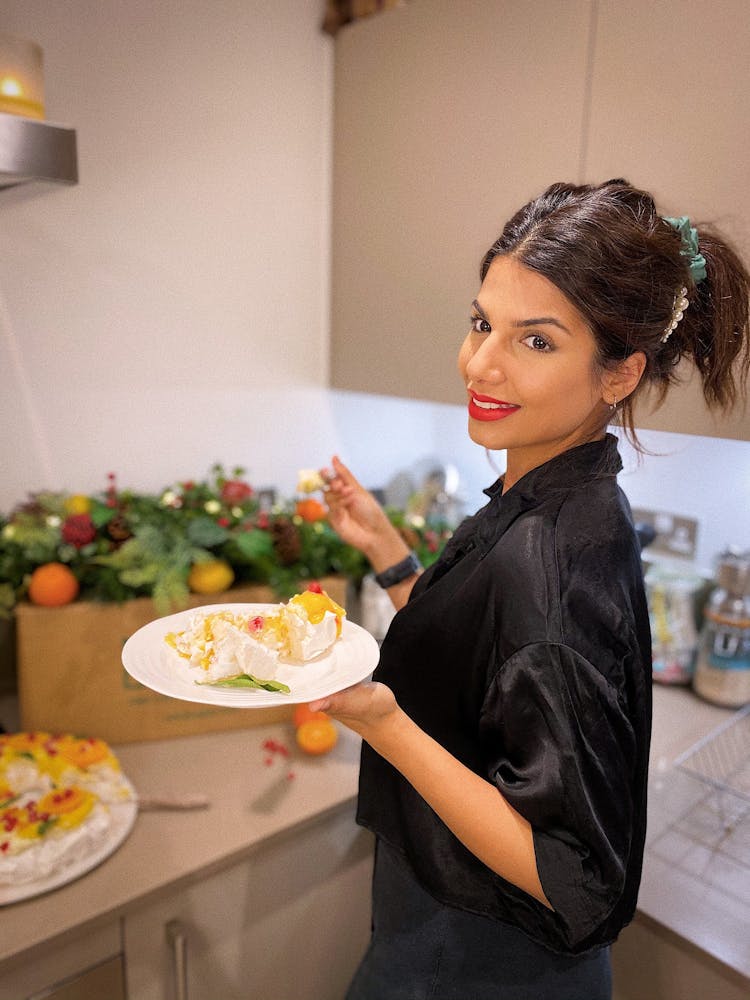 "When ODDBOX asked me to come up with a recipe using ingredients from their Christmas Box, I knew straight away which recipe I wanted to make and share. I'll be honest with you, my Mum is a terrible baker. Honestly, imagine bad and then double it BUT one thing she does nail is a meringue. This recipe was one I taught my Mum a few years back and since then, she has been making it ever since. I adore that. It makes my heart all warm and cosy knowing we now have a new family tradition and it is something we have made and done together. 
Christmas lunch is always, always, ALWAYS delayed in our household, meaning it always ends up as Dinner as opposed to Lunch. Time is spent in the mornings in our PJ's feasting on leftovers from the night before, playing board games and making Mum's epic Christmas Gravy. The one thing she has most definitely taught me is the way to use everything when it comes to cooking. Using all the odd ends, leaves, stems, stalks, skin, peels, zest and even seeds to make the most of the food and enhance the flavour of everything we eat. All these bits are what goes into her gravy and honestly, I could drink that stuff. Whilst I have shared with her my meringue making secrets, I am still waiting for her to share her gravy making tekkers…! She has most definitely made me look at how I am using fruit and veg in my cooking and baking in a different, more appreciative way. She grows a lot of her own veg in the garden, is a stickler for composting and hates waste - Christmas dinner leftovers are reinvented into all sorts of dishes the week after: pies, tarts, casseroles and my ultimate favourite... sandwiches."
Want to make it ahead of time?
"The curd can be made up to 2 months in advance and stored in the freezer, thawing out overnight in a fridge the day before use OR kept for up to a week fresh in the fridge. If you have chosen to store in the freeze, the thawed curd should be used within 3 days to optimise freshness and flavour."
Here's my clementine, Lemon & cranberry meringue wreath recipe
Ruby Bhogal - Baker, food stylist & 2018's Great British Bake Off finalist
RUBY'S ZERO-WASTE TIPS
If you find any of your wreath leftover, why not freeze for another day in an airtight container or reinvent into an Eton Mess? I like to use any leftovers sandwiched between two sponges for a twist on a Victoria Sponge or mixed together and used as an indulgent filling for profiteroles.
If you're storing your curd for later, this will keep well in the fridge for up to 2-3 weeks or in the freezer for 2 months, just leave to thaw in your fridge overnight the day before you want to use.