Clementine, Lemon & Cranberry Meringue Wreath
Prep time: 35 minutes
Cook time: 180 minutes
Total time: 215 minutes
Servings: 6
Ingredients:
Clementine & Lemon Curd:
4 large Egg yolks (save the whites for meringue)
8 large Eggs (whole)
400 g Caster sugar
4 Clementines (zest & juice)
Lemon (zest & juice)
200 g Unsalted butter (cut into cubes)
10 g Corn starch  (sifted)
Meringue:
Egg white (saved from the curd)
200 g Caster sugar (essentially you want double the amount of sugar to egg whites)
Clementine (use the zest and save the fruit for topping)
Toppings:
225 ml Double cream
15 g Caster sugar
Cranberry (handful)
1 Clementine (segments, minus the zest)
Recipe:
Let's get started with the Curd as once this has made, it can be cooled, jarred and stored for a few weeks when needed – so a perfect one to get made in advance. High impact, low stress is what I am always after at Christmas! To start, place your whole eggs and egg yolks (make sure you save the whites for your meringue!) into a large heatproof bowl alongside the caster sugar, clementine juice and zest, lemon juice and zest, butter and cornflour. Give it a good old mix with a wooden spoon.
Place the bowl over a saucepan of simmering water and stir until the sugar has dissolved and the butter has melted. We need this mixture to thicken slightly so it coats the back of a spoon. This should take about 15 minutes. I always like to give it a good mix with a balloon whisk every now and then to ensure there's no lumps and it remains silky smooth
Once it has thickened, pour either into sterilized jars or leave to cool if using straight away but make sure you cover the top with some reusable parchment to prevent a skin from forming.
Next let's get cracking with the meringue. Preheat your oven to 110C/90C Fan and line a large baking sheet with baking parchment. If you're rogue like me, then skip this next step but if you fancy being a bit neater with your wreath, use a large plate as a template to draw around straight onto your parchment, then flip over – we don't want the pen marks to transfer onto your meringue! 
Place the saved egg whites into a large bowl either using a stand mixer or an electric whisk and whisk until they've doubled in volume and have gone stiff but not dry. This should take a few minutes. Reduce the speed all the way down on your mixer and add in the caster sugar a tbsp at a time – don't be tempted to chuck it all in, a little bit of patience here is key! Mix well in between each addition, you really want to make sure the sugar dissolves into the mixture to avoid it seeping out whilst it's baking in the oven. Once all the sugar has been added, continue mixing on a high speed for 5 mins. Add in the clementine zest and fold through
Transfer the meringue into a piping bag or alternatively feel free to scoop with a spoon and carefully form your meringue wreath. Tip - I like to make sure I use the back of a spoon to help swirl if scooping, this will also allow for little pools for your curd and topping to sit in.
Place the tray in the oven and bake for 3hr. Once baked, leave in the oven to completely cool. This again can be done the night before and left to cool in the oven overnight.
Before you're ready to serve, add the double cream, caster sugar and vanilla into a bowl before whipping until the cream just holds soft peaks. Dollop generously on top of the cooled meringue, before adding the curd. Decorate your wreath with segments of clementine and a handful of little cranberry jewels.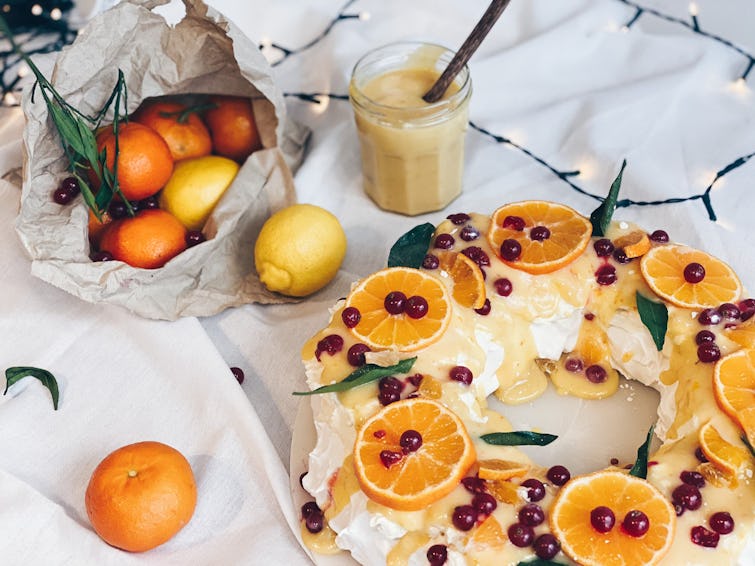 ---