Rescue story: curvy courgettes
Growing courgettes is a labour-intensive process. Did you know, every courgette you eat has been harvested by hand?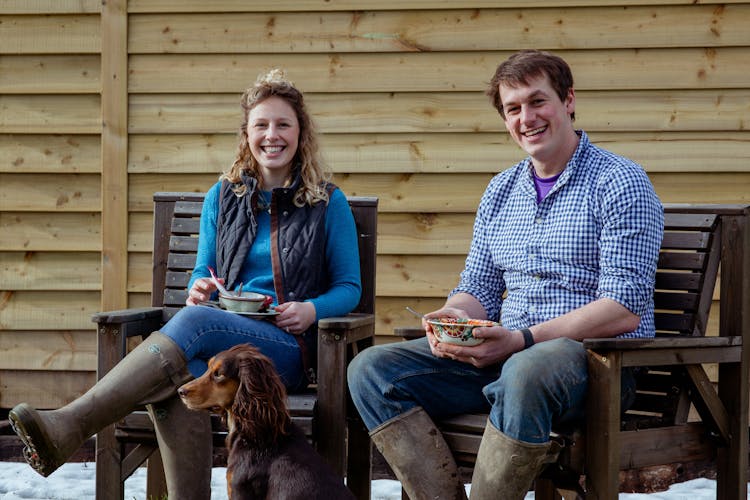 Annice from D.A Firth Farming explained how the human touch can sometimes create more veg for Oddbox to rescue:
"Throughout the season, we get a lot of courgettes that are "too big" - when you're harvesting by hand it's easy to miss a plant, so that's when they grow too large. Plus, as you're cutting the fruit, it's easy to nick the baby courgettes that are still growing. You won't notice at the time but they can grow into interesting, "too odd" shapes because of the cuts. 
Annice works with her partner Sam on their farm in South Lincolnshire. Owned by Sam's dad, it's a family farm that grows cereals, potatoes, onions and courgettes. 
We've been rescuing crate loads of courgettes recently, helping Sam and Annice find homes for veg that's "too big" or "too odd" for supermarkets to buy. If you've seen any huge or tiny courgettes in your boxes, they're likely to have come from Sam and Annice.
"Overall, about 25% of each courgette harvest is class two (which can't be sold to supermarkets)," Annice told us. "It's so important that we have Oddbox as a customer so the courgettes can stay in the food supply chain." Without our community chowing down on these curvy courgettes, the "too odd" veg would have ended up feeding cattle on the farm.  
THE ROLE OF THE WEATHER
If you've been reading our posts, blogs and box letters recently, you'll have noticed we've been banging on about the weather a lot. We're not just being especially British; the real reason is chilly nights, unexpected frost and sweltering heat waves all affect the way crops grow. It also has an impact on when growing seasons start, so veg could be ready earlier or later than expected because of a wet few weeks. 
Usually, courgettes grow from June to September/October,  but our old friend the weather can wreak havoc with these timings."The weather has a huge effect on farming," Annice told us. "For example, the planting season earlier in the year was a bit dire. We were three weeks late because of the weather - we kept having frost and it never stopped raining. But as soon as the sun came out and we got the seeds in, the plants grew really well and caught up, so they were ready on time."
Even an occasional rainy day can change farmers' plans. "Even now, when we're harvesting, the weather has an impact," Annice continued. "It's very reactive. We pick courgettes every other day - that one plant is picked again and again. They grow overnight and they can grow really quickly, especially if the weather's good. And it's raining today, so we decided not to harvest as they wouldn't have grown very much." 
A LABOUR OF LOVE
As you can see, it takes a lot of time, effort, and love to grow courgettes. When it's harvest season, Sam, Annice and the team will be in the fields picking courgettes from 5am 'til 10pm, six days a week. They employ a lot of local people who also spend their days harvesting.
The pair have also spent a lot of time on machinery for the farm, building their own rig from old bits of machinery they already had. "It's only our second year of growing and we're not big enough to buy one," Annice explained, "so we built it ourselves." 
Each time a courgette goes to waste, the time and energy our growers put in are also wasted. So far, you've helped us rescue more than 58 tonnes of them from Annice and Sam's farm alone. That means we're avoiding 33,814 kgs of CO2e and a massive 1,472,658 litres of water from being wasted. 
"Everything we grow is grown with love, a huge amount of energy, and blood, sweat and tears," Annice said. "It's insanely hard work. I want to thank the Oddbox community for helping us reduce waste — making our work worth it and helping the planet at the same time."
Courgettes are well and truly here. Stick the oven on and make the most of these beauties.