DIY Christmas: how to make decorations and gifts
If you've read our beginner's guide to upcycling already, you may already be well on the way to making your own scented candles and turning unwanted clothes into vibrant cushion covers. Here are more crafty decoration and gift ideas for Christmas that will get you upcycling household items and cutting down on plastic and waste.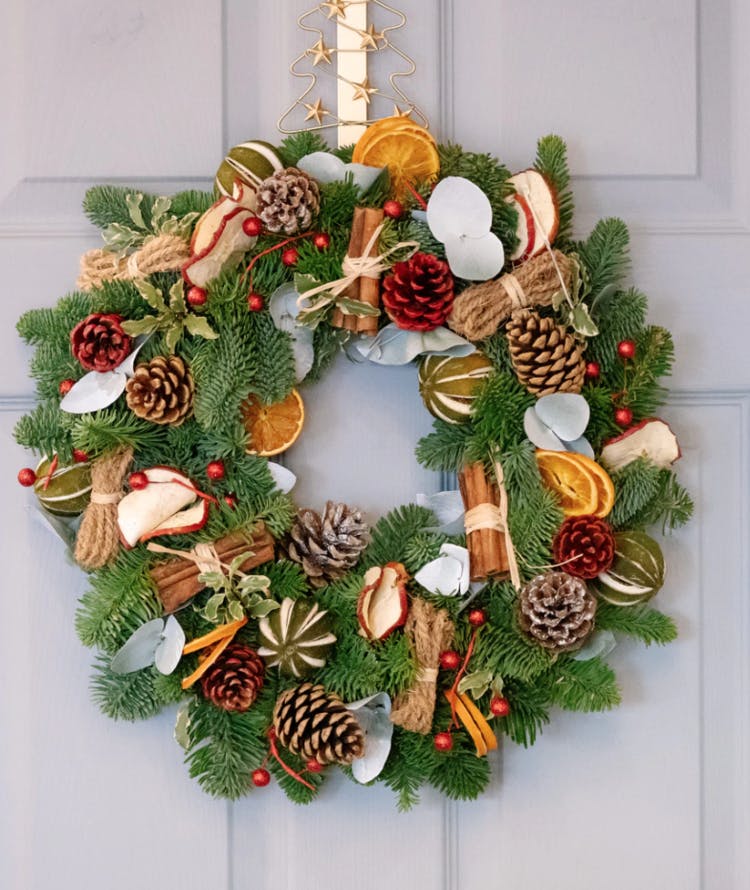 DECORATIONS
Tree decorations
Get creative and decorate your tree this year with citrus fruit, cardboard or salt dough. DIY decorations like these are great fun for kids to make, can be kept for years and when you're done, they can be composted too. 
To make citrus decorations, cut citrus fruit, like oranges or clementines, into ½cm rounds, then dab with a paper towel to remove excess moisture. Lay them out in a single layer on a baking tray and dry out in the oven at 100ºC for 2 to 4 hours, flipping them after the first hour and checking on them every 30 minutes or so. Use twine or thread to make a loop and hang them on your tree.
Salt dough is a simple dough made from flour, salt and water. Roll out the dough and stamp them into festive shapes with cookie cutters, then bake and paint. A great activity for kids. Alternatively, bake your own gingerbread decorations or cut out cardboard shapes from your old Oddbox. 
Foraged wreaths
Make your own wreath from what you can find in your back garden or local park and in your own cupboards. From holly and ivy to berries and pine cones to dried citrus (see above) and cinnamon sticks, there are tonnes of ideas online to show you how to do it. Avoid plastic or metal hoop bases (on which to arrange your foraged finds) and use a natural hoop, which you can buy from a local garden centre. Or make your own.
Tree branch decor 
Forage for a beautiful, gnarly old tree branch and use it as a festive centerpiece. You can paint it gold, hang decorations from it (see above) and pin it to your wall. Here's some inspiration for you.
DIY GIFTS
You'll need pretty jars for some of these gifts, but don't rush out to buy new ones. Give old jars a good clean and beautify them with coloured fabric covers, foraged holly, twine and ribbon and handmade labels.
DIY cookie kit 
In a pretty jar, layer the dry ingredients for your favourite cake or cookie recipes, then attach a little card with instructions on how to turn it into a delicious treat. You could even attach cookie cutters to the jar too. Follow the same principle for a luxurious hot chocolate kit. 
Edible gifts
From chocolate truffles to festive cookies to seasonal preserves (think: cranberry jams, lemon curd or chutney), there are tonnes of ways you can upcycle the ingredients in your cupboard to make your own edible gifts that are easy to transport and non-perishable. We love Anna Jones' ideas.

Vanilla body scrub
You only need coconut oil, raw or granulated sugar, vanilla extract and some autumnal spices to make your own vanilla body scrub that is exfoliating and moisturising. Gift it in jars with cute labels and instructions on how to use it: simply combine 1 cup of coconut oil with 2 cups of sugar, then add 1 tablespoon vanilla extract and 1½ teaspoons of spices (you could use a combo of cinnamon, ginger, nutmeg and clove). Job done!
Tin cutlery holders
Upcycle tin cans by covering them with leftover scraps of colourful fabric, old clothes or burlap fabric. Cut out your fabric to the right size and use hot glue to stick it to the can. Finish them off by wrapping and tying ribbon or twine on top. 
Puzzle pictures
Do you have old jigsaw puzzles gathering dust? Use the puzzle pieces to make your own wall art. Here are some great ideas to get you started.
Left with cardboard boxes after Christmas? Here are 7 ways to get crafty with your cardboard boxes or upcycle them with these 10 fun activities for the kids.