COP26: Why the fig isn't food waste on the agenda?!
A week ago, 30,000 delegates descended on Glasgow for COP26, to decide how to limit global heating to 1.5 degrees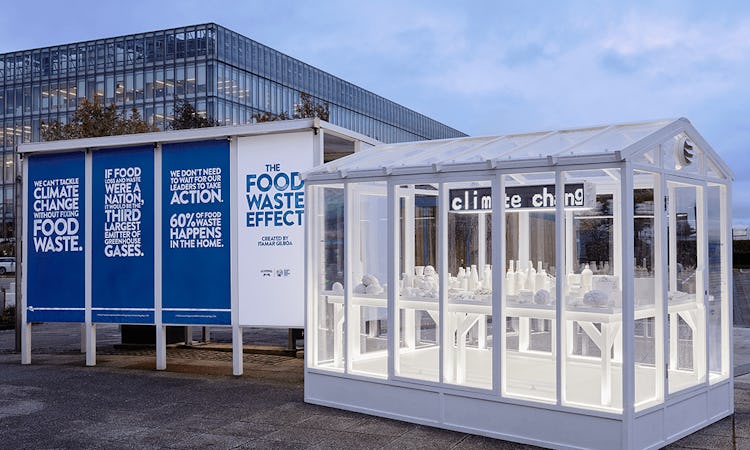 Addressing a room full of world leaders at the event's opening ceremony on Monday, David Attenborough implored them to "turn this tragedy into a triumph. We are, after all, the greatest problem solvers to have ever existed on Earth."
But do our leaders really understand the problem that needs solving? Data shows that food systems account for over a third of global greenhouse gas emissions – enough to put the Paris climate goal of 1.5 degrees out of reach, even if all the other major sources of emissions were closed down. And, shockingly, 40% of all food produced goes to waste. Yet food isn't on the agenda – the focus is, instead, on "coal, cars, cash and trees". 
The push for change
Food's absence from the agenda isn't for want of trying. Feedback – an organisation that campaigns for a sustainable and just food system – highlighted the issue back in March, with their Put Food on the Menu campaign. Too Good To Go's giant milk, bread and potato sculptures drew attention to their petition, a coalition of 25 breweries launched limited edition beers made from surplus bread and wrote an open letter to the UK government, and we ran our Wasteland campaign to give food waste a seat at the table. Even now, outside the event in Glasgow, there is an art installation depicting food waste created by artist Itamar Gilboa and Hellman's. 
As Chantal Wei-Ying Clément, deputy director of IPES-Food, puts it: "we would consider it completely unthinkable at COP not to be talking about energy, or transport, or other big emitting sectors. Being inactive about food systems should be equally unthinkable."
So, why isn't the food system up for discussion?
"It's down to a sort of blindness when it comes to the food system," Feedback's Martin Bowman explained to us last week. "The assumption is, 'well, we need to eat, we can't change that' – which means the food system is being left out of the conversation more broadly."
This isn't helped by the lack of data on food waste, which makes this part of the problem more difficult to see. "Globally," Bowman says, "there is a massive problem with the lack of data on food waste on farms. [It] is a gaping black hole." Important work has been done on this front, with WWF recently uncovering the reality of food waste on farms, which amounts to 15% of all food produced. These findings are critical, but have only recently emerged – Bowman suggests that more widespread and consistent reporting is urgently needed.
He also points out that the blame for food waste has, historically, fallen on consumers rather than governments. Campaigns typically "place excessive focus on consumers changing their behaviour, putting blame on people as individuals. In fact, about as much food is wasted (if not more) in the supply chain, before it reaches the consumer." This problem is reflected in the UN's Sustainable Development Goals (SDGs), which focus on consumer and retail waste while being vague about the reduction of food loss needed in farms and manufacturing. When it comes to food choices more broadly, Keith Dalmeney, Chief Executive of the Sustain Alliance, agrees: "It is neither fair nor realistic to pass the responsibility on to individual choice."
What success would look like
Many organisations – including Feedback – have been at COP26 this week pushing for food to be part of the conversation about preventing climate change. Some of the specific changes campaigners – including us – are calling for include mandatory food waste reporting for businesses (particularly given the overall lack of data), and new contracts between supermarkets and farmers so that retailers accept wonky produce and don't encourage overproduction by enforcing strict minimum orders.  
The locally grown leeks and vegan cheddar served up at COP26 can only go so far in making world leaders think differently about the importance of our food systems for the climate. Ultimately what is needed is deep-rooted systemic change led by governments and businesses.
"In my lifetime, I've witnessed a terrible decline," Attenborough continued in his speech. "In yours, you could and should witness a wonderful recovery. That desperate hope... is why the world is looking to you – and why you are here."