Welcome to Wasteland: the most harmful country you've never heard of
We're putting food waste on the map – literally.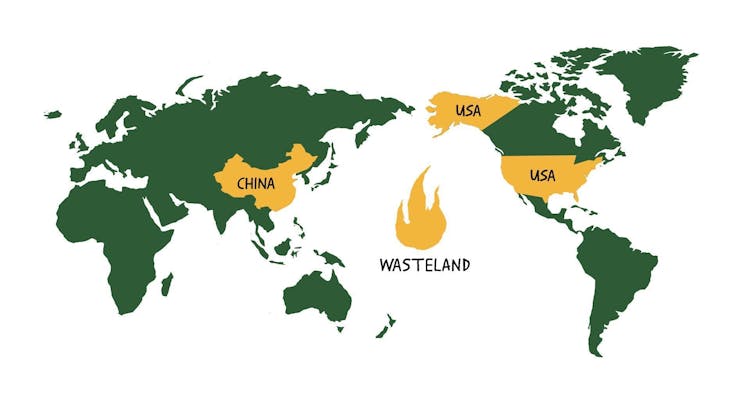 Food waste is a huge and growing problem. Latest figures show that an incredible 40% of all food produced goes uneaten. And wasted food means wasted resources: the energy, water and land that is used to grow unwanted food also goes to waste. Needless to say, replacing wild lands with crops and pumping out huge amounts of unnecessary greenhouse gases is bad news for climate change, and for biodiversity.
In fact, if food waste were a country, it would be the third largest contributor to greenhouse gas emissions, only after China and the US. So we've called this country Wasteland, and made a plan to wipe it out.
A plan, you say? 
Well, yes. It's a big problem, so it needs a bold plan. So we've started by proposing to the UN that the carbon-emitting Wasteland responsible for accelerating climate change is added as a member state. We submitted this as a formal application on the International Day of Awareness of Food Loss and Waste.
We've also set out four aims, which tackle the problem of food waste from every angle.
#1 Educate people on the impact of food waste on climate change – especially given that less than a third of people in the UK are aware of the link between food waste and climate change.
#2 End retailer rejection of produce based on shape and colour – so that the too-curvy, too-dinky and too-big don't go uneaten.
#3 Encourage retailers to stock what is available – so they are guided by growers and nature, and not the other way round.
#4 Measure and report on food waste across the supply chain, including at farm level – so that businesses are accountable for their waste and better equipped to improve it.
How can I get involved?
Time is running out for action on climate – which means we urgently need your help. To get the attention of those in power, we need to spread the word about Wasteland. You can help by:
Telling friends, family, colleagues, the milkman… let them know about the issue of food waste and why Wasteland needs wiping out.
Getting the word out on social media by tagging a friend in our video about Wasteland. Even better, share the post with #WipeOutWasteland (and don't forget to tag us! @oddboxldn).
Together, we can #WipeOutWasteland.