Clement Knives: Turning Waste Into Kitchenware
Had fun trying out our Odd Five Ways techniques yet? From braising and salt-baking to dredging and teriyaki, the campaign is all about promoting new and delicious ways to get a little bit more creative in your kitchen.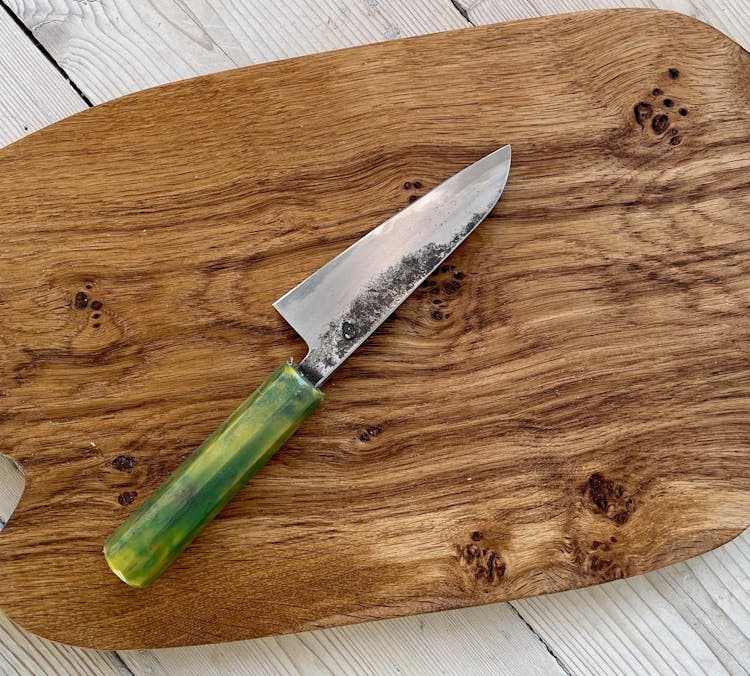 There's still time to enter our exciting Odd Five Ways competition, too. You'll discover two awesome items up for grabs in the prize draw, including a one-of-a-kind kitchen knife courtesy of Clement Knives. 
The small, sustainable company is the brainchild of Tim Westley, a former chef turned smithy who crafts high-quality chef's knives out of plastic and metal waste. Intrigued? We had a chat with Tim to uncover more about his innovative methods and materials.
From chef to bladesmith
As you'll well know by now, we're all about keeping waste to an absolute minimum. Why shouldn't this extend to the tools you cook with as well as the food you eat? 
Being a little bit more eco-friendly in your kitchen is now easier than ever thanks to revolutionary companies like Clement Knives. Every single one of the knives Tim makes is exceptionally crafted and entirely unique. And the best bit? They're almost 100% waste-free.
Tim first delved into the world of bladesmithing about five years ago. After returning to London from working abroad, he took a workshop in knifemaking and discovered a real passion for it. Equipped with the right skills for the trade, all he needed to do next was source some materials…
One man's trash
Wanting to keep his environmental footprint to a minimum, Tim began to collect rubbish from the River Thames. He'd spend hours scouring the water in his canoe, fishing out bits of plastic, netting and other unwanted items.
Following a hefty amount of experimentation, Tim discovered he could mould the stronger plastics he collected into colourful handles for his knives. Not only did this help keep costs down, but it also allowed him to become as low-waste as possible.
Today, his knife handles are made from plastics that wash up on the beaches near his current home in southwest Scotland. Tim even plans out what colour each handle will have, creating beautiful marble effects that really set them apart from any other knife company.
Collecting up canisters
It's not just the knife handles that are super sustainable. Clement Knives' blades are actually made out of empty nitrous oxide canisters. Yep, we're talking about these small metal cylinders that so often litter city pavements, public parks and festival fields. 
After being challenged by his friend Douglas - the founder of zero-waste, London-based restaurant Silo - to have a go at using them in his knives, Tim now makes every single one of his blades out of canisters. 
About ten go into a standard-sized knife. They're all flattened with a hammer before being forge-welded: melted at just the right temperature and forced together under extreme pressure. 
Forge welding is easily one of the oldest forms of blacksmithing, yet it's being used by Tim to tackle a very contemporary issue: recycling unwanted items into new, made-to-last items.
"I'm using traditional and ancient methods to solve modern-day problems," he explains.
Creating knives from scratch in such a way - and especially from scavenged materials - can be time-consuming. A full day of prep is needed before Tim can even begin to melt anything down. He takes his time on each piece, too, ensuring they are fit for purpose and made to last. "A good knife should last 50 to 60 years."
It's this level of dedication, in addition to a low-waste ethos, that has helped Clement Knives become so desirable to chefs across the UK. Currently, Tim makes about five knives a week that are posted for sale on the Clement Knives Instagram page once a fortnight. They've actually proved so popular that it's not unusual for him to sell out within just a few minutes!
95% waste-free 
Tim's knives aren't only low-waste, in fact, he estimates that about 95% of the materials he uses were previously rubbish. The only exception are the protective sheaves the knives come in; they're crafted out of the same soft plastic used to bind hay bales. 
Making something out of an old, previously unwanted item certainly doesn't need to affect its quality. Tim says; "Just because I'm using waste material doesn't make it any less of a knife." 
To enter the Odd Five Ways draw, simply take a photo of your Odd Five Ways 'spin to tuck in' wheel and share it on Instagram using #OddFiveWays. You'll also have the chance to win our other prize: a hardwood chopping board from Saunders Seasonings crafted out of one of London's unwanted trees.