More, more, more?
With retailers shouting 'sale' at every opportunity, we're feeling a little overwhelmed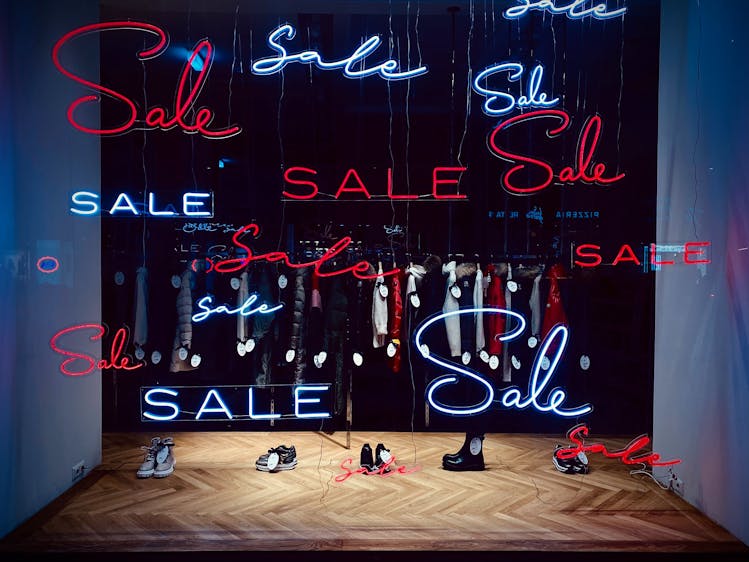 If you're anything like us, you're feeling exhausted after weeks of all-caps emails and shouty discounts in the lead up to this year's Black Friday. We are a nation overwhelmed by messages telling us to buy more.
This year's Black Friday has been the UK's biggest ever and despite several brands boycotting the event over concerns about waste, shoppers spent an estimated £9 billion over the past week. Research shows that the planet is paying the price: last year's event was responsible for 429,000 metric tons of greenhouse gas emissions, ​​the equivalent of 435 return flights from London to New York.
The 'made to waste' madness
Black Friday itself is only the most recent stop on a long track towards overconsumption. As sociologist ​​Juliet Schor explains to Vox, it's mass production that has made mass consumption possible. Cheaper prices and peer pressure has sent consumption spiralling, with Adrian Chiles, writing for The Guardian, noting that it's the advertisers who "dedicate their lives to fooling us into acquiring more". While MP Caroline Lucas points out that some products are now designed not to last, which creates difficulties for anyone buying goods: "People get very frustrated," she says, "when products have built-in obsolescence". 
It's baked into the food system
This pattern of overconsumption is just as true of food. We don't eat 22% of the food we buy according to the latest research. But this isn't a case of our eyes being too big for our bellies: it's baked into the system. A recent investigation has revealed that shoppers are routinely incentivised to buy bigger packs of food, which waste campaigners point out encourages people to over-buy. And best before dates – which are about quality, not safety – cause 15% of the food we throw away to be wasted needlessly. As WRAP's Helen White puts it: "the average family with children could save £700 a year, by just not throwing away edible food. It's about education; it's about knowing what to do with your food."
Mending the 'more' epidemic
There are early signs that the system is beginning to change. Repair is becoming more possible, with the UK introducing in July this year the 'right to repair': a legal obligation for manufacturers in the UK to make certain appliances easier to fix. Pressures to change have even led tech giant Apple to announce this week that they will make the newest phones easier to repair, while clothes rental services are also taking off, tackling what Elle magazine calls our "voracious buying habits". And apps like Olio and Too Good To Go are keeping food waste out of the bin.
"People are still going to need – and want – to consume things," writes Caroline Lucas, but, as Javier Goyeneche, founder of B Corp fashion brand EcoAlf, says: "We need to buy less and buy more responsibly." This might mean considering the longevity of a purchase, or whether there is an alternative that is made ethically and treads more lightly on the planet. 
Perhaps most importantly, we might ask – does this purchase bring me joy? "Despite the claims of consumer culture to the contrary," says psychologist Tim Kasser, "what research has shown is that the more that people prioritise materialistic values, the less happy they are." Maybe consuming a little less could bring us all a little more happiness.