Baked breaded avocado fries, tomato and red onion compote, spiced parsnip puree
This quick nutritious and full on flavours vegetarian dish was created by nutritional therapist and professional chef Camille Aubert from Call Her Chef.
Camille says "The creamy, warm avocado fries are coated in crispy breadcrumbs and baked for a healthier alternative to your usual fries. High in fatty acids and antioxidants, avocados keep your skin moist and healthy.
The compote is made with tomato, red onion and butter beans for a high in vitamins and nutritious garnish.
The flavourful parsnip purée is spiced with coriander, cumin and curry powder for an interesting twist that will simply bring this dish together."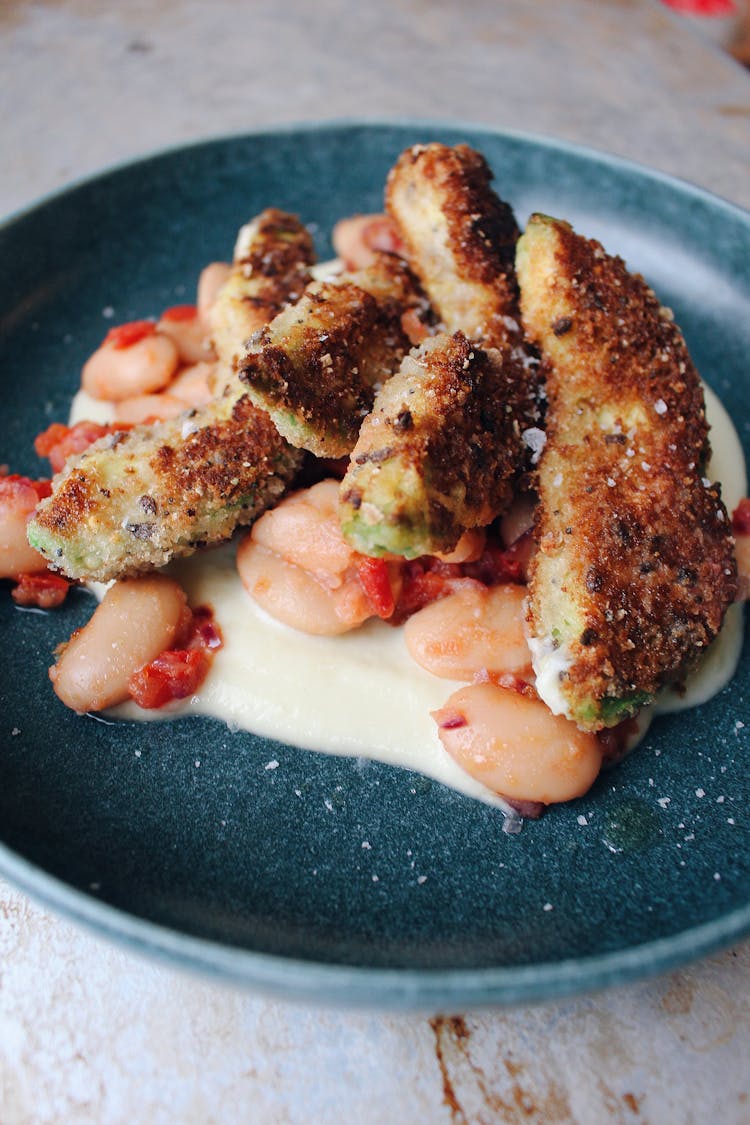 INGREDIENTS
Avocado fries
1 Avocado
1 cup Breadcrumbs
2 Eggs
1⁄2 cup flour
Tomato and red onion compote
2 Tomatoes (deseeded and cut into small dice)
1 red onion (finely chopped)
1 can Butter beans (drained and rinsed)
1 tsp apple cider vinegar
1 tbsp olive oil
Spiced parsnip purée
1 parsnip, peeled and finely chopped
200 ml milk (or plant based milk)
1 tsp butter
1 pinch coriander powder
1 pinch cumin powder
1 pinch curry powder
Sea salt and pepper
METHOD
Make the parsnip purée: Place a saucepan over a medium heat and add the butter, followed by the parsnips and spices. Reduce the heat and cook until the parsnips start to soften, about 3 minutes. Add the milk, bring to a simmer and cook for a further 5 minutes. Remove the saucepan from the heat, transfer to a blender and blitz on full speed until a smooth purée forms. Add some water if necessary. Season to taste with salt.
Make the tomato compote: Place a small saucepan over a low heat, add the olive oil and red onion and gently warm. Add the beans, tomatoes, vinegar and a little salt and pepper. Leave to warm for 5 minutes. Do not overheat.
Make the avocado fries: Preheat oven to 180C. Pour 1 tablespoon oil in sheet tray or baking dish; set aside. Dredge the avocado slices in flour then dip in egg and coat in breadcrumbs. Bake for 5 to 10 minutes, or until the fries are golden brown.
Tips:
You can make your own breadcrumbs by processing a slice of toasted bread in a food processor.
The finer you cut the parsnip, the quicker it will cook.
If you have left over compote, blend it until smooth and add some water to make a delicious dip.
To make this recipe vegan, substitute the cow milk/butter with plant based milk/butter, and the egg with water and xanthan gum.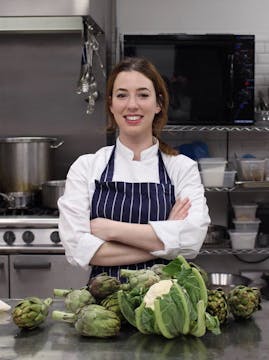 Thanks to Camille from Call Her Chef for the recipe!
How long have you been cooking? I have been cooking for 13 years now.
Cooking style: French. I like to fusion worldwide spices in my cooking too. But I mostly cook mediterranean food. Especially from Provence, where I grew up.
Favourite cooking method: I am all about balance so I tend to vary cooking method in my diet. But this season I have been loving poaching fishes to keep them moist and full on flavours. It is also a great way to reduce the consumption of oil and makes any dish healthier.
Favourite vegetable? Artichokes. They look absolutely beautiful and taste so hearty.
My favourite ways to use them are:
- boiled and served with a dijon mustard vinaigrette
- grilled and served with garlic infused butter
- roasted and stuffed with cheese
To read more about Camille, read our interview with her here.
Find Camille at @callherchef and on www.callherchef.com.