An interview with French chef Camille on seasonal & colourful cooking
Professional chef & nutritional therapist Camille has spent the last 5 years in London as a private chef, teaching and designing dining experiences. Having grown up in between Provence and the French Riviera she is passionate about fusing French recipes with international influences and sharing her skills on how to cook seasonally.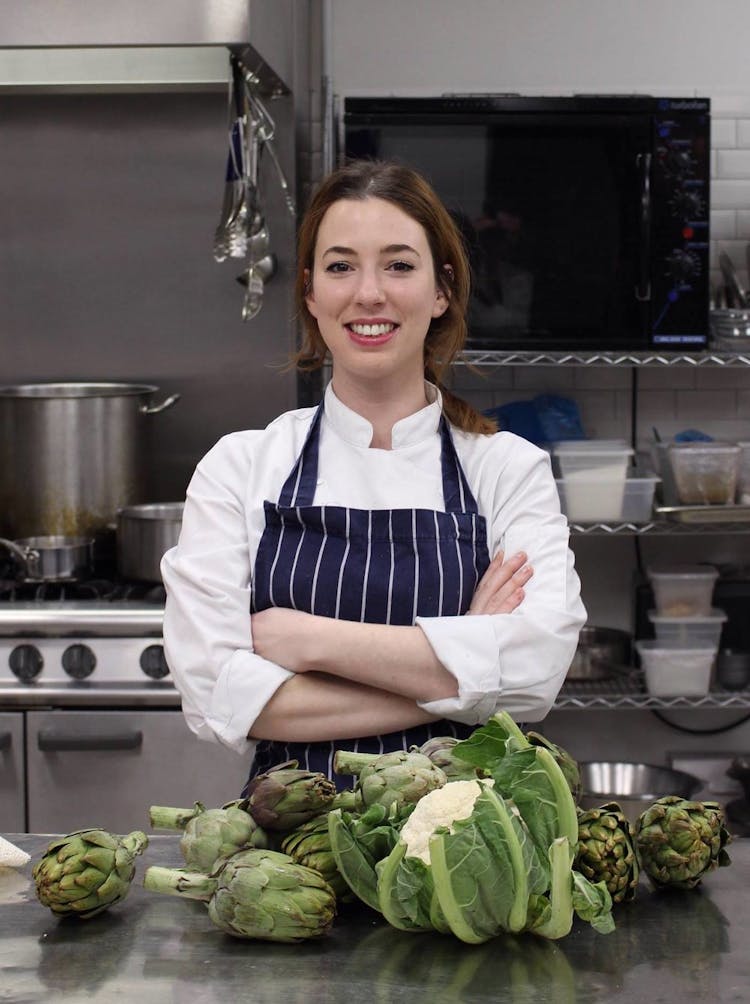 In this interview she shares all about what inspires her dishes and why eating seasonally is so important to her.
Where did you learn to cook?
I enrolled in a French private catering school at the age of 16 and spent 5 years learning the art of cooking. That's also when I started working in some of the most prestigious hotels and restaurants alongside world-renowned chefs and was able to learn how to cook professionally.here
Where do you get your inspiration from? 
I am inspired by the seasons and ingredient nutrients. I believe food is medicine and I always check my seasonal food calendars before developing any new recipe. Also, the easiest way to keep track of the season is to shop at your local farmers market, or to get your Oddbox!
Chefs like Eric Frechon, the Roca brothers or René Redzepi are very inspiring to me.
Our theme of the week is colourful eating
How do you integrate colour into your cooking?
Shop the rainbow in order to eat the rainbow! I pick colourful fruits and vegetables when shopping. I like to use dried powders such as freeze-dried raspberry powder or freeze-dried açai powder for a natural food colouring. I also use colourful edible flowers, they make any dish look so much better.
Do you have a few colourful recipes you could share with us?
I do! My pan-fried salmon, sugar snaps, citrus, and crispy oven baked curry chickpeas is a winner. If you were on the lookout for something more comforting, my carrot & coriander soup with prawns is the one. Carrots are super nutritious, high in vitamins and naturally in season in winter.
What's your view on a healthy diet? 
As a chef and nutritional therapist, I believe a healthy diet is a balanced diet. Eating a little bit of everything is essential. But it is also very important to listen to your body. As an example, I am sensitive to gluten, but not intolerant. I have learned to recognise the signs and to use alternative
options when necessary. I follow a Mediterranean and refined sugar-free diet. Which means I primarily eat plant-based foods, such as fruits and vegetables, whole grains, legumes, and nuts. I also cook with healthy fats such as olive oil. I like to use herbs and spices to flavour foods instead of salt. I eat fish once a week, and red meat no more than a few times a month. I use a natural sweetener such as honey, maple syrup or even cinnamon instead of refined sugar.
What is your go-to lazy day meal?
My classic French tomato sauce served with courgetti.
When in season, I roast fresh tomatoes with garlic, onion and oregano before blending everything until smooth, adding vegetable stock to get to the right consistency. In winter I like to use organic tomato cans instead, I finely chop and cook all the ingredients together into a saucepan.
What's your favourite London restaurant?
Lyle's; a seasonal British restaurant offering a la carte lunches and set suppers. I really like their guest series, with chefs coming from all over the world.
Thanks a lot to Camille for the recipe & insights. Follow Camille at callherchef.com and @callherchef on Instagram.
Interested in starting to cook more seasonally? Our Oddboxes provide a colourful variety of seasonal produce every week, ready for you to use them in any way you like. Happy cooking!