All about apples
You'll have noticed apples in your boxes recently. We're now into apple harvesting season, as most varieties are usually ready to pick in October. 
But we're off to a bit of a slow start this year. Growers are facing issues finding labour to pick the apples off their trees, which means some of them are going to waste. We recently spoke to one of our growers about the impact this is having. 
A staple of British food, apples are both exciting and diverse. Here's our Oddbox guide to apples.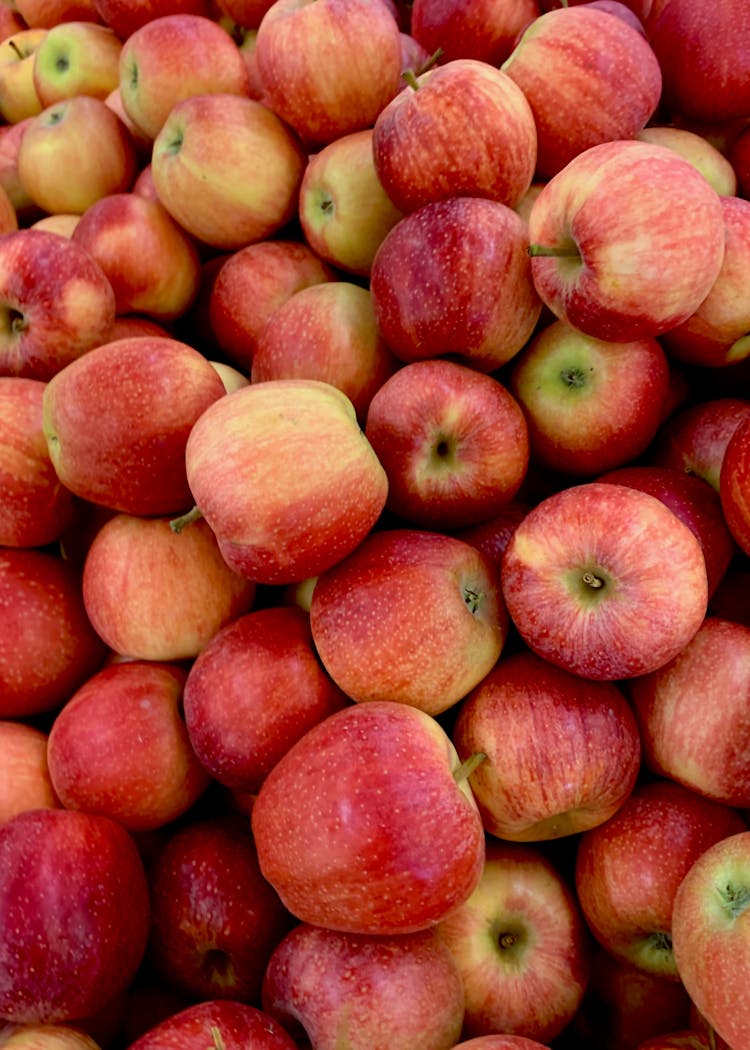 What conditions do apples need to grow? 
Apples like three things - rain, cool weather and sunlight. When the UK has unpredictable weather in spring or not enough summer sunlight, the trees may not produce much fruit. 
Most apples evolved in far colder regions of the world than the UK. The most popular British varieties need to experience a certain level of cold each year to keep producing fruit for the decades to come. 
Where do apples grow? 
Apples don't favour heat, and many UK apple farmers use big fans to cool their orchards when summer temperatures creep up too high. But because the fruit needs so much sunlight, commercial apple growing in the UK is still mostly limited to the South of England. Kent, Worcestershire, Herefordshire and Essex are popular locations for large orchards. 
However, small-scale operations can still grow apples across the rest of the UK. The fickle climate and sunlight levels further north force the trees into producing low yields - so the flavour of each apple is far more concentrated. Niche fruit tree hobbyists strive to produce the most intense flavours in their apples. 
Which varieties of apples grow in the UK? 
The first apples grew in wild, mountainous apple forests in Kazakhstan. But now, thanks to both the hard work of the Roman conquerors and Victorian gardeners, the UK has developed over 2,500 apple varieties. There are three main types of trees, producing either cooking, dessert or cider apples. 
Here are five varieties of apples you may be familiar with, and they're all grown in the UK: 
Royal Gala: Small, stripy red and sweet, with a crisp bite. Great eaten raw or cooked into tarts and sauces. 
Cox: Red and green, with both sweet and tart notes. Can be eaten raw or cooked into pies. 
Bramley: Mostly green and juicy, with a tart flavour. Not for eating raw, only cooking - into crumbles, pies or sauces. 
Jazz™: Deep red with light green flesh, sweet-tart, crunchy and very juicy. Perfect for eating raw as a snack. 
Braeburn: Pink-red with flecks of yellow, tangy and sweet. Can be eaten raw, cooked with or made into cider. 
How about something a little different? 
Those apple varieties above don't even scratch the surface of what's available in the UK. Everyday British orchards are producing fruit like the Worcester Pearmain®, from the South East of England, that tastes like strawberries. Or the traditional light brown and creamy Egremont Russet, grown all over the UK. 
To find out more about the wide range of apples available in the UK, check out British Apples & Pears' guide to apple varieties. 
What can you do with your apples? 
If you're looking for inspiration on how to use your apples, our 7 delicious recipes for apples are here to help.