8 Delicious Ways To Use Chard
Chard has large, dark green leaves and can come in different varieties. The most popular types are Swiss chard, rainbow chard or rhubarb chard, although each taste very similar. This leafy vegetable has thick, crispy and vibrantly coloured stalks and brightens up any salad. The stems can be white, purple, yellow, orange or red. 
Chard has an earthy, slightly bitter yet sweet flavour, similar to spinach and kale. It doesn't come from the same family as either, though; the chard vegetable is closely related to beetroot. Chard tastes best when it's in season, from July to November in the UK.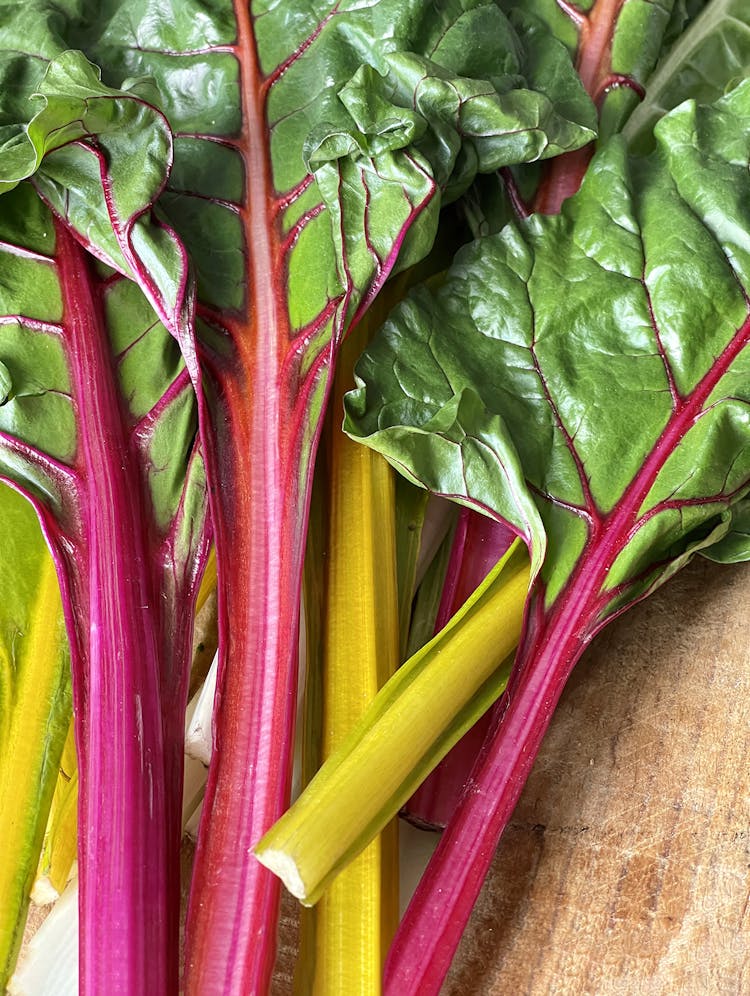 How To Store Chard
Chard should stay fresh for 4-7 days when stored in the fridge. Make sure it's kept dry and wash only when ready to prep it for a meal. 
Keep chard fresh for as long as possible by placing it at the bottom of your fridge where the temperature is coldest. Store in an open bag or loosely wrapped in a cloth. 
How To Prep Chard
Chard greens are easy to prepare and cook. Wash your bunch of chard under cold water first to remove dirt, debris or hidden insects.
Can You Eat Chard Stalks?
Yes, chard stalks aren't just pretty to look at – they're delicious too. The stalks are a little tougher than the leaves so they'll need a few extra minutes of cooking time to become tender. 
Slice the leaves away from their stalks before cooking. Leave the stalks as they are or chop them finely. Keep the leaves whole or roll them tightly and cut into ribbons. 
How To Cook Chard
Cooking chard makes the flavour less earthy and milder, more similar to beetroot. As with many leafy greens, heating chard also wilts and shrinks the leaves. But it dulls the stems' vibrant colours in the process. 
Chard can be enjoyed raw, especially if you like the flavours of other raw leaves like spinach, lettuce and kale. 
Chard is versatile and pairs well with flavours including: 
Garlic
Olives and olive oil
Lemon
Cheesiness – including nutritional yeast and vegan cheese
Miso
Shallots
Walnuts
Mustard
Here are some of our favourite chard recipes and methods for cooking your chard greens.
Sautéed
Heat 1 tbsp of olive oil on medium heat. Tip the chard stalks in, along with a couple of cloves of crushed garlic. Fry for 2-3 mins, tossing constantly. Add the chard greens, stir well and sprinkle with salt. Cook for another 1 min, continuing to toss. Squeeze in orange juice and serve over rice or noodles. 
You can even make a delicious brunch dish by using the sauté method. Give this chard and chickpea baked eggs recipe a go!
Braised
Prepare 250g of cooked puy lentils (or equivalent amount of uncooked lentils) as instructed on the packet. Prep 300g of chard as mentioned above. Cut your chard stalks into batons and roughly shred the leaves. Heat 1 tbsp olive oil in a large pan on medium heat. Add the chard stalks, 1 sliced garlic clove, 1 chopped red chilli and a splash of water. Cook over low heat for 8-10 mins, until the chard stems soften. Add the leaves and cook until they're completely wilted. Remove from heat. 
Stir the lentils through the chard. Season, dress with another 1 tbsp of olive oil and a squeeze of lemon juice, then serve. 
(Recipe via BBC Good Food)
Steamed
Boil water in your steamer pan. Add your chard stems and steam for 1 min. Then add the leaves and steam for another 3 or 4 mins. Remove from the heat and drain any liquid. Add salt, pepper, lemon juice, red onion and/or olive oil and serve as a side dish.
You could also try baking your chard in the oven, here's a great Oddbox recipe!
With Cannellini Beans
Trim the stems from a bunch of chard and save them for another use – why not fry them up with garlic and salt as a snack? Thinly slice the chard greens across and set aside. Heat a wide saucepan on medium-high heat, then add 3 tbsp olive oil. Chop 1 onion, 1 celery stalk and 1 carrot. Add the vegetable chunks to the pan, stir and cook for 5 mins, until they're softened. Roughly chop 2 garlic cloves and stir in, cooking for about 30 secs. Stir in 1 can of chopped tomatoes and 1/4 tsp chilli flakes. 
Reduce the heat and simmer, uncovered, until the sauce thickens – about 10 mins. Stir in a handful of chard at a time, letting each cook down a little before adding the next. Add a can of cannellini beans (or any beans you have) and stir, then cover the pan and simmer until the chard is very soft. This should take another 10 to 15 mins. Season and serve. 
(Recipe via Williams Sonoma)
With Shiitake Mushrooms
Thinly slice and rinse 250g of chard, leaving the water on the leaves. Thinly slice 4 fresh shiitake mushrooms, or any mushrooms you have. Heat 2 tbsp butter or vegan spread in a large pan over medium heat. Before the spread completely melts, add the mushrooms and 1 tsp thyme. Season with a pinch of salt and cook for about 1 min, until just fragrant. 
Reduce the heat to low and add the chard. Cook and stir gently from time to time, until just tender and wilted – around 4 mins. Turn the heat to high and cook, stirring occasionally, for about 3 mins. The chard should be very tender and almost all of the liquid evaporated. Add another 2 tbsp of spread and cook, stirring, until it melts – about another 3 mins. Season to taste and serve immediately.
(Recipe via Food Republic)
With Celeriac Ribbons
Peel 1 small celeriac and cut into ribbons, using a vegetable peeler. Squeeze most of the juice of 1 lemon into a large bowl of cold water and add the celeriac ribbons. Fry 40g pumpkin seeds over a medium heat with no oil. They should puff up and pop, then set them aside. Bring a large pot of salted water to the boil, then fish out the pieces of celeriac from the lemon water and cook in the pot for 1 min. Drain and save the cooking water. 
Heat 2 tbsp olive oil and 15g butter or vegan spread in a large frying pan over medium heat. Once the spread has melted, add 4 thyme sprigs (or dried thyme), 2 finely chopped garlic cloves and ½ tsp chilli flakes. Cook for 5 mins, until fragrant. Slice the stalks and shred the leaves of a bunch of chard. Add it to the frying pan and cook for 2 mins. Season and squeeze the remaining juice from the lemon. Turn up the heat, then stir in 10g hard vegetarian cheese or a plant-based alternative. Add the celeriac and a slosh of the cooking water. Toss, shaking the pan until the sauce becomes glossy. Serve, topped with more cheese. 
(Recipe via BBC)
In A Soup
Heat 3 tbsp olive oil in a large pot on medium heat. Add 1 large diced onion and cook, stirring occasionally, until golden. Meanwhile, thinly slice the stems of a bunch of chard and chop the leaves. Add 4 cloves finely chopped garlic, 1 tbsp ground cumin and ½ tsp chilli flakes or paprika. Cook for about 30 secs, until fragrant. 
Add 1.9L of water, 450g of rinsed red lentils (or any lentils you have) and the chard stalks. Raise to high heat and bring to a boil. Reduce heat and simmer, stirring occasionally, for about 20 mins – until the lentils are falling apart. Stir in the chard leaves and cook for about 5 mins, until tender, Add 1 ½ tsp salt, plenty of lemon juice and pepper to taste. Garnish with more oil and chilli to serve. 
(Recipe via Eating Well)
In A Stew
Choose a large saucepan with a lid, then heat it over medium heat and add 2 tbsp sunflower oil. Chop 1 large onion and add it, frying until light golden. Stir in 1 tsp cumin seeds and cook for about 1 min, until fragrant. Chop 400g sweet potatoes into medium chunks. Add them to the pan along with ½ chilli flakes, a 400g can of chopped tomatoes and 750ml water. Stir, cover, bring to the boil then uncover and simmer for 15 mins. 
In the meantime, whizz 140g salted, roasted peanuts in a blender until finely ground. Add them to the stew and stir. Taste for seasoning and add more salt if needed. Simmer for another 15 mins, stirring often. Stir in 250g roughly chopped chard, both leaves and stems. Return to the boil then simmer, covered, stirring occasionally for 8-10 mins – or until the chard is wilted. Serve piping hot with plenty of black pepper.
(Recipe via BBC Good Food)