30 Minute Meals: Chard & Chickpea Baked Eggs
"A brilliant brunch recipe that all your friends will be impressed with! Best served piping hot out of the oven with crusty bread to dunk into the creamy sauce. Earthy chard, sweet onions and chickpeas, cream and eggs baked until just cooked; truly delicious and a decadent weekend (or WFH!) brunch or dinner. It's a great dish for sharing, so you can either prepare one large one to share or individual ones!" - Storm (@whatstormeats), ODDBOX guest chef.
Prep time: 15 minutes
Cook time: 15 minutes
Total time: 30 minutes
Servings: 2
Ingredients:
150 g Swiss chard
3 Eggs
200 g Chickpeas (why not bake the other half of the tin in a little oil, paprika, and salt for a tasty snack?)
2 Shallots (or 1 small onion)
1 Garlic clove
30 g Parmesan (or Pecorino)
30 g Butter
25 ml Olive oil
200 ml Double cream
Seasoning
2 tbsp Breadcrumbs (use any left over bread, baked and then whizzed up in a food processor)
a bunch of Chives
Crusty bread
Recipe:
Preheat the oven to 180 degrees.
Finely dice your onion and garlic and sauté in a pan on a medium-low heat with butter and a drizzle of olive oil. Cook until the onions turn translucent.
Prepare the chard by cutting the leaves and stalks into inch pieces. Add this into the pan with your onions and garlic; the chard needs to cook through just slightly. Season with salt and pepper.
In a bowl, pour in the cream and season with salt and pepper, 1 tablespoon of breadcrumbs and half of your cheese.
In your oven dish (or use the same pan if its oven proof!), arrange the chard and onions in the bottom and scatter across the chickpeas. Use a large dish if you are sharing or you could easily do two separate ones for individual portions.
Pour your cream mixture over the vegetables and crack the eggs into it. Sprinkle over the other tablespoon of breadcrumbs and the rest of the cheese.
Bake in the oven for 10 minutes, or until the white part of the egg has cooked through. You want to make sure the yolk is still runny!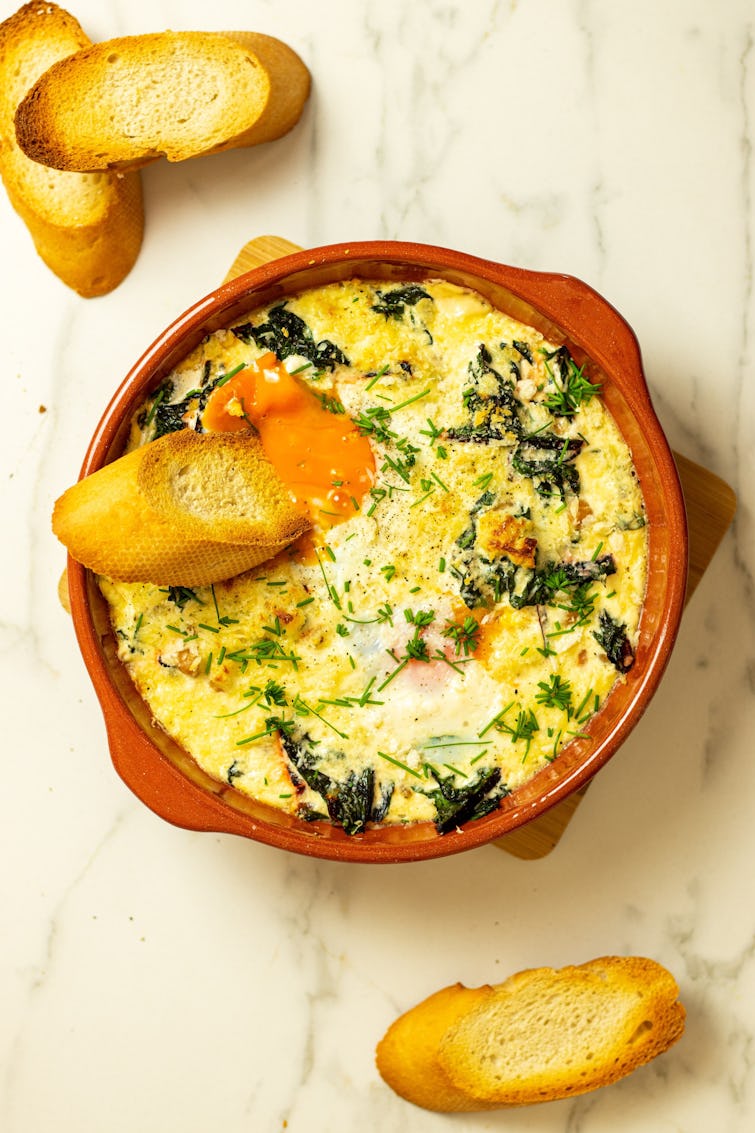 ---