7 delicious ways to cook with swede
Did you know 'swede' is actually just another name for a Swedish turnip? You might also know it as 'rutabaga'. This versatile root veg crops up in your boxes a fair bit and while it's not quite the same as a typical turnip, it has just as many uses.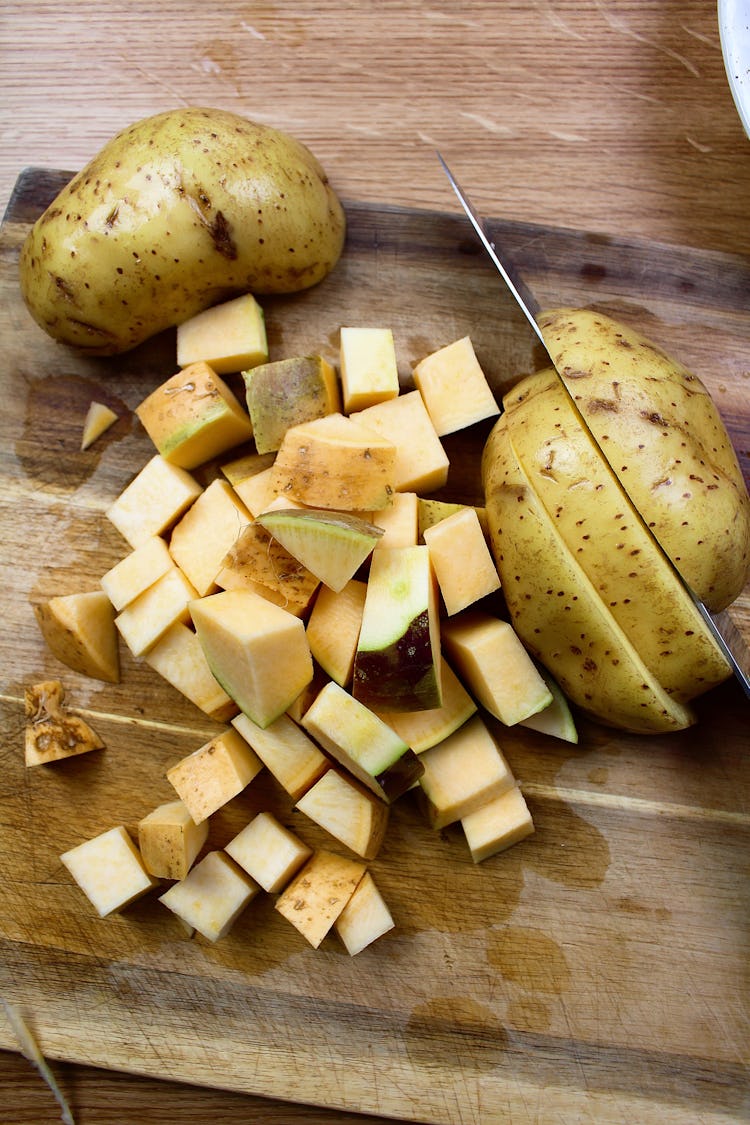 Big, broad and bright yellow inside, swede vegetables are a classic ingredient to toss into hearty winter stews. Stumped on how else to cook it? Below, we share our top recipes with swede as the star ingredient. 
Prepping swede
The thick outer layer of this odd-looking veg is technically edible, although you might want to peel it off and compost it if it looks particularly tough or especially green. You can usually get away with keeping the skin on if you have a younger swede that you plan to roast in the oven. 
Storing swede
Take your swede straight out of your box and put it in a cool, dark place in your kitchen, such as a larder, cupboard or drawer. It'll keep for over a month unwashed. Sliced your swede open already? Store it in a paper bag in the fridge for up to one week.
7 tasty swede recipes to try
Roasted swede
It doesn't get easier - or more effortlessly delicious - than roasted swede. Chop your swede into chunks and roast it just as you would potatoes for a roast dinner. 
Alternatively, make swede chips by slicing peeled swede into thin strips, tossing them in oil and arranging them in one layer on a baking sheet. For extra flavour, add a few cloves of peeled garlic or even a scattering of parmesan/vegan parmesan. Roast the swede for 35 minutes, tossing halfway through, until golden and crisp. 
(via BBC Good Food)
Swede gratin
If you can add layers of potato to a gratin, why not swede? To make swede gratin, peel one swede (or approximately 400g) and finely slice it into 2mm thick discs. 
Place the swede in a large saucepan along with 200g milk/plant milk, 200g double cream/vegan cream, two crushed garlic cloves and a sprig of fresh thyme. Season with salt and pepper, bring it to a boil and then lower it to a simmer. 
After 10 minutes, strain the swede using a colander, catching the cream in a bowl. Set aside to cool and preheat the oven to 180°C/160°C fan/gas mark 4. Once the swede is cool enough to handle, layer it up in an ovenproof dish. 
Pour over the cream mix (remove the sprig of thyme) and top with breadcrumbs or cheese/vegan cheese if desired. Bake for 25 minutes and then allow the gratin to cool for a few minutes before serving.
(via Great British Chefs)
Swede gnocchi
Just like swede can be substituted for potato in a gratin, it can also be used in this Italian-inspired dish. Check out our recipe for Swede and Herb Gnocchi which sees you mashing boiled swede with pasta flour, egg and seasonings to make dozens of dinky dumplings.
Creamed swede
One of the most well-known swede recipes has to be mashed neeps. The Scottish dish - that's also sometimes called creamed swede - is super simple to make and the perfect side for veg roasts.
To make a big bowl of creamed swede, chop up 500g of swede and boil it in salted water for 20 minutes. Drain the veg in a colander and set aside. Add one and a half tbsp of butter/vegan butter and a splash of milk/cream/vegan alternative to the pan. Let it melt and then toss the swede back in. Season to taste and mash, adding more butter/milk if needed. 
(via Flawless Food)
Swede rumbledethumps
Another quintessentially Scottish recipe that uses swede is rumbledethumps. Perfect for cooler days, this mouth-watering casserole packs in the veg and has a tasty cheesy crust. 
Check out our full recipe for Swede Rumbledethumps. Wondering where on earth this veg got its weird and wonderful name? Supposedly, 'rumbledethumps' is the sound the potatoes and cabbage make when they're stirred together with a spoon…
Swede salad
If cold swede doesn't sound all that appetising, hear us out. Tossed in herbs and drizzled in a tasty dressing, swede salad is actually a delicious alternative to your everyday lettuce bowl.
You could even make a warm salad using a combo of winter root vegetables like swede, carrots and potatoes. Cube the veg and boil it in salted water until it's soft all the way through. Leave to cool and whip up your favourite dressing/vinaigrette.
Stir a small handful of chopped spring onion or chives into the cooled vegetables and top with the dressing. Why not stir another type of veg in too, such as shredded fresh spinach leaves or roasted peppers?
Swede soup
When in doubt, make soup. Thanks to its very subtle flavour, swede makes a fantastic addition to spicier, curried soups. 
Begin by heating two tbsp of olive oil and 30g butter/vegan butter in a large saucepan. Toss in one diced onion, two sticks of finely chopped celery and a pinch of salt. Fry for 10 minutes until the veg is soft and starts to caramelise. 
Add one tsp each of cumin, ground coriander and turmeric, plus a tbsp of medium curry powder. Fry for one more minute before stirring in 800g peeled and cubed swede and 1.8 litres of veg stock. Cover and simmer for 75 minutes until the swede is soft. 
Season well and then blitz with a hand blender. Swirl in 50ml double cream/vegan cream. Serve topped with yoghurt/vegan yoghurt and a pinch of chilli flakes. Have more or less swede to use up? Adjust the recipe amounts as needed.