6 Delicious Ways To Cook Cavolo Nero
Ever tried a cavolo nero recipe? These beautifully crinkled leaves are fun to cook with, from frying them to braising. Or how about creamed cavolo nero? 
In this guide, we'll give a quick rundown on this tasty curly kale alternative and highlight some of the best recipes for cavolo nero.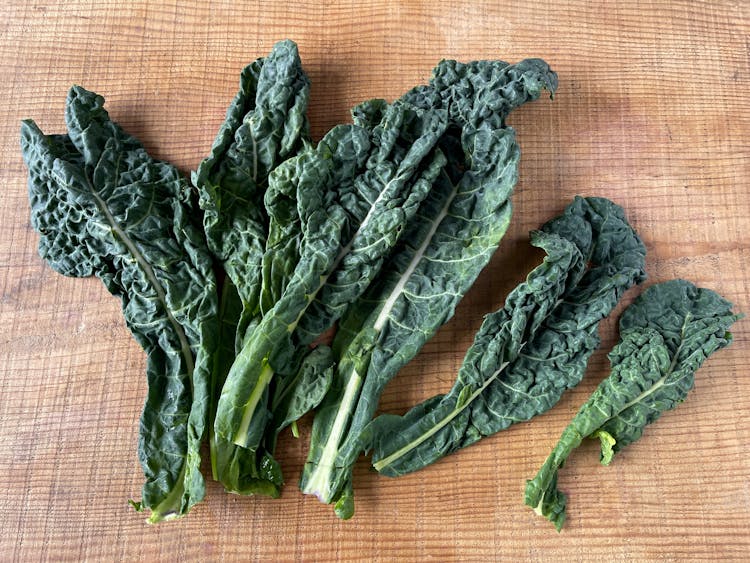 What Is Cavolo Nero?
Cavolo nero originates from Tuscany in Italy and comes into season during autumn and winter. 
It has long, slender leaves that are a very dark green, almost black. They're embedded with distinct wrinkles (similar to savoy cabbage), caused by the drop in temperature towards the end of the plant's growing period.
What Vegetable Is Cavolo Nero Related To? 
Cavolo nero is in the brassica family, so it's related to cruciferous green veggies like broccoli, spinach, brussel sprouts and cabbage.
What Does Cavolo Nero Taste Like? 
Cavolo nero has a deep, tangy, slightly bitter flavour with a sweet, almost nutty aftertaste. Chefs often turn to cooking cavolo nero when looking for a sweeter alternative to cabbage.
Is Cavolo Nero Known By Any Other Names? 
Cavolo nero is sometimes called black kale, Italian kale, dinosaur kale or Tuscan kale. The Italian words "cavolo nero" translate as "black cabbage". 
Is Cavolo Nero The Same As Kale?
Cavolo nero is actually a type of kale. But it isn't the same as the kale often available in the supermarket – that's called curly kale. Other popular types of kale include red Russian kale, Chinese kale and ornamental kale. 
Although cavolo nero is not curly kale, it behaves similarly when being cooked. However, it tastes more like collard greens or green chard than curly kale.
Recipes With Cavolo Nero:
Raw cavolo nero can be sprinkled into a salad – but most people prefer to cook with it to create cavolo nero side dishes. We've compiled some of the best ways to cook cavolo nero below.
You'll need to strip the leaves from their stems for each of these recipes. But don't chuck those stalks away. They taste almost the same as the leaves, but just need to be cooked for a little longer. Chop stems into bites, then add them to a stir fry or sizzle on low heat in oil, garlic and salt for a tasty side dish. Here are some more ideas for cavolo nero stems – they can be used in the same way as curly kale stems.
Cavolo Nero Crisps
Soak 70g cashew nuts in water for two hours, then drain and rinse. Remove the leaves from one cavolo nero head and place in a large mixing bowl. 
Blend 2 tomatoes and ½ a red pepper until smooth. Add the cashews, ¼ tsp salt, ¼ tsp cayenne pepper and 15g nutritional yeast flakes, then blend until thick. 
Pour the mixture over the cavolo nero and press until all the leaves are well covered. Spread onto a tray and place in a dehydrator or fan-assisted oven (with the door slightly ajar) at 45 degrees C until fully dried and crisp.
(Recipe via Deliciously Raw)
Top tip: You could use these crisps to top a Cavolo Nero Risotto!
Braised Cavolo Nero
Roughly chop 500g of cavolo nero leaves. Cook in salted boiling water for 5-10 mins, until tender, then drain and squeeze out excess water. 
Heat ½ tbsp olive oil in a saucepan, then add 1 clove of finely chopped garlic and a pinch of chilli. Stir until the garlic softens. 
Add the cavolo nero, toss well and season with salt and pepper. 
(Recipe via Wee Buns Cookery School)
Sautéed Cavolo Nero
For this cavolo nero side dish, add 2 tbsp olive oil and 1 clove chopped garlic to a large pan and turn heat to low. Once the garlic softens, add 400g chopped cavolo nero, ¼ tsp salt and 80g water. 
Turn heat to medium low and cover with a lid, stirring occasionally. Cook until the cavolo nero is tender, remove from heat and garnish with lemon zest. 
(Recipe via End of the Fork)
Creamed Cavolo Nero
Put the slow cooker on low, then add 50g spread and ½ tbsp olive oil in a frying pan on low heat. Add 1 thinly sliced onion and fry for 5 mins until softened. Add 400g of cavolo nero and fry for another 5 mins, until starting to wilt.
Tip into the slow cooker along with 3 sliced leeks, 100ml stock and 300ml double cream. Cook with the lid on for 3 hours and stir occasionally. 
Stir through another 100ml double cream, 1 tsp Dijon mustard, a large pinch of nutmeg and 40g grated vegetarian parmesan. Season and serve. 
To make the recipe vegan, swap the spread, cheese and double cream out for plant-based alternatives.
(Recipe via BBC Good Food) 
Butternut Squash & Cavolo Nero Pasta
Peel and chop 300g of butternut squash into 3cm chunks. Place on a baking tray, lightly coat with olive oil and season with a pinch of salt. Roast in the oven at 180 degrees C for 40 mins. Bring a large pan of salted water to the boil and cook 150g of sliced cavolo nero for 5 mins. 
Remove from the pan with a slotted spoon, save the water and place both aside. Heat 2 tbsp olive oil in a frying pan on low heat. Add 2 finely sliced shallots and 2 finely chopped garlic cloves and fry for 3-4 mins. Add ¼ tsp dried sage. 
Bring the cavolo nero water back to the boil and cook 250g pasta as per the packet instructions. Add the butternut squash to your frying pan with the shallots and garlic, along with 2 tbsp of pasta water. Add 40g grated parmesan or vegan cheese and mush with the other ingredients until they make a thick paste. Season with salt and pepper and add the cavolo nero. 
Once the pasta is cooked, mix it in with the vegetables thoroughly. Serve with more cheese. 
(Recipe via The Tiny Italian)
Cavolo Nero Curry
Heat 1 tbsp coconut oil in a large saucepan on a medium heat. Add 1 sliced onion and lightly fry to soften. Add 2 cloves of crushed garlic, 1 finely chopped chilli and 1 inch of grated ginger. Stir for 1-2 mins. 
Stir in ½ tsp garam masala, ¼ tsp ground cumin, ¼ tsp ground turmeric, ¼ tsp cardamom seeds and 1 tbsp tomato puree, then cook for another 1 min. 
Stir in 1 sweet potato, peeled and chopped into small squares. Add 500ml of water and bring to a simmer. Cook for 10-12 mins, until the sweet potato has softened. Stir in 100g of roughly chopped cavolo nero and cook for another 5 mins. Season with salt and pepper, then serve. 
(Recipe via Halo Eats)
If you've got some leftover lentils you could also give our Coconut & Cavolo Nero Dahl recipe a go!