Cavolo Nero Risotto
Try this green risotto made with a creamy cavolo nero paste and served with whole wilted cavolo nero leaves on the top. 
Substitute:
No cavolo nero? Try with kale or spinach instead. 
No onion? Use 1 shallot instead. 
No butter? Try with olive oil. 
Prep time: 15 minutes
Cook time: 30 minutes
Total time: 45 minutes
Servings: 2
Ingredients:
200 g Cavolo nero
150 g Risotto rice
1 Onion (chopped)
2 Garlic cloves
4 tbsp white wine (optional)
900 ml Vegetable stock
1½ tbsp Butter / Vegan butter
Lemon (zest and juice of 1/2)
1 tbsp Olive oil
Recipe:
Make the cavolo nero paste: Remove the stalks of the cavolo nero leaves - do not discard the stalks. Keep ⅓ of the cavolo nero leaves aside for the topping. Chop the cavolo nero stalks, and blanch for 4 minutes, in salted boiling water, along with the ⅔ of cavolo nero leaves and the whole garlic cloves. Drain well and rinse under cold water to stop the cooking process. Gently squeeze the leaves to remove excess water. Place the blanched cavolo nero, lemon juice, and garlic into a food processor. Pulse blend to a fairly coarse puree. Add the olive oil and pulse again to combine, until you have a liquid dark green puree. Season to taste. 
Make the topping: Pan fry the cavolo nero leaves in a little olive oil for 4-5 minutes, until wilted. Season with salt and pepper.
Cook the risotto: Heat up the butter into a large frying pan. Cook the onion for 2-3 minutes over medium heat, until translucent. Add the risotto rice, stir well to coat,  and cook for 1 minute. Deglaze with the white wine (optional), then add enough stock to cover the rice and cook for a few minutes. Keep adding ladlefuls of stock, stirring and allowing each ladleful to be absorbed before adding the next. This might take 20 minutes or so. One the rice has cooked but still has a bit of bite, turn off the heat and mix in the green cavolo nero paste. Season to taste, and serve hot with lemon zest and the wilted cavolo nero leaves.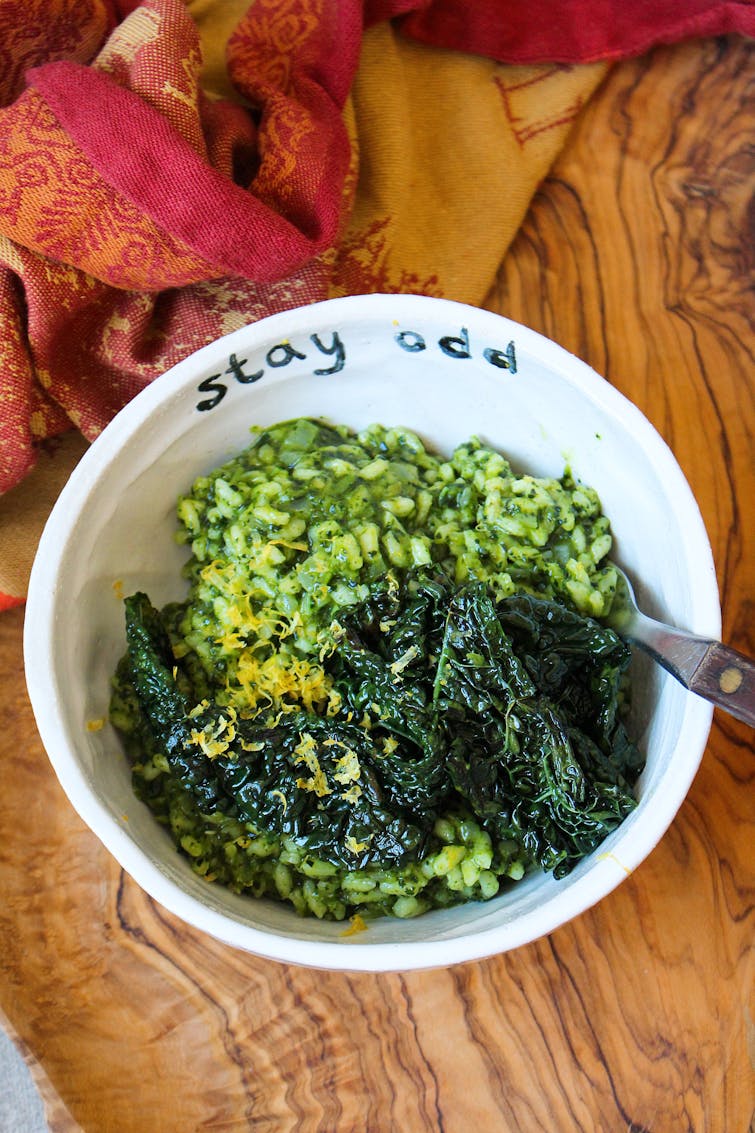 ---
How to store
Store in the fridge for up to 5 days. You can make the risotto in advance - make sure to stop the cooking process 10 minutes before the rice has fully cooked. Finish cooking it as you reheat it. 
Leftovers
Try making arancini with your leftover risotto. Roll the cold risotto into small balls, then dip them in flour, egg wash and breadcrumbs, ensuring the rice is completely coated. Deep fry until golden and crispy.