5 Of The Best Vegetarian Slow Cooker Recipes
Whether you're looking for a hearty main or a delicious dessert, these vegetarian slow cooker recipes are the way to go.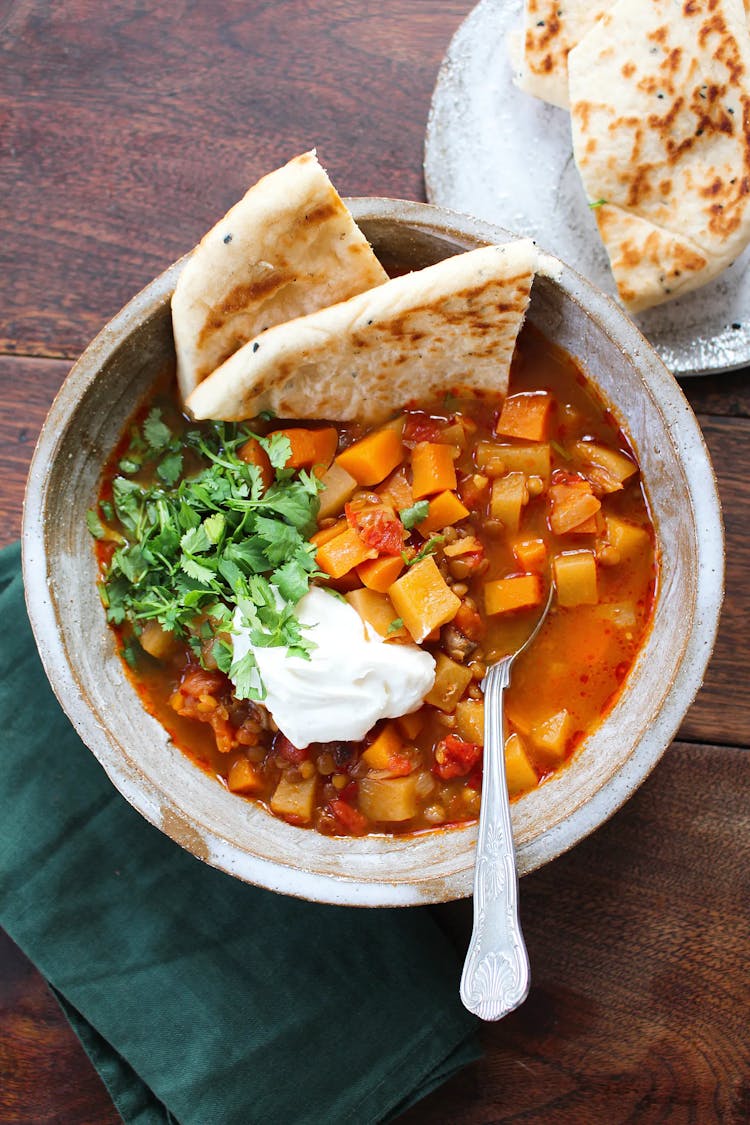 Slow cookers are perfect for use all year round, they typically use less energy than a traditional oven and are ideal for one pot meals - meaning less washing up.
Moroccan Lentil Stew
1 swede (cubed)
1 onion (chopped)
1 tbsp ginger (chopped)
2 garlic cloves (chopped)
2 carrots (cubed)
1 can chopped tomatoes (400g)
1 can lentils 
1 tbsp rose harissa pesto 
1 tsp ground cumin 
1/2 tsp ground cinnamon
1 vegetable stock cube 
Salt & pepper
Simply add all of the ingredients into your slow cooker along with 500ml of water. Mix well and leave to cook on low for 4 hours. Just before serving, give the stew a taste and top up the seasoning to taste . If the stew is too thick, simply add in a splash more water and leave to cook for a further 15 minutes. To serve, try adding a dollop of yoghurt and a sprinkling of fresh coriander.
(Recipe via Oddbox)
Coconut Curry
This slow cooker curry is perfect for colder winter evenings.
1 can coconut milk (400ml)
1 can chopped tomatoes (400g)
1 can chickpeas (400g - drained and rinsed)
1 tbsp ginger (chopped)
1 tbsp ground turmeric 
1 tbsp curry powder 
2 garlic cloves (chopped)
1 tbsp miso paste
200g green beans (trimmed and cut in half)
800g pumpkin (peeled and chopped)
3 onions (chopped)
2 tomatoes (quartered)
1 red pepper (chopped)
To begin, add all of the ingredients, apart from the green beans, to your cooker. Then add in 200ml of water and give it a good stir. Set your slow cooker to high and leave to cook for 2.5 hours. Next add in the green beans and leave to cook for a further 30 minutes. Serve with fluffy rice and fresh coriander.
Top tip: Why not try these leftover vegetable bhajis to accompany your dish.
(Recipe via Oddbox)
Slow Cooker Ratatouille
2 tbsp olive oil
1 red onion (sliced)
2 garlic cloves (minced)
2 large aubergines (cut into 1.5cm pieces)
3 courgettes (halved and cut into 2cm pieces)
3 mixed peppers (cut into 2cm pieces)
1 tbsp tomato purée
6 large ripe tomatoes (roughly chopped)
Small bunch of basil (roughly chopped, plus a few extra leaves to serve)
A few thyme sprigs
400g can plum tomatoes
1 tbsp red wine vinegar
1 tsp brown sugar
Start by frying off the onions in a frying pan for 8 minutes, then add in the garlic and leave to fry for a further minute. Next, add the aubergines and fry for 5 minutes, or until golden. Stir in the courgettes and peppers and fry for a further 5 minutes.Then, transfer the mixture to your slow cooker and add all the remaining ingredients. Cook on low for 5-6 hours, or until all the vegetables have softened and the sauce has thickened. Season with salt and pepper and scatter over some fresh basil leaves. Serve by itself, or use some soda bread or sourdough to dunk in the delicious sauce.
(Recipe via BBC Good Food)
Mushroom Bourguignon
This slow cooker mushroom bourguignon is the perfect veggie alternative to the classic beef bourguignon.
1 large onion (chopped)
3 large cloves of garlic (minced)
2 carrots (cut into medium-sized sticks)
5 cups button mushrooms (cut into halves or quarters depending on their size)
1 cup red wine (use a vegan brand or swap out for vegetable stock)
4 tbsp tomato paste
1 tsp dried marjoram
1 cup vegetable broth
3 tsp dried Italian herbs
1 sprig fresh rosemary (chopped)
1 tbsp cornstarch and 2 tbsp of water
Salt to taste
Black pepper to taste
Using a large pot, start by frying off the onion and garlic until fragrant. Then add the mushrooms and carrots and leave to cook for 3 minutes. Mix in the tomato paste and cook for a further minute. Then deglaze the pan using the red wine and vegetable broth. Next transfer the mixture to your slow cooker and add in the herbs, salt and pepper and the cornstarch mixed with water. Allow to cook on medium for 5 hours. Try serving your dish with pasta and a sprinkle of fresh thyme.
(Recipe via Vegan Heaven)
Sticky Toffee Pudding
Finishing with a bang, why not try this slow cooker sticky toffee pudding. A slow cooker isn't just for savoury dishes, it can also be used to make amazing desserts.
250g chopped dates
1 tsp bicarbonate of soda
50g salted butter OR vegan butter (softened at room temperature, plus extra to grease)
50g light brown sugar
100g dark brown sugar
2 medium eggs OR flax eggs
1 tsp vanilla extract
175g self-raising flour
1 tbsp cornflour
3 tbsp golden syrup
150ml double cream (or vegan cream)
To start, add the dates and bicarbonate of soda to a bowl and cover with 200ml of boiling water. Leave to sit for 5 minutes. Grease the inside of your slow cooker with some butter and set it to high. Now mix together the chopped dates, butter, light brown sugar, 50g of the dark brown sugar, eggs, vanilla and self raising flour. Once the mixture is smooth, pour it into your slow cooker. Mix together the remaining dark brown sugar, cornflour, double cream and 150ml of boiling water. Gently pour over the batter and leave to cook on high for 2 hours. Serve with ice cream.
(Recipe via Delish)
Looking For More Vegetarian Slow Cooker Recipes?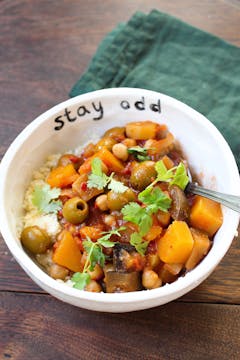 Slow Cooker Squash & Couscous Tagine
A Moroccan-inspired dish that's easy, warming, nourishing and impressive with plenty of olives and sweet apricots. Vegan and dairy free, this packed with flavour dish is a real crowd-pleaser.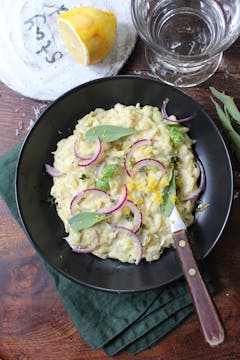 Slow Cooker Brussels Sprouts & Creamy Orzo
It's creamy, herby, a touch buttery, and has the best flavour. Make a delicious broth directly in the Crockpot from stock, white wine (optional), double cream or coconut milk, creamy Dijon mustard, thyme, sage, onion and garlic. Then, all you need to do is add the shredded Brussels sprouts and orzo, and cook until al dente.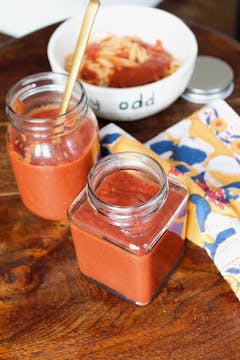 Crockpot Onion Marinara sauce
All you need are basic pantry ingredients to make this delicious marinara sauce: canned chopped tomatoes, onions from your Oddbox, garlic , dried oregano and salt and pepper. This sauce is simple, but you can add any extras you like – capers, olives, spices, or even a dash of wine. It freezes well, and can be used as pasta sauce, spread on toast, as dipping sauce or even on pizzas.