10 of our favourite low-waste recipes to share
Birthdays? Group picnics? Dinner parties? Whilst we know we're not completely out of the woods yet, we're able to spend more time with our friends and family in the coming weeks. Enjoying food is an important part of most gatherings, but we can easily make it great for the planet too. Here are some delicious low-waste recipes to share with others when socialising.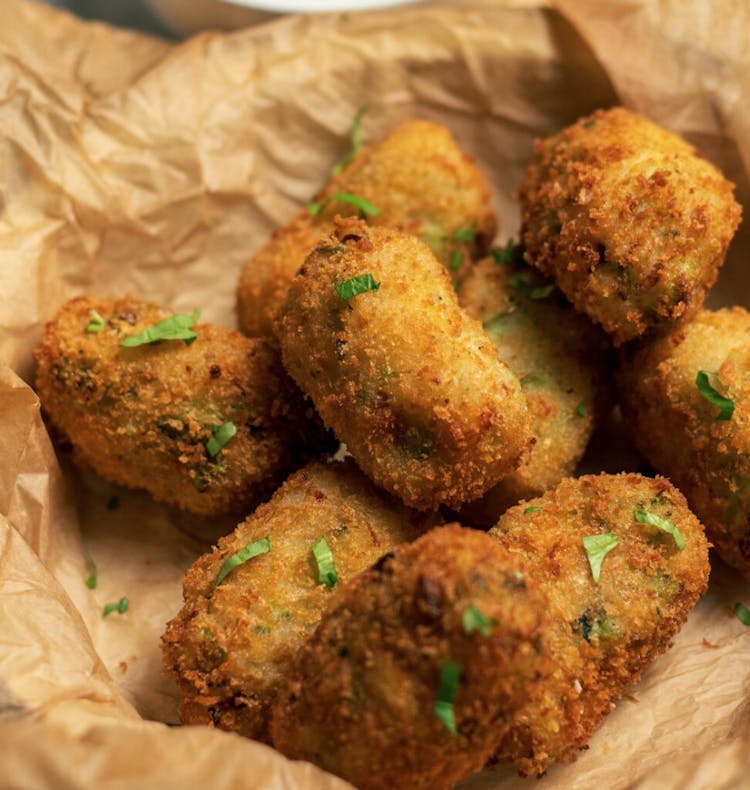 STEMS-AND-ALL GREEN BURGER
Burgers are always popular at birthdays and garden parties. Rather than discarding the stems of spinach or coriander, this recipe from Max La Manna blends the whole shoots with chickpeas, beans, oats and mushrooms. This low-waste recipe is especially useful if you're struggling to get through a whole bag of leaves before they become too wilted. Make a large batch of burgers and freeze them to be cooked later on. 
LEFTOVER POTATO CAKES
Have you been eyeing up that leftover mashed potato but you're not sure what to do with it? Share homemade potato cakes, hot or cold, at a small gathering with this simple recipe from All Recipes. Mash is difficult to make a new meal from, but by frying it up you'll use every last scrap. To cook a vegan version, substitute the egg for oil. If they're not all eaten up, you can store these cakes in an airtight container in the fridge for a couple of days longer. 
VEG TOP PESTO
Despite our best intentions, veg fronds and leaves can get forgotten about - after all, they're not the main event of your carrots or fennel. But these odds and ends can be turned into a beautiful pesto dip for your guests to top their salads with. And by not buying a ready-made pesto in-store, you'll save on packaging too. Substitute vegetarian parmesan for any hard vegan cheese to make a plant-based version. 
BROCCOLI STALK CANAPES
Broccoli stalks are often chopped away and can end up getting thrown out. But you can use them as the base for fancy party canapes with this ingenious recipe from Pebble Mag. Simply top with fully zero-waste homemade carrot hummus (recipe included) and mixed seeds. Leave the feta out for a vegan version. These canapes are best served fresh but can be eaten cold within the next couple of days too. And for another mouth-watering idea for your leftover broccoli stalks, take a look at our crispy vegan broccoli stalk croquettes. 
SEED TO SKIN SQUASH AND SAGE PASTA
Cold pasta is a simple and moreish way to bulk out your plate at a birthday buffet. And if you serve Max La Manna's butternut squash pasta, you probably won't have any left by the end of the day. But this isn't just any pasta recipe, as it uses up a whole butternut squash, skin and seeds included. If you do have leftovers, store them in a sealed container in the fridge for a few more days.
LEFTOVER VEGETABLE FRITTERS
Vegetable fritters keep well for hours at a buffet table and they're a super palatable way to fry up leftover vegetables. This recipe from The Last Food Blog asks for spinach and cauliflower, but you can substitute those out for any veg that needs using up. Just make sure you cut it up small so your fritters aren't lumpy. Freeze uncooked batter to fry up another day, or seal and store any leftovers in the fridge for a couple of days after the party. 
THE PULP FICTION BURGER
Can you really serve up the pulp from the juice you made this morning to your family? Yes. And with this creative zero-waste recipe from Tom's Feast, you can even make your juice pulp into legitimately tasty burgers. These burgers prove even more obscure food waste can be used for something else, and they're perfect for sharing outside at a sunny zero-waste picnic. Freeze any mixture you don't use and cook it up later on. 
SMOKY CARROT HUMMUS WITH FLATBREADS AND MINT GREMOLATA
Make your own flatbreads to share as a fun party side dish with just five simple ingredients. Add carrot tops to a mint gremolata, so they don't go to waste. Then add aquafaba (the liquid from a chickpea tin), which usually gets thrown away, to create your own wonderfully smoky carrot hummus. Substitute Greek yoghurt for a dairy-free alternative to make the flatbreads fully plant-based. Refrigerate leftover gremolata and hummus, and give leftover flatbreads to your guests to take home.
OVER-RIPE KIWI JAM
Have you got some kiwis that are heading past their best? Simmer them with sugar and lemon juice to make a jam. You can even leave the kiwi skins on to make this super low-waste recipe from Tom Hunt. Bring your kiwi jam along to a posh picnic or outdoor event. It can be spooned onto scones, pancakes or any other dish you'd normally sweeten with shop-bought jam or sugar. Eat it up within a week. 
LEFTOVER CHILLI PARCELS
If you're feeling unenthusiastic about your veggie chilli leftovers, serve them as party treats instead. These delectable filo pastry bites from Love Food Hate Waste are perfect for any buffet or event with finger food. Experiment by filling parcels with other leftover dishes, like pasta or veggie mince. Just make sure the mixture isn't so wet it soaks through the pastry. The parcels will need to be eaten fresh, but any unused filo pastry can be wrapped up in the freezer for three more months.