Crispy Vegan Broccoli Stalk Croquettes
This is the ultimate no waste vegan recipe as it uses the WHOLE broccoli stalk. The stalk of the broccoli is so often chucked away but is actually very tasty and packed full of nutrients. 
-  by guest Oddbox chef Storm @whatstormeats
Prep time: 20 minutes
Cook time: 15 minutes
Total time: 35 minutes
Servings: 12
Ingredients:
250 g Broccoli stalks (and any extra florets you have!)
3 large Potatoes (baked and mashed)
2 Spring onions (chopped)
a pinch of chilli flakes
50 g Vegan cheese
125 g Plain flour
100 ml Plant based milk
75 g Breadcrumbs
Vegetable oil (for frying)
Garlic and herb mayonnaise:
1 Garlic clove (crushed)
sprig Parsley (roughly chopped)
50 g Vegan mayonnaise
Recipe:
Prepare your potatoes by baking in the oven, or boiling. Baking means the potato will be drier so easier for shaping but takes a little longer. Make sure you keep those skins for crisps or snacking on!
Cut the broccoli stalks into pieces and pop into a pot of boiling water for a couple of minutes until tender. Remove from the water and roughly chop into small pieces
Mix the mashed potatoes, broccoli, chopped spring onions, 50g of the flour and the cheese. Mix, and season generously with salt, pepper and a pinch of chilli flakes.
Prepare three separate bowls; one with flour, one with the plant-based milk and the final one with the breadcrumbs. Form the croquettes with your hands and coat them with flour, followed by the milk, and then the breadcrumbs.
Heat vegetable oil in a small pan until it reaches approximately 180 degrees. You can also bake these but they won't be as crunchy. Fry in batches until golden brown, drain on a paper towel.
Mix your vegan mayo with a clove of crushed garlic and some finely chopped herbs (parsley and chives work great). Serve along side your crispy broccoli croquettes.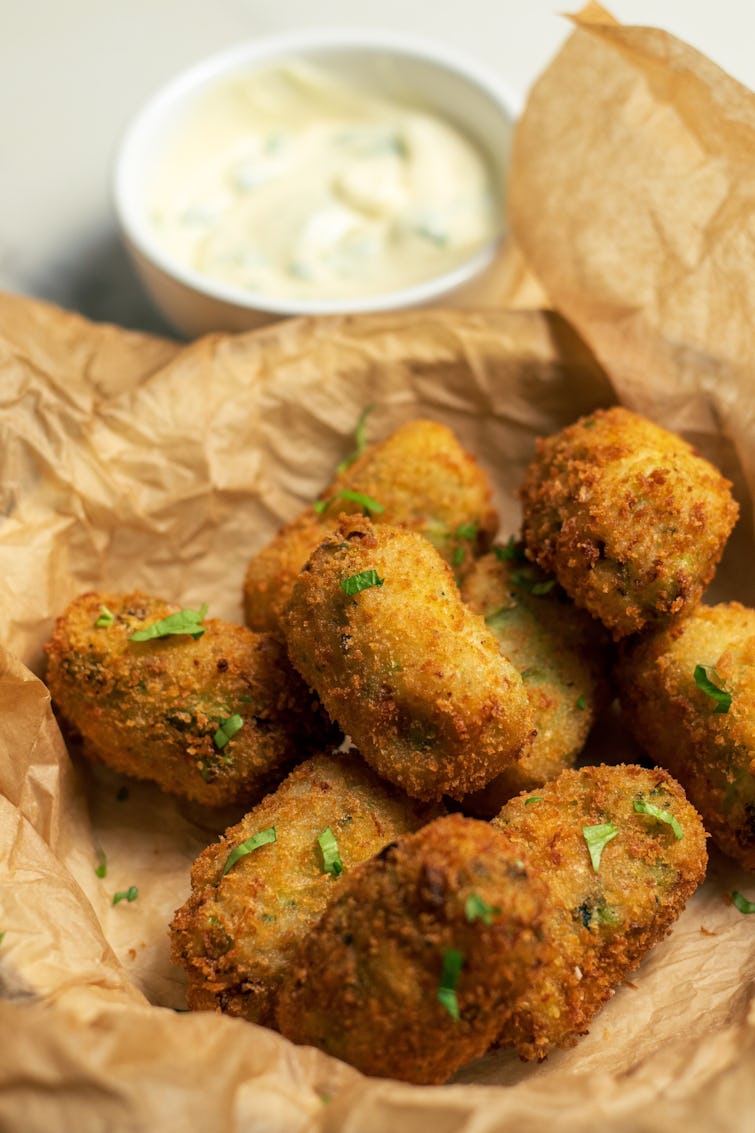 ---