Zero-Waste Vegan Butternut Squash Tacos
The perfect addition to your Mexican night! This recipe uses the whole butternut squash – skin and seeds included. Not a fan of butternut squash? Swap it out for your favourite veg for roasting; beetroots, parsnips, courgette - whatever you fancy.
The tacos freeze well – simply stack onto baking paper once cooked and freeze. Defrost and reheat.
In a rush? Ready-made guacamole & tacos work just as well.
-courtesy of guest chef Storm @whatstormeats
Prep time: 20 minutes
Cook time: 30 minutes
Total time: 50 minutes
Servings: 10
Ingredients:
Tacos:
150 g Masa harina (or plain flour)
180 ml Warm water
a pinch of Salt
Filling:
500 g Butternut squash
1 tsp Garlic powder
tsp Cumin
1 tsp Paprika
a pinch of chilli flakes
Olive oil
Avocado chilli crema (optional - feel free to use ready-made guac, or your choice of hummus!)
1 Avocado
1 Jalapeño chilli
50 ml Lime juice
Salt
Seeds
Squash seeds
½ tsp Paprika
Salt
Olive oil
Recipe:
Prep your veg: Preheat the oven to 180. Prepare your butternut squash by chopping into inch size pieces - no need to cut the skin off, it'll go crispy in the oven.  Pop the squash on the tray, drizzle over some olive oil, and sprinkle over the spices. Toss the squash pieces to ensure they are all coated and roast in the oven for 20 minutes.  On a separate tray, add the seeds and drizzle over olive oil, paprika and sea salt and pop in the oven for 5 mins.
Taco dough Prepare your taco dough by making a well in the flour and slowly adding your warm water to form a soft dough. Knead for a few mins until smooth before rolling into Ping-Pong sized balls.  To press them, place the ball between two pieces of baking paper and place a heavy pan on top - or tortilla press!  In a hot pan, cook the tacos for 2 mins each side until them puff up. Wrap in a tea towel to keep warm.
Avocado crema  Blend the avocado, chopped chilli, lime juice and whizz until smooth - season with a pinch of salt.
Build your tacos! Pop on some of the avocado crema or choice of spread/hummus onto your homemade tacos, top with sweet, spicy butternut squash and scatter over those crunchy seeds!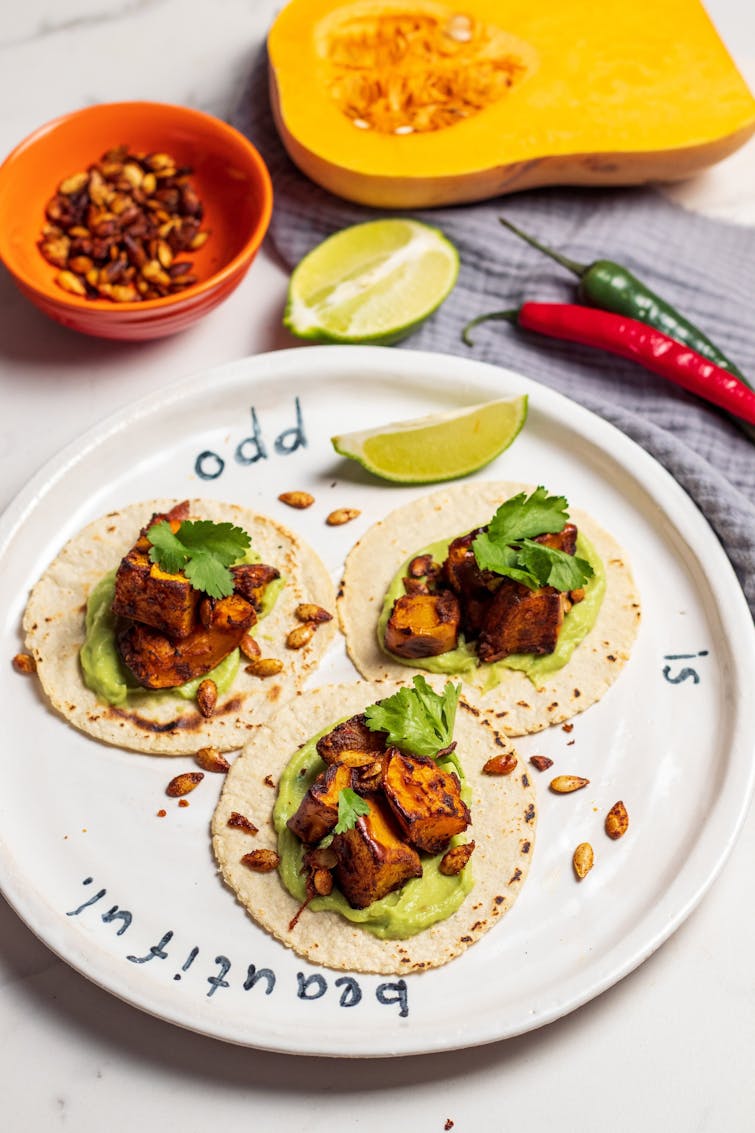 ---