Zero-Waste Kale Lasagne
This zero-waste kale lasagne recipe uses both leaves and stems, and showcases beautiful layers of green creamy kale sauce with ricotta, kale stem bechamel and pasta sheets.
Here's a couple of useful substitutes:
No ricotta cheese? No problem, you can use cream cheese instead.
No parmesan? Cheddar cheese works well too. You can also experiment and use mozzarella.
No kale? You can use spinach, cavolo nero, watercress and fresh herbs. If you use fresh herbs, no need to blanch them. Just chop and add them to your blanched kale, spinach or cavolo nero.
Vegan? You can substitute the ricotta and parmesan for a dairy free alternative. And swap the butter for olive oil! Use the milk of your choice - I used whole oat milk and it worked perfectly.
Gluten free? Use the lasagna sheets of your choice. Gluten-free lasagna sheets alternatives will work too.
Prep time: 20 minutes
Cook time: 45 minutes
Total time: 65 minutes
Servings: 6
Ingredients:
For the kale sauce:
250 g Kale leaves ((leaves only))
3 Garlic cloves
250 g Ricotta cheese  / vegan ricotta style cheese
2 tbsp Olive oil
8 tbsp Water
Salt & pepper
For the kale stem bechamel:
120 g Kale ((stems only))
20 g Unsalted butter / Vegan butter
4 tbsp Plain flour
1 litre Milk of choice
4 tbsp Parmesan ((grated)) / vegan parmesan
Salt & pepper
For the pasta layers:
400 g Lasagne Sheet
Parmesan ((grated)) / vegan parmesan
Recipe:
Make the kale leaves sauce: Blanch the kale leaves and whole garlic cloves in boiling water for 3 minutes. Drain and add to a food processor. Pulse blend to a fairly coarse puree. Add the olive oil, water and pulse again to combine, until you have a liquid dark green puree. Stir in the ricotta and season to taste.
Make the kale stems béchamel sauce: Finely chop the kale stems. In a saucepan, melt the butter, stir in the flour until you have a paste. Add the chopped kale stems, and mix to combine. Cook for 1 minutes, then pour in the milk. Bring to the boil, then turn off the heat and blend the mixture until smooth. Stir in the grated parmesan and season to taste.
Assemble the kale lasagne: Preheat the oven to 180°C. Add a thin layer of kale sauce to the bottom of your dish. Add one layer of lasagne sheets. Then add a layer of bechamel sauce. Then one more layer of pasta and repeat the process until your final layer of béchamel. It will look a little liquid, but don't worry, the pasta will cook in it and suck it up. Cover with grated parmesan and bake for 40-45 minutes, until cooked through and golden brown. Let the lasagna sit for 5 minutes before cutting it. Lasagne freezes well! I would recommend portioning before freezing. It keeps in the fridge for 3 days.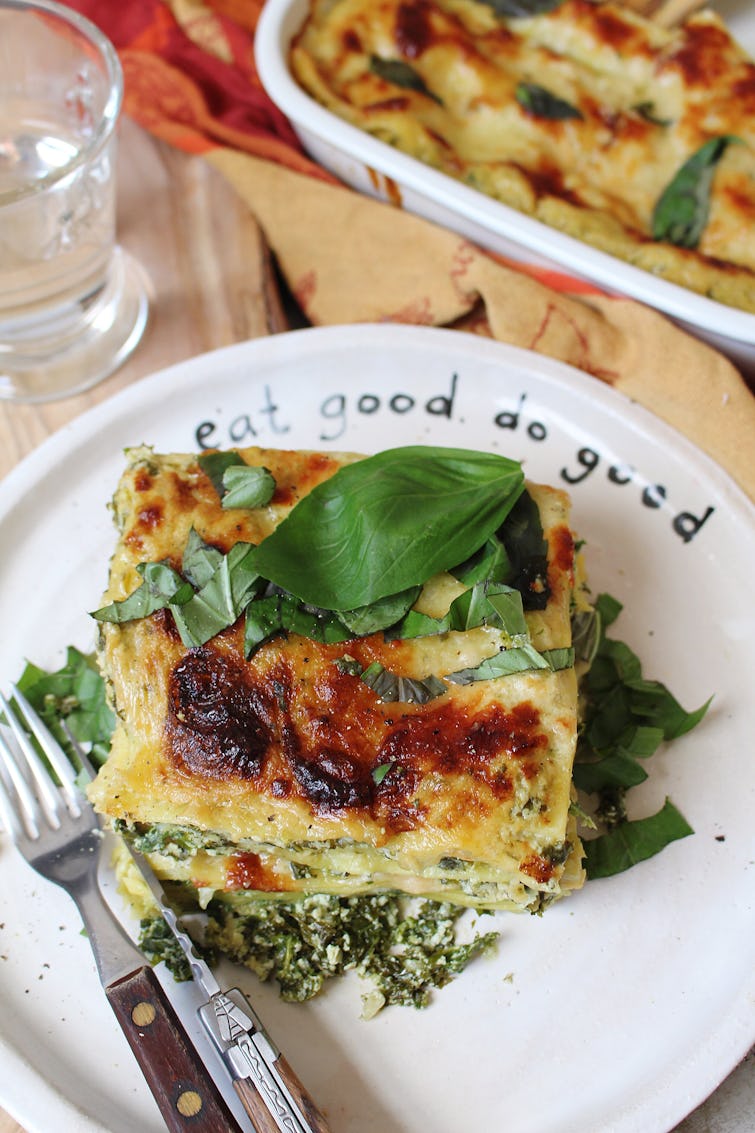 ---