Zero Waste Crispy Potato Rosti
Try this simple and quick potato recipe. The potatoes are grated with their skin on, and made into nice crispy rosti. 
Prep time: 10 minutes
Cook time: 15 minutes
Total time: 25 minutes
Servings: 4
Ingredients:
6 Potatoes (Medium sized)
Salt (to taste)
Black pepper (to taste)
4 tbsp Vegetable oil (3-4 tbsp or as needed )
2 tbsp Butter / Vegan butter
Recipe:
Prepare the potatoes: Scrub clean and coarsely grate the potatoes with their skin on, into a clean tea towel. Fold the towel around the potato to form a ball and squeeze any excess water. This step will help you get a nice and crisp result. Discard the water, tip the squeezed potatoes into a bowl and mix well with salt and pepper.
Cook the rosti: Heat the vegetable oil in a large non-stick frying pan over medium heat. Use your hands or a chef's ring to form 4 rosti with the grated potatoes. Press down to make a compact cake. Carefully lift and place them in the frying pan, add the butter/vegan butter, and cook for 4-5 minutes on each side, until golden brown and crisp.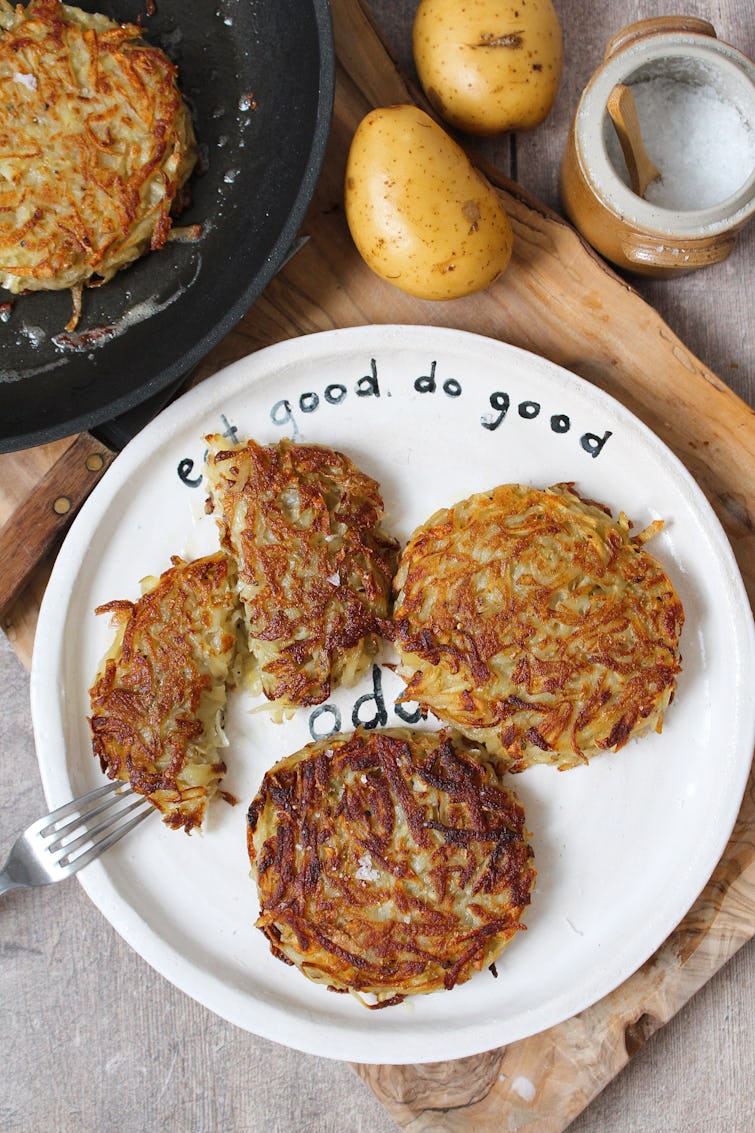 ---
How to store
Store your potato cakes in the fridge for up to 3 days.
Leftovers
Any leftover rosti can be eaten cold or reheated in the oven at 180C/160 fan/4 gas mark for 10-15 minutes. Turn leftovers into potato croutons; cut the rosti in cubes and bake until golden and crisp all over. Toss them in salads to add extra texture and flavour.