Whole Stuffed Onions
Provencal "petit farcis" inspired recipe showcasing whole onions peeled, carved and stuffed with an onion, lentils, parsley and feta/vegan feta filling. The onions are then baked until juicy, warm and all round delicious.
Substitute:
No parsley? Use basil instead. 
No feta? Try with crumbled tofu instead. 
No onions? Stuff other vegetables such as peppers, courgettes, shallots or aubergine. 
No lentils? Use quinoa, rice or small pasta instead. 
No garlic puree? Use garlic cloves instead.
Prep time: 15 minutes
Cook time: 60 minutes
Total time: 75 minutes
Servings: 2
Ingredients:
6 Onions (any)
2 tbsp Olive oil
1 tsp Garlic puree
4 tbsp Cooked puy lentils
2 tbsp Parsley (chopped )
4 tbsp Feta (crumbled )
Salt & pepper
Recipe:
Preheat the oven to 190 C/170 fan/5 gas mark. Cut the tops from the onions, peel and carve out the inside with a small serrated knife.
Do not discard the onion peels. Place them in a small saucepan along with 400 ml water, and a pinch of both salt and pepper. Bring to a boil, then reduce the heat to low, cover the pan and simmer for 10 minutes.
Using a food processor or a knife, roughly chop the onion flesh. Heat 2 tbsp olive oil in a frying pan over medium heat. Saute the chopped flesh along with the garlic and tomato puree. Add a ladle full of onion stock, the cooked lentils, crumbled feta and chopped parsley. Season with salt and pepper and mix until well combined.
Spoon the stuffing into all the hollowed onions, making sure they are well packed. 
Place their onion tops back on and place the onions standing in a baking dish. Add a ladle full of onion stock, drizzle with olive oil and season with a pinch of both salt and pepper. 
Bake for 45 minutes, then cover with foil and bake for another 20-30 minutes (depending on size), until tender. The foil will prevent the onion hats from burning and create a nice onion stock steam helping keep the onions nice and juicy. Enjoy!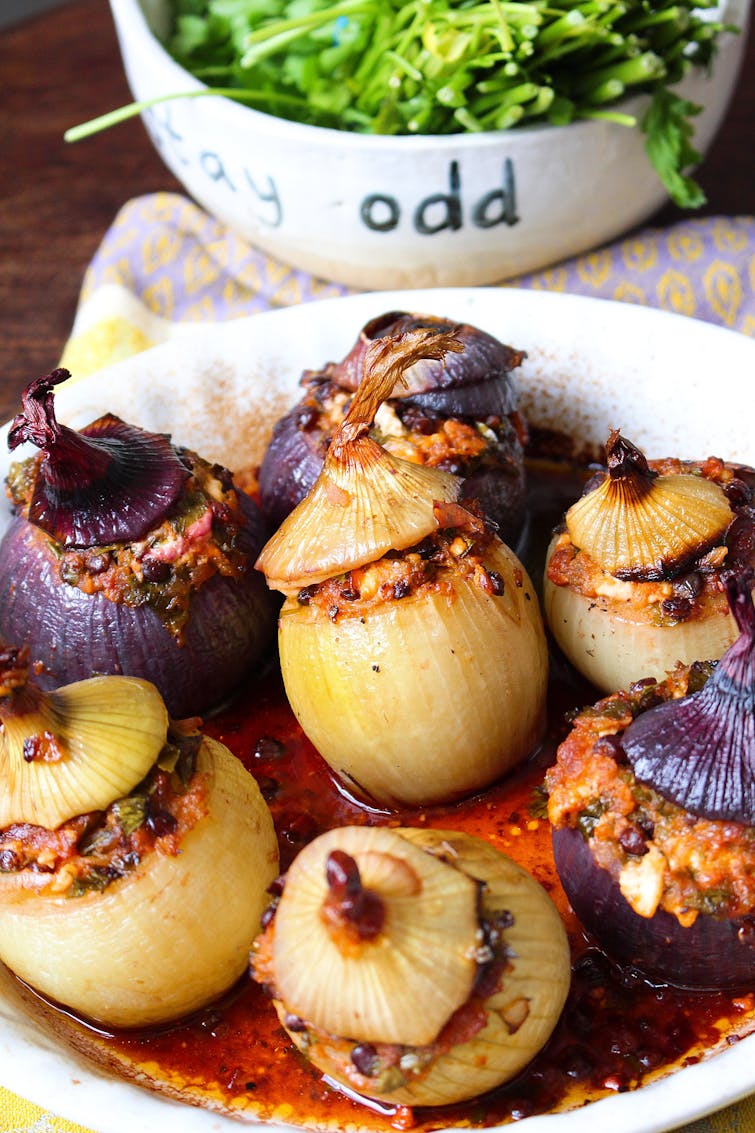 ---
How to store
Store in an airtight container in the fridge for up to 3 days, or in the freezer for up to 1 month.
Leftovers
The stuffed onions are delicious reheated the next day, and would be lovely served with a simple green salad or a side of rice. Any leftover onion stock can be kept in the fridge for up to 3 days or frozen for up to 1 month.