Whole Roasted Romanesco with Zaatar Yoghurt
Try this easy, quick and delicious zero waste roasted romanesco recipe. The cooked leaves become crispy and the stems buttery, which add extra flavour and texture. The romanesco is served with a garlicky lemony yoghurt with zaatar.
Prep time: 5 minutes
Cook time: 25 minutes
Total time: 30 minutes
Servings: 4
Ingredients:
1 Romanesco
4 tbsp Olive oil
1 tbsp Garlic powder
1 tbsp Sea salt 
tsp Black pepper (1/2 tsb )
180 g Yoghurt ( /vegan yoghurt)
Lemon zest (Zest of ½ lemon )
Lemon juice ( Juice of ½ lemon )
1 Garlic clove (chopped)
1 tbsp Zaatar
Black pepper (to taste)
Recipe:
Prepare the romanesco: Preheat the oven to 210C/190 fan/7 gas mark. Remove the outer leaves from the romanesco and wash both thoroughly. Do not discard the leaves - they will cook in the oven too. 
Season the romanesco: In a bowl combine the garlic powder, olive oil, salt and pepper. You want to be generous with seasonings because it is to season the whole romanesco. Place the whole romanesco stem down in a baking dish, along with the leaves. Brush the garlic oil all over, including the leaves. 
Roast the romanesco: Place in the preheated oven and cook for 25-35 minutes, depending on the size. Make sure to remove leaves after 10 minutes to prevent them from burning. The leaves should be crispy and the stems buttery. 
Chop the leaves: Place the leaves on a chopping board and when cool enough to touch, slice into small pieces. Set aside. 
Make the sauce: In a bowl, combine the yoghurt, half of the zaatar, chopped garlic, lemon zest and juice. Mix well and season to taste with black pepper. Keep the other half of the zaatar for the topping. 
Serve: Serve the romanesco hot or cold with the garlicky lemony yoghurt, buttery leaves and zaatar.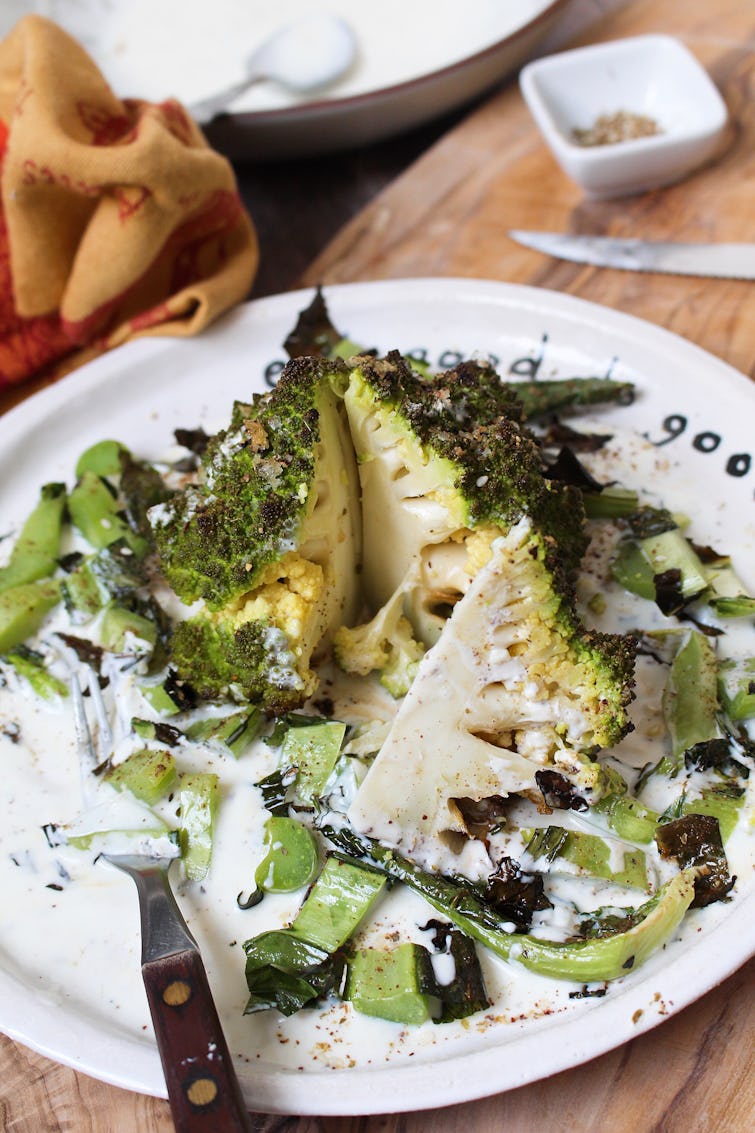 ---
How to store
Store in an airtight container in the fridge for up to 3 days. Eat cold or reheat in the oven before serving. 
Leftovers
Chop up and toss in salads. Try this with our simple grated carrot salad or classic potato salad.