Whole Roasted Harissa Cauliflower
Whole cauliflower smothered in a spicy oil and baked until tender. A simple vegetarian main and an impressive alternative to traditional sunday roast.
Substitute:
No cauliflower? Try with cabbage or broccoli instead. 
No harissa pesto? Use any hot sauce instead. 
No maple syrup? Try with honey or golden syrup instead. 
No cumin? Use curry powder or any similar spice blend.
Prep time: 10 minutes
Cook time: 50 minutes
Total time: 60 minutes
Servings: 4
Ingredients:
1 Cauliflower
3 tbsp Rose harissa pesto
40 ml Olive oil
2 tbsp Maple syrup
1 tbsp Ground cumin
1 tbsp Ground turmeric
Salt & pepper
Recipe:
Preheat the oven to 180 C/160 fan/4 gas mark. Rinse the head of cauliflower and peel away any green leaves. Do not discard the leaves, set aside for later.
In a bowl, mix together the harissa pesto, olive oil, maple syrup, ground cumin and turmeric. Season with a generous pinch of both salt and pepper.
Place the cauliflower head in a baking dish and pour over the harissa mixture. Pour 50 ml of water at the bottom of the dish - this will help cook the cauliflower by creating a steam, as well as preventing the harissa mixture from burning.
Bake for 40-45 minutes, until golden and tender. Try with a knife; it should easily pierces the core. If you prefer a softer cauliflower, then roast for longer. If you like a crunchier cauliflower roast for less time.
Remove from the oven, and place the cauliflower on a chopping board to rest. Place the cauliflower leaves in the baking dish, toss to coat with the harissa sauce and bake for 10 minutes, until wilted and tender.
Serve the cauliflower head alongside the cauliflower leaves.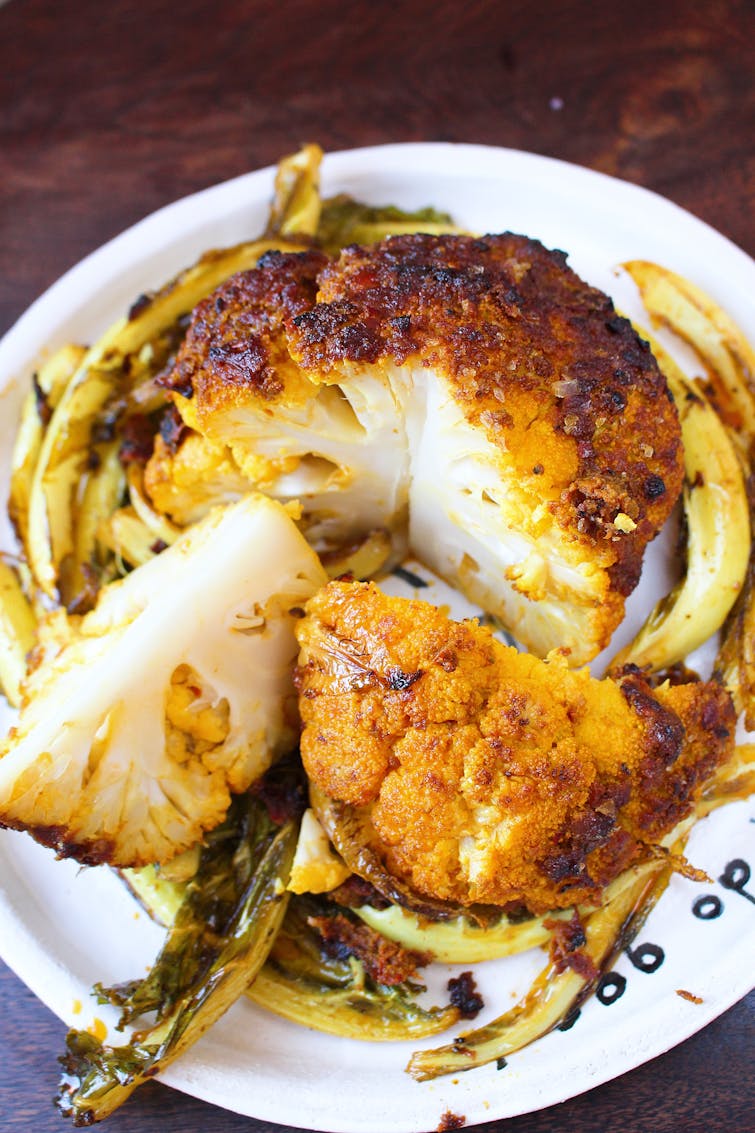 ---
How to store
Store in an airtight container in the fridge for up to 3 days. Reheat in a preheated oven at 180 C/160 fan/4 gas mark. 
Leftovers
Serve the leftovers with cooked quinoa, chopped lettuce and top with flaked almonds. You can also blend the cauliflower into a spicy puree.