Whole Beer-Roasted Pineapple
Check out this impressive whole roasted pineapple made with our limited-edition Toast Ale x Oddbox mango IPA beer made with surplus fresh bread and mangoes. The punchy mango beer caramel goes perfectly with the roasted pineapple. 
Substitute:
No golden syrup? Use light brown sugar or maple syrup instead.
Ice cream? Coconut, vanilla and salted caramel ice creams/vegan ice creams are good options. 
Prep time: 10 minutes
Cook time: 60 minutes
Total time: 70 minutes
Servings: 4
Ingredients:
1 Pineapple
2 Toast Mango beers
70 g Golden syrup
Ice cream / Vegan Ice cream
Recipe:
Prepare the pineapple: Heat the oven to 180C/160 fan/4 gas mark. Use a knife to peel the pineapple. Compost the peels.
Make the Toast mango beer glaze: Pour the Toast mango beers and add the golden syrup directly in your roasting dish. Stir to combine.
Roast the pineapple: Put the whole pineapple in the roasting dish and baste with the mango beer glaze. Roast for 1 hour, basting with the beer glaze every 15 minutes, until really tender to the point of a knife.
Serve: Remove from the oven, let cool a little and transfer the pineapple to a board. If too watery, pour the cooking juices into a pan and bring to the boil. Reduce until syrupy. Carve the pineapple into 4 slices, drizzle with the mango beer caramel, and serve with ice cream.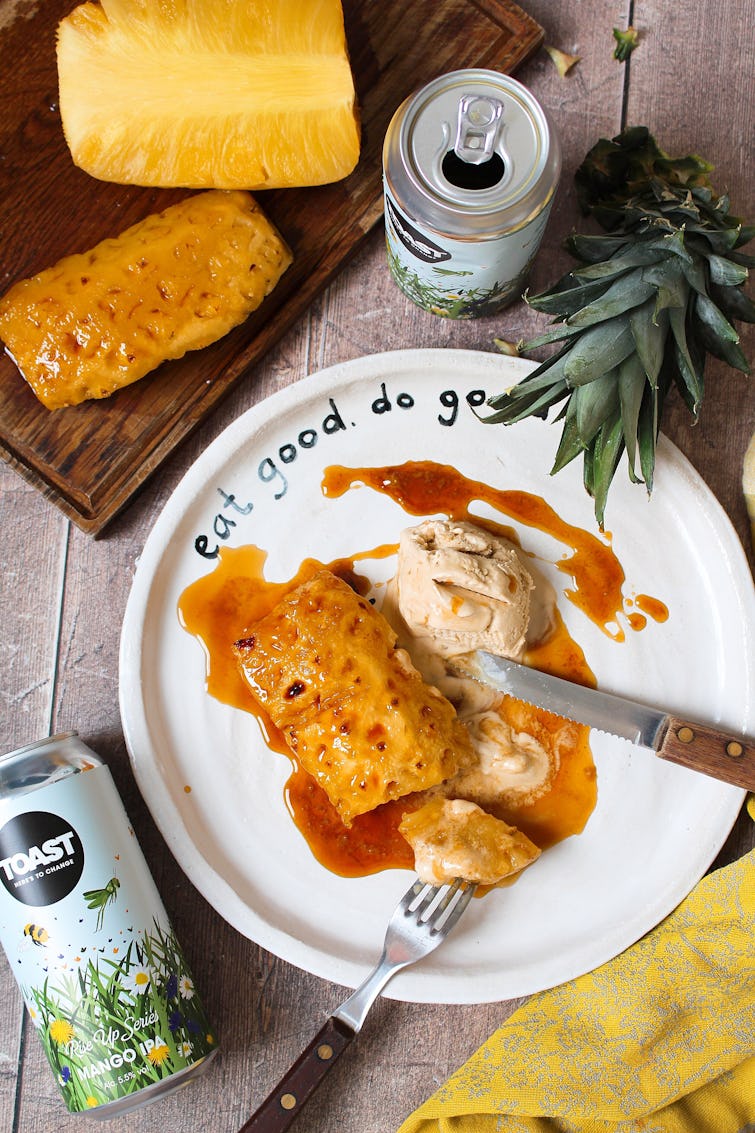 ---