Welsh Style Potato Cake
A simple recipe of layered potatoes, with an onion butter sauce, that is baked in a cake tin until soft, creamy and golden, and served with crunchy garlic and fresh parsley. 
Substitute:
No onion? You can use shallot or red onion instead. If you have none, do the recipe without onions. 
No cheese? The cheese is optional, so you can do without. 
No vegetable stock? You can make your own vegetable stock from the onion peels in this recipe. Add all of your vegetable scraps (onion skins, garlic skins, carrot trimming, parsley stems…) and a few peppercorns into a saucepan. Cover with water, and bring to the boil. Turn the heat down and simmer for about 1 hour. Season with salt. Strain and use the stock straight away, or freeze in ice cube trays to use when needed.
Prep time: 30 minutes
Cook time: 70 minutes
Total time: 100 minutes
Servings: 4
Ingredients:
1 kg Potato
3 Onions (small)
100 g Butter / Vegan butter
130 ml Vegetable stock
½ a bunch of Parsley
3 Garlic cloves
1½ tbsp Olive oil
15 g cheese (grated) / Vegan cheese
Salt & pepper
Recipe:
Prepare the ingredients: Preheat the oven to 200C/180 fan/6 gas mark. Grease a round cake tin, and line the bottom with a circle of baking paper. Using a mandoline, or sharp knife, thinly slice the potatoes, with the skin on, in slices of 0.5 cm thick. Thinly slice the onions too.
Make the onion sauce: In a large frying pan, add the butter, onions and vegetable stock. Season with salt and pepper. Bring to a simmer, and cook for 5 minutes.
Build the cake: Layer the potatoes in the prepared tin, seasoning with salt, pepper and adding a little onion sauce between each layer or so. Finish layering with a layer of potatoes. Place your hand on top of the cake and gently push to make sure all the buttery sauce has spread evenly. Cover with foil and bake for 1hour 10 minutes, removing the foil for the last 15 minutes. The potatoes should be tender and the buttery sauce now absorbed by the potatoes.
Fry the garlic: Thinly slice the garlic, and fry with the olive oil for 3-4 minutes, until golden and crispy.
Serve: Remove from the oven, scatter the grated cheese over, then allow to settle for 5 minutes to make it easier to lift the cake onto a serving plate. Remove the potato cake from the tin and place on a serving plate. Put the chopped parsley and fried garlic on top.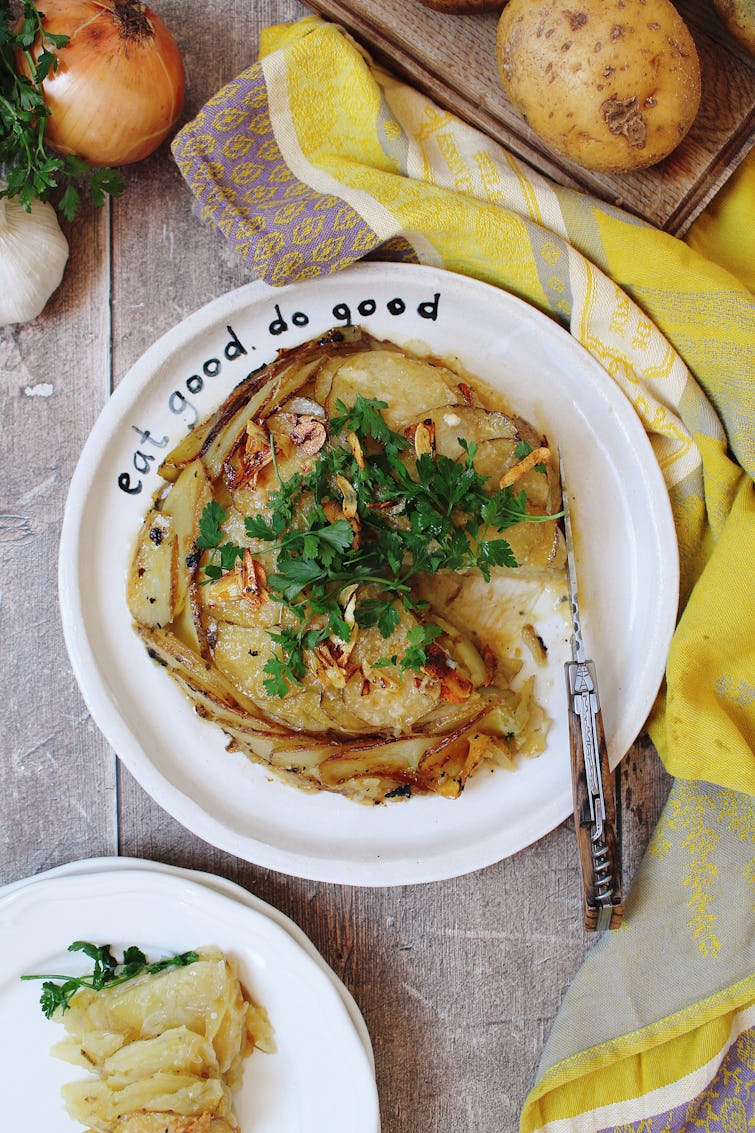 ---
How to store
How to store: Store your potato cake in the fridge for up to 3 days. 
Leftovers
Leftovers: Leftover potato cake can be eaten cold or reheated in the oven for 10 minutes at 180C/160 fan/4 gas mark. The potato cake is great served with a side of green salad.